Canada Lotto 6/49 Winner Jason Rinaldi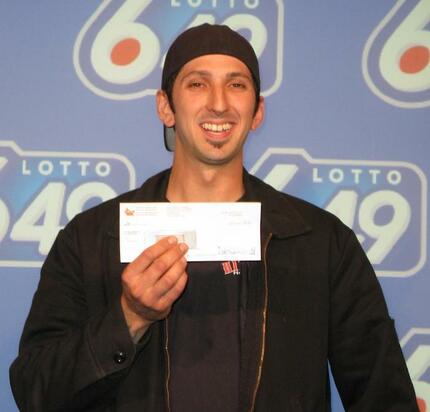 Winning the lottery doesn't always turn out how you might expect. History is full of stories about winners whose lives took a turn for the worst as soon as they came into their large windfall. However, Canadian lottery winner Jason Rinaldi has proven that a lot of good can come from winning as well. In this article, we'll explore what the lucky man has been up to in the years since his win, and how he has chosen to spend his money to better his life and the lives of others.
WHO IS JASON RINALDI?
Jason Rinaldi is a Canadian man from Whitby, Ontario, who caught the nation's attention when he was the sole winner of a huge Lotto 6/49 lottery win. Living in Guelph, Ontario, at the time, Rinaldi co-owned a car shop and had just started buying lottery tickets consistently about a month before the win. He told the media that the $20 he was spending every week was becoming too expensive, and planned on that draw being his last. It was a good thing he gave himself one last shot because he ended up winning the jackpot.
Rinaldi was only 28 years old at the time of his big win and was living on his own in a condo. He had always been a car enthusiast, a hobby he shared with his dad, and started racing cars at the age of 16. He went to school to become a tradesman and set up a hot rod shop with his business partner. However, Rinaldi's life quickly changed when he won big—not only because of the massive influx of money but also because of the recognition that came with it.
HOW MUCH DID JASON RINALDI WIN?
With his win in October 2008, Jason Rinaldi became one of the biggest sole lottery winners in Canadian history. The $35.3 million Lotto 6/49 jackpot he won also had the benefit of being tax free (since Canada is one of a handful of countries that don't tax lottery winnings). Jason was quick to claim his winnings, heading to the Ontario Lottery offices within 24 hours of learning of his good luck.
The odds of Rinaldi winning were 1 in 13,983,816, so, understandably, he had some trouble believing the results when he checked his numbers online. He said he had to double-check the ticket after looking up the winning numbers while at work. While the multi-millionaire had more than enough money to retire on—even though he hadn't yet hit the age of 30—he said he intended to keep his business going. However, things did not turn out exactly as he planned.
HOW DID JASON RINALDI SPEND HIS LOTTERY WINNINGS?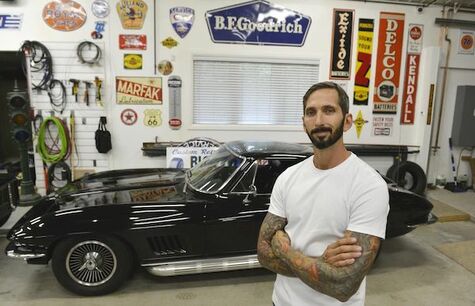 When first claiming his money, Rinaldi told the media that he was going to buy the car of his dreams—a black 2009 Corvette—and head to Las Vegas. Ten years after his win, Rinaldi spoke with the newspaper The Star to share what happened after he received his money. Though he did get his dream car, he never went to Vegas—but trips to the Caribbean with friends and family certainly followed in the years after he won his fortune.
Rinaldi had to change some more of his plans, chiefly his idea to continue running his hot rod shop. Shortly after the story was made public, Rinaldi started receiving what he calls "fan mail." Somehow, people across the country learned Rinaldi's home address and started sending him letters. Some of them included pictures of the writers' families, explaining their situations and asking for money. Eventually, people started showing up at his condo, asking for money or help. Rinaldi, understandably, was freaked out and unsafe, so he sold his condo, parted ways with his business partner, and moved back to his hometown.
Two months after the win, Rinaldi purchased a 7,800-square-foot house on 18 acres of land. Though he moved on from the car shop he'd co-owned at the time of the win, Rinaldi eventually returned to his love of cars after spending time trying to decide what he wanted to do with his future. He purchased an adjoining property that came with 8 acres of land, a house, and an indoor hockey arena. Rinaldi's mother and sister moved into the house, and he converted the hockey arena into a car shop. He now operates another hot rod business, called Vintage Steel & Metal, with a couple of friends.
In addition to buying his dream home and starting another business, Jason has grown his fortune through investments. He knew he didn't want to be another sad story or statistic—after all, stories of lottery winners who blew all their money are not exactly uncommon—so he hired a financial advisor and attorney as soon as he claimed his prize. It turns out that 2008 was a great time to invest thanks to high-yield government bonds that became available due to the stock market crash. However, overall, Rinaldi says he prefers low-risk investments, choosing to take higher risks by purchasing real estate.
Though Rinaldi undoubtedly made some wise financial decisions, he also used some of his fortune to indulge in his hobbies. He purchased season tickets to the Toronto Raptors, and since he was spending so much time in the city watching games, he bought a house in Toronto. He also turned the basement of his home into a perfect party space, installing a bar, a movie theatre, a games room, and an arcade room.
JASON RINALDI'S CHARITABLE CONTRIBUTIONS
Jason wasn't content to spend all of his money on himself, however, and his financial advisors quickly recommended donating to charities. His first big venture was a charity golf tournament in honour of a friend who had passed away from cancer. For the tournament, he teamed up with an acquaintance named James Barnett, who turned into a trusted advisor when it comes to charitable endeavours.
Barnett, who worked as a fundraiser for Lakeridge Health, helped Rinaldi make donations to the hospital. Once Barnett changed jobs and started working at the University of Toronto, he facilitated a donation that led to an engineering room being named after Rinaldi's dad. Another job change on Barnett's part, this time to Ryerson University, led to Rinaldi donating money to the women's volleyball team and gifting the university $500,000 for a sports camp program that helps kids from underprivileged neighbourhoods connect with mentors and experience university life. The camp is called the Rinaldi Family Kids-to-Camp program.
CONCLUSION
With so many stories about how winning the lottery can lead people to bankruptcy, legal troubles, and even death, it is refreshing to hear a story like Jason Rinaldi's. He is a perfect example of how, with the right support from friends, family, and financial advisors, lottery winners can use their good fortune to not only improve their own life but contribute to their community and make a lasting impact.
Looking for more inspiring stories? Then make sure to read about Randall Rush and Roy Cockrum as well.