St. Boniface Hospital Lottery

Hospitals are amongst the most common organisers of charity home lotteries in not just Canada but all around the world. In this St. Boniface Hospital Lottery review, we will look at a great lottery (officially called the Mega Million Choices Lottery) run by the St. Boniface Hospital and see how it creates a win-win-win situation for itself, its patients, and the lottery players who are wise enough to play it each year.
HISTORY AND CAUSE
As you may have surmised by this point, this lottery is managed and run by the St. Boniface Foundation to raise funds to improve the care that the St. Boniface Hospital provides and to upgrade the much-needed equipment that the hospital provides patients access to. This foundation works hand-in-hand with the hospital and also contributes money towards medical research and the development of new treatments and technologies.
ODDS & TICKET PRICES
As is typical with charity home lotteries, there are discounts offered that are dependent on the number of tickets you purchase. For this particular lottery, one single ticket will cost $100. Two tickets will cost $175, four tickets will be $300, and eight tickets will be $500—giving a substantial discount of $300.
The odds of winning are 1 in 19 and are subject to the number of tickets that are sold. There are only 63,500 tickets available for the main draw. Therefore, the more tickets you purchase, the higher your chances of winning a prize. Buy in bulk with family, friends, or coworkers, and really maximize your chances.
St. BONIFACE Lottery GRAND PRIZE
Unbelievably, there are seven grand prizes that the primary draw winner can choose from. Six of these prize options are stunning homes that have all been specifically built to the highest quality and have been fully furnished by interior decorators to look stunning. In addition to this, all home prizes include additional prizes such as cars, cash, and travel vouchers. The seventh prize is a cash option that is only slightly lower than the value of all the other prize options.
The seven prizes available, as well as their respective values, are:
Bridgwater Trails Home prize pack valued at over $1.5 million
The Trails of West St. Paul prize pack valued at over $1.48 million
Vancouver Island prize pack valued at over $1.46 million
Ridgewood West prize pack valued at over $1.5 million
Brandon Home prize pack valued at over $1.45 million
Bridgwater Trails prize pack valued at over $1.48 million
$1.2 million cash (does not include any additional prizes)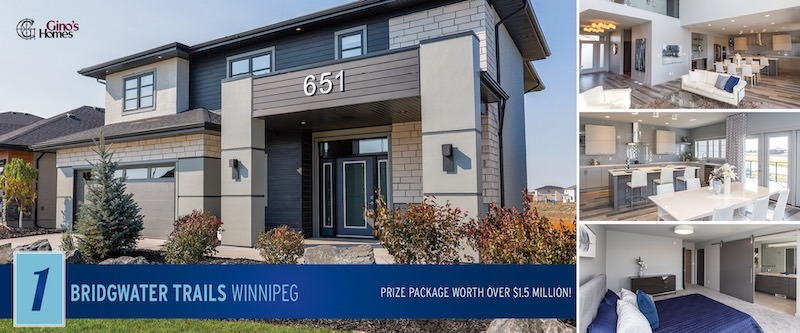 ADDITIONAL DRAWS AND PRIZES
There are several additional draws and prizes available for players that do not win the grand prize. While players are entered into most of these draws automatically, certain draws do require the purchase of additional tickets.
50/50 Draw: As with almost all charity home lotteries in Canada, there is a 50/50 draw that has a cash prize whose value is based on the ticket sales for the draw. At the time of this review, the 2020 prize pool was $727,420. Tickets cost $20 for two, $40 for eight, or $30 for 30.
Big Score Plus: The Big Score Plus draw runs every day in the month of April and gives away prizes that have been linked to that day. The prizes are mostly cash, but there are some travel vouchers available as well. Ticket prices are the same as 50/50 tickets, and the full calendar of available prizes is available on the official website.
Bonus Draw: All players are automatically entered into the single bonus draw that determines two winners who get to choose between a holiday to South Africa valued at $25,000 (along with $5,000 spending money) or a 2020 Chevrolet Equinox LS FWD.
Early Bird Draw: The early bird draw will determine one winner who will have a choice between a custom-built condo, a 2020 Volvo XC90, a 2020 Jayco Class C Melbourne Prestige 24, or $200,000 in cash. In addition, 25 other winners will receive $1,000 in cash each.
Aside from all the prizes mentioned above, additional draws are held that offer cars, vacations, cash, gift cards, and electronics.
PRIZE COLLECTION
Winners of the grand prize that choose a home option will have the house of their choice transferred into their name by the lottery operator. The organization will also ensure that any transfer costs incurred during this process will be covered without costing the winner anything.
Winners of any other prizes will have 60 days in which to claim their prize. Should they not contact the organization within this timeframe, they will be sent a cheque for the amount of the cash option of their prize. If there is no cash option, winners will have an additional three months to claim their prize before their prize is forfeited to the lottery.
MEGA MILLION CHOICES LOTTERY RULES
Nobody associated with the St. Boniface Foundation or hospital, nor their family members, may play in the lottery. In addition, all players must be 18 years of age or older. However, on the brighter side, the lottery is open to players from anywhere in the world. The single condition of this is that any player who is not a resident of Manitoba will have to purchase their ticket in person at a retailer in Manitoba for the ticket to be valid.
CONCLUSION
Hospitals require a large amount of funding in order to provide the services that they do and to continue saving the lives of those around us. That is why, when a lottery comes along that helps ensure that a hospital can function without worrying about what they have in their bank account, there is no better place to spend our hard-earned money. It just so happens that with the St. Boniface Mega Million Choices Lottery, you will be supporting a worthy cause while standing a chance to win a variety of fantastic prizes at the same time.
DISCLAIMER
This review is based on the prize, draw, and price information supplied by the official lottery website for the draw taking place at the start of 2020. For current and updated details, feel free to visit the website.
User Reviews and Comments (1)