Play Russia Gosloto 5/36 Online – How to Play and Buy Tickets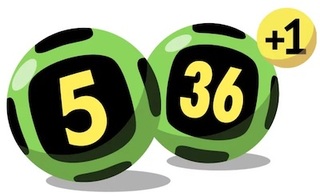 Some lotteries go way beyond the typical when it comes to giving people a chance to win. One way that they do this is by holding multiple draws—meaning more chances to win. One lottery that appears to do this in fantastic style is a lottery out of Russia. In this Russia Gosloto 5/36 Lottery review, we will look at how this lottery operates and how you can play in it to get some extra cash.
History
While there is no clear indication of when Gosloto 5/36 was first launched, we do know that it was after 2005. This is because it is only in 2003 that Gosloto was founded as an organisation. Gosloto is the official manager of all state lotteries in Russia. It is a privately owned organisation (which is incredibly rare for a lottery organisation) but is overseen by the state and has the full support of the Russian government.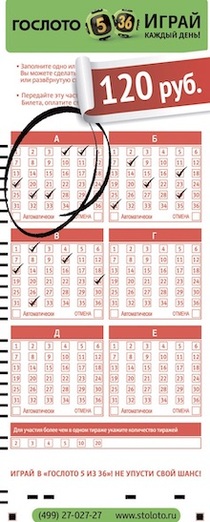 The first game launched by Gosloto was Russia Gosloto 6/45 (launched in 2005). It is because this is the first game launched by the lottery that we conclude that Gosloto 5/36 was started after 2005.
How to Play Russia Gosloto 5/36
Russian Gosloto 5/36 follows the widespread double-matrix format. In this case, the format uses a 5/36 + 1/4 system. This means that to play you will need to select five unique numbers that come from a number pool ranging from 1 to 36. In addition to this, you will need to select a sixth number. This number will need to be drawn from a number range of 1 to 4. If you are not in the mood to select your own numbers when playing, it does look like there is a quick pick function available.
Once you (or the computer) have selected your numbers, you will be able to purchase your ticket. The price of a single ticket starts from ₽40 (approximately US $0.54). You can, however, bet more per ticket by selecting additional numbers. Doing this will force the game to play more combinations in order to accommodate all your chosen numbers. While this will increase your chances of winning, it also has a severe impact on the price of your ticket and could lead to you paying more than what you planned on.
Odds of Winning
The official lottery organisation does not seem to issue any odds of winning. However, during our research, we found numerous sources stating that the odds of hitting the jackpot are 1 in 1,507,968. These were calculated using the total amount of possible combinations that can be formed from a 5/36 + 1/4 lottery system. Unfortunately, there are no odds available for any of the other five prize tiers.
Russia Gosloto 5/36 Payout Chart
| | | |
| --- | --- | --- |
| # of Matched Numbers | Prize | Odds of Winning |
| 5 of 5 + 1 | ₽1 million* | 1 in 1,507,968 |
| 5 of 5 | ₽100,000* | N/A |
| 4 of 5 | ₽4,000 | N/A |
| 3 of 5 | ₽400 | N/A |
| 2 of 5 | ₽40 | N/A |
*The prizes for the first and second tiers are minimum prizes that are guaranteed. These prizes may climb higher depending on the number of tickets sold. In reality, the first prize actually amounts to 60% of the total prize pool after all other prizes (except the second-tier prizes) have been paid. The second tier accounts for 40% of this same prize pool.
If the jackpot is not claimed, this amount rolls over to the next draw until it is claimed.
Drawing Time
Amazingly, this draw has multiple draws each day—and we are not talking about two or three like some other international lotteries. As we said at the start of this article, this lottery gives players plenty of chances to win. In fact, it gives players a chance to win every half hour! Draws are conducted every thirty minutes and broadcast live on the official website.
Biggest Jackpots
The largest jackpot ever paid out by the lottery is a whopping ₽47.37 million. This equates to around US $642,337. However, we could not find any mention of when this jackpot was won.
Payout Options
There does not seem to be any annuity payment option for winners of the jackpot. Instead, all winnings are paid in a cash lump sum that is paid via wire transfer into the winner's bank account. However, you will need to make sure that you claim your prize soon after the draw, as prizes expire six months after the draw takes place.
Taxes
As with all lotteries in Russia, all winnings are subject to 13% tax—if you are a Russian resident. If you happen not to be a Russian resident, you will need to forfeit 30% of your winnings to the taxman.
How to Play Russia Gosloto 5/36 Online
It does not appear possible to purchase tickets for this lottery on any of the most popular online lottery websites. However, it is still possible to play online using the official lottery website by any person who is 18 years or older on the condition that they are within the confines of Russia.
Russia Goslotto 5/36 Lottery – Is It Worth Playing?
This lottery is the type of lotto game that makes us somewhat excited. Aside from the reasonable price for a ticket and the decent jackpot, what makes this game special is the draws that take place every half hour. In our opinion, you would be making a mistake not to play this lottery if you are in Russia. After all, you never know if you may be the next lottery winner—and you'll have as many opportunities to try as you desire.
User Reviews and Comments (1)