Play Russia Gosloto 6/45 Online – How to Play and Buy Tickets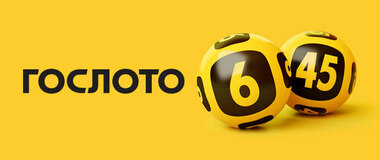 Upon hearing of Russia, the majority of people may think of cold weather, abandoned tundra, and, of course, vodka. However, Russia also happens to be home to some pretty decent lottery games. In this Russia Gosloto 6/45 review, we will look at one of the most popular lottery games in the country today and see how it works, where you can buy tickets, and if it is worth playing.
History
All lottery games available in Russia are run by an organisation named Gosloto. This organisation was founded in 2003 and has, since then, been in charge of all official state lottery games in the country. Amazingly, however, the organisation is privately run and is not overseen by the state. Instead, at the time of the founding of the organisation, new laws regarding lotteries were issued and the president of the country, Vladimir Putin, gave his personal approval of the lottery organisation. In addition, a contract was signed between the company and the Russian government. This contract set out the terms under which the organisation will operate and how they will conduct themselves and their business.
Gosloto began with a single game that was launched in 2005. Today, there are a variety of different games available from the lottery—meaning that there is something for everyone.
How to Play Russian Gosloto 6/45 Lottery
As you may have guessed from the name of the lottery, this game uses a single-matrix (6/45) format. What this means is that to play, you will need to select six unique numbers from a number pool that ranges from 1 to 45. Correctly matching two or more numbers will win you a prize from the lottery. Successfully matching all six numbers will win you the super prize (or what everybody else calls the jackpot). Playing this lottery is that simple.
Odds of Winning
The odds of winning the super prize (or jackpot) in this lottery are 1 in 8,145,060. These are pretty decent considering that tickets only cost around ₽100 (or approximately US$1.29) each. For this price, you stand a chance to win the minimum jackpot of ₽10 million—which is about US$130,000. What's more, this minimum jackpot rolls over indefinitely if it is not won—leading to some pretty impressive jackpots.
The overall odds of winning a prize are not published. However, there seems to be a general consensus that they fall around 1 in 7.
Russian Gosloto 645 Lottery Payout Chart
| | | |
| --- | --- | --- |
| # of Matched Numbers | Prize | Odds of Winning |
| 6 of 6 | Super Prize | 1 in 8,145,060 |
| 5 of 6 | ₽200,000 | 1 in 34,808 |
| 4 of 6 | ₽3,000 | 1 in 733 |
| 3 of 6 | ₽300 | 1 in 45 |
| 2 of 6 | ₽100 | 1 in 7 |
Drawing Time
Amazingly for a lottery game this size, two draws occur daily. These draws take place at 11:00 AM and 11:00 PM (MST) each day. The draws are available to watch live on the official lottery website and have results posted online shortly after the draw has completed.
Biggest Jackpots
The largest recorded super prize that has been paid out by the lottery went to a single winner on May 21, 2017. This lucky winner won a staggering ₽364,685,787 (or around US$5.6 million). This amount added even more evidence to the ability of the jackpot to grow to large amounts after numerous rollovers.
Payout Options
There is no confirmation from the lottery as to whether or not they allow winners to claim their winnings as annuity payments when the jackpot reaches an excessive amount. However, based on what we have researched online, this is likely not an option. Instead, it appears that all winnings are paid out in a single cash lump sum.
While we do see the merit in this—giving people their full prize at once and making them incredibly happy—we think this is a slight flaw in the lottery. Sometimes it may be better to give excited winners their money more slowly rather than to let them spend it all at once. However, as we have said, we could not find any confirmation from the lottery regarding this fact.
Taxes
Unfortunately, taxes are due on lottery winnings in Russia. Thankfully, they are not overly excessive: all winnings are subject to 13% tax. That is, however, unless you are not a resident of Russia. If you happen to win a Gosloto game and do not reside in Russia, you will be liable to pay 30% of your winnings to the Russian government.
How to Play Russia Gosloto 6/45 Lottery Online
Several online lotto sites claim to sell tickets to this lottery. However, the only site that we found that carries through on this promise is the official lottery website. So, while you may have to register a new account with the official website, at least there is still the option to be able to purchase tickets without leaving the comfort of your own home.
The lottery does not state that it is exclusively available to players who reside in Russia. And, based on the fact that there is a distinct tax bracket for players from outside the country, we assume external players are allowed.

Russia Gosloto 6/45 Lottery – Is It Worth Playing?
There are many factors to consider when deciding if a lottery is worth playing or not, and Russia Gosloto 6/45 manages to tick all the boxes required. A reputable and trustworthy organisation runs it, it offers decent odds for a low ticket price, it has a jackpot that has proven to grow to impressive amounts, and it is available online. This makes Russia Gosloto 645 a lottery that is appealing to play, and, in our humble opinion, a game that should not be missed out on.
User Reviews and Comments (1)