QE2 Home Lottery Review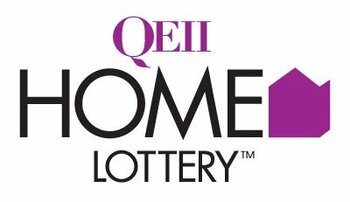 While most home charity lotteries are run for the sole purpose of raising funds for a specific cause, we must admit that that fact does not bother us at all. This is because these lotteries have evolved to offer fantastic prizes at even better odds all the while still helping people in need. In this QE2 Home Lottery review, we will take a look at one of these games of chance and see how it stacks up against our expectations of what makes a great home lottery in the first place.
HISTORY AND CAUSE
If you know who runs the QE2 Home Lottery, then it is easy to tell exactly what cause it supports. It is run by—and in aid of—the QE II Health Sciences Centre Foundation. This foundation helps run and provide funding to various hospitals that help millions of Canadians every year. The lottery was first launched by the foundation in 2003 and since then has grown to be run twice every year.
QE2 HOME LOTTERY ODDS & TICKET PRICES
Because only 86,000 tickets are sold for the main draw and there are more than 2,000 prizes, the overall odds of winning something good are 1 in 19—beating out the odds of any other traditional lottery that you may compare this lottery too. These great odds are even better when you consider that aside from the grand prize, there are over 2,000 additional prizes that the lottery gives away.
As is the case with all good things, however, these high odds do come with a slightly higher-than-normal price tag. A single ticket costs $100. Luckily, bulk purchases invite discounts, meaning that you can grab three tickets for $250 (saving you $50) or five tickets for $375 (saving you $125).
QE2 Lottery GRAND PRIZE
As with most Canadian charity home lotteries, the grand prize on offer does more than enough to make up for the ticket price. The winner receives a four-bedroom Lakefront Location home that is fully furnished by professional interior decorators and precision built to last for many years to come. The house has three stories and is located just outside of downtown Halifax, Nova Scotia, Canada.
Unfortunately, the organization does not state anywhere what the actual value of this home is worth. All that is stated is that the winners of this great home will also receive $100,000 in cash. We assume, judging that the lottery does say that the 2,012 prizes on offer have a combined worth of approximately $3,065,637.32, that the grand prize home is valued at over $1 million.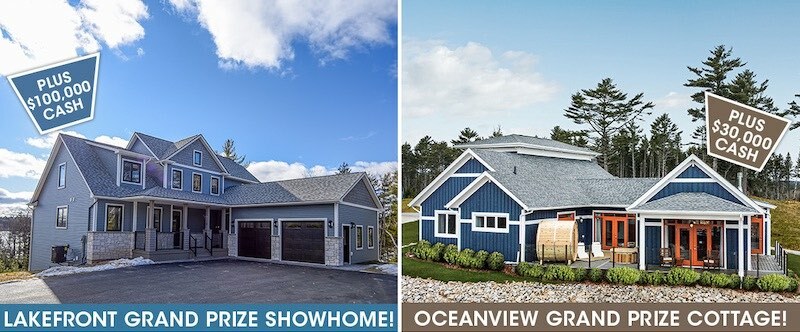 ADDITIONAL DRAWS AND PRIZES
As mentioned above, there are over 2,012 prizes that are awarded by the QE2 Home Lottery. These prizes are handed out through a variety of additional draws that all players (unless specifically mentioned otherwise) are automatically entered into if they meet the draw requirements—such as purchasing tickets before a specific date. The additional draws include:
Cottage Draw: Separate to the gorgeous grand prize home, the lottery also gives away a two-bedroom cottage that invites nature inside with large windows and an ocean view. Winners of this draw also receive an additional $30,000 in cash and, as with the grand prize home, this cottage come fully furnished.
50/50 Draw: The 50/50 draw is a great draw that has a jackpot directly linked to the number of tickets sold. Once the draw is made, the winning ticket takes half the available money, while the other half goes to supporting the QE II hospitals. Tickets for this draw cost $25 for five tickets, but discounted bulk purchases are available. The jackpot for this draw has also been seen to grow to $1.2 million.
100 Days of Winning Cash Calendar: Launching at the midway point of the year, this draw boasts 100 prizes of $2,500 each—totalling a fantastic $250,000. These 100 prizes are given away over 100 days to 100 different ticket holders. As with the 50/50 draw, tickets are $25 for five, but bulk purchases are discounted.
Early Bird Draw: The early bird draw is open to all players who purchase their tickets for the main draw before a specified deadline. The prize is an excellent nine-night vacation in Italy as well as a 2020 Range Rover Sport. Alternatively, the winner of this prize can substitute it for $100,000 in cash.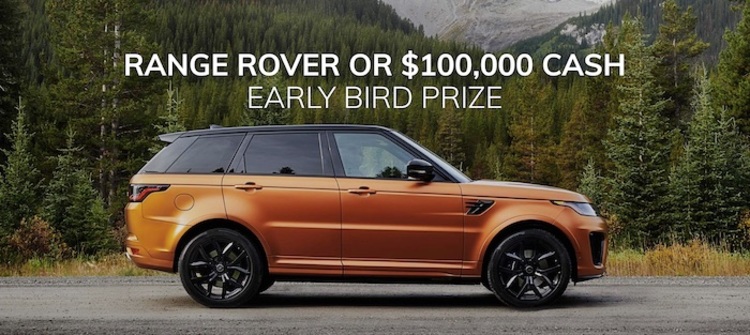 To add to all the above prizes, there are additional prizes given away through bonus draws. These prizes include cars, cash, vacations, gift cards, and electronics.
PRIZE COLLECTION
All winners will be notified in writing that they are eligible to claim a prize. In addition to this, a full list of winners will be published on the official QE2 Home Lottery website. All home winners will have their prizes automatically transferred into their name by the lottery and will not be liable to pay any fees for the transfer of the property. Car winners will be held responsible for licencing and insuring their new cars.
RULES FOR THE QE2 HOME LOTTERY
All players wanting to participate in the lottery must be a minimum age of 19. The lottery is also strictly limited to residents of Nova Scotia, Canada. Due to this, all tickets must be purchased and mailed inside the borders of Nova Scotia.
The only other condition for playing in this lottery is that no member of the QE II Foundation, any of the housing contractors, partners, designers, or realtors may purchase tickets. Sadly, this limit on purchasing tickets also extends to the spouses, dependents, and roommates of all the people mentioned above.
CONCLUSION
The QE2 Home Lottery is a fantastic lottery that has been running for several years. The fact that in 2019 alone it raised approximately $6.4 million that has been funnelled into the QE II Health Sciences Centre Foundation means that this lottery is most undoubtedly worth playing if you want that warm, fuzzy feeling that occurs when you know you are contributing towards a great cause.
DISCLAIMER
This review was written using a mix of data from the previously completed Fall 2019 draw and the upcoming 2020 draw. This includes all prizes, ticket sale prices, and odds of winning. For updated information, please visit the official lottery website for the latest information.
User Reviews and Comments (1)