Punjab State Lottery Review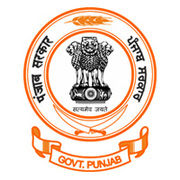 Living in India and being a fan of the lottery are not two things that can easily coincide with one another. Following a ruling by the Supreme Court, Indian states were each given their own choice as to whether to ban lottery games in their regions. All but 13 states chose to place an outright ban on lottery ticket sales—rendering all hope for lottery enthusiasts redundant. For those lucky ones that stayed in the allowed 13 states, however, things were picking up. Many of these states launched (or already had) their own lotteries to scratch the itch of their lottery addicts. In this Punjab State Lottery review, we will look at this particular lottery, how it operates, and how worthwhile it is to play.
PUNJAB STATE LOTTERY HISTORY
While the ban across many Indian states may be recent, lotteries in some states are a far cry from new. The Punjab State lottery was first launched back in 1968 when the local government founded the Directorate of Punjab State Lotteries. This directorate fell under the finance sector of the government and was installed for the sole purpose of organising and running a state lottery that was free of corruption and operated under the ethos of transparency.
HOW TO PLAY PUNJAB LOTTERY
The lottery operates in a straightforward way. Weekly and monthly draws—when they were still being held—each consisted of lottery tickets that held five and six numbers respectively. Match numbers with those that are drawn, and you are a winner—pretty simple really.
The bumper draws operate in the same way as the monthly draws and has a ticket that consists of six numbers.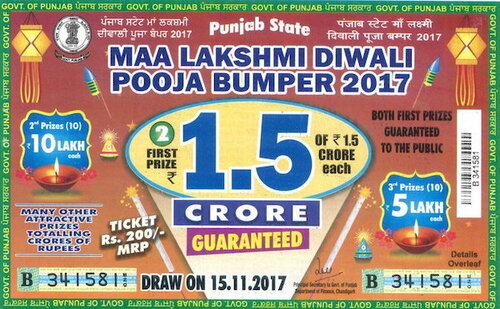 WHEN IS THE PUNJAB LOTTERY DRAWN?
Upon its inception, and indeed up until the end of 2017, there were three types of draws held:
Weekly Draws: These draws occurred each Wednesday and were the most popular of the draws conducted by the lottery. Unfortunately, as stated above, the government suspended these draws at the start of 2018 without giving any explanation as to why they had stopped. Common speculation is that they were stopped due to the high number of people who were spending far too much of their income on lottery tickets rather than on debt repayments or even daily living.
Monthly Draws: These draws happen the last Friday of every month and, by the looks of the Punjab State Lottery official website, also appear to have been suspended. The last draws held were at the beginning of 2019, with no new draw results being released since then.
Bumper Draws: Bumper draws are held throughout the year to celebrate special holidays, such as the New Year (Lohri), Holi Festival, Baisakhi, Rakhi, and Diwali. Because these days generally fall at different times of the year, the dates that bumper draws occur on vary each year.
PAY TIERS AND COST TO PLAY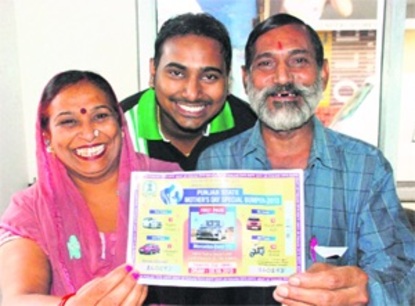 While they were still around, the weekly and monthly draw tickets held a cost of 20INR ($0.28) and 89INR ($1.26). This is relatively cheap considering that the weekly draws had a jackpot of 500,000INR ($7,057) and the monthly draw paid the person with the winning ticket a generous 5.1 million INR ($71,952).
As expected, because they are special draws that only come around once a year, the bumper draws have a much higher price tag attached to them. Most bumper tickets retail for around 200INR ($2.82) per ticket. This price can, however, increase or decrease depending on the draw.
While the price of the bumper tickets may seem slightly excessive, there is a good reason for it. The average jackpot for bumper draws is around 15 million INR (or approximately $211,000)—which is most certainly enough to change somebody's life forever—especially in India. It is also great to see that there are nine available prize tiers available for players to be able to claim winnings on.
TAXES
All lottery winnings in India are taxed at a flat rate of 30%.
WHERE TO PLAY
Tickets for the Punjab State Lottery are issued on printed using a government press and can only be purchased from retailers that are authorised by the government. Luckily, there are still many different places that tickets are able to be bought from, such as post offices, bus stops, train stations, and local markets.
Currently, there is no way to play in the Punjab State lottery draws without physically purchasing a ticket from an authorised agent located in the Punjab state. This, unfortunately, means that even though the lottery is open to anybody on the planet, there are no online ticket merchants. Therefore, if you come across any online lottery websites that claims to sell tickets for this lottery, be very careful because it is most likely a scam.
CONCLUSION
The Punjab lottery was started by the state to help locals fulfil their desire to play in a fair and honest lottery in order to see their dreams come true and win a life-changing amount of money. Therefore, we can't help but wonder why the lottery seems to have disintegrated over the years and has become a shell of its former self.
While we would love to find out the circumstances surrounding the suspension of the weekly and monthly draws that so many Indian residents found joy in participating in, we suppose that we can just be glad that the famous bumper draws are still being held.
However, even though the bumper draws are still around, the fact that they cost so much (even though the end reward is worth it) may put a damper on the spirits of those who are unable to afford such an excessive price for a single lottery ticket.
We hope that the weekly and monthly draws see a comeback at some point in the near future, and, until then, we suggest that Indian nationals play international lotteries from India instead.
User Reviews and Comments (1)