PlayHugeLottos Welcome Offer: FREE Powerball Entry
Considering giving PlayHugeLottos a shot? If so, your decision is about to get a whole lot easier thanks to this PlayHugeLottos welcome offer. Buy 1 entry to any lottery and get a FREE Powerball entry. Offering some of the world's biggest jackpots, US Powerball is the kind of lottery that could make money completely irrelevant to you, and your shot at winning it is as good as anybody else's.
To take advantage of this offer, click on the link below and register with PlayHugeLottos.com. After confirming your email address, purchase at least one entry to whatever lottery tickles your fancy—there are 15 in total—and enjoy your FREE Powerball entry. Just keep in mind that as this is a signup bonus, this offer is open only to new customers.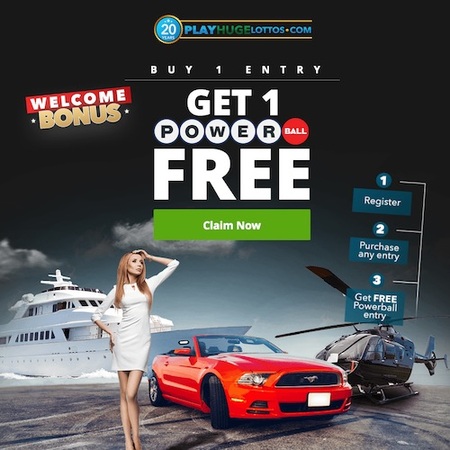 PlayHugeLottos has been around since 1998, making it one of the oldest, biggest, and best online lottery sites in the world. Featuring 15 popular international lotteries, frequent promos, Keno, scratchcards, and more, it's no surprise that PlayHugeLottos has outlasted most of its competition in the lotto industry for as long as it has. After all, they really know what they're doing. But hey, don't take it from us, find out for yourself!
Join PlayHugeLottos now