LottoGo App Review
LottoGo has undoubtedly made a massive splash in the lottery pool since its launch back in 2018. As a rebrand of the popular World Lottery Club, it was never going to be entirely straightforward for the brand to make a name for itself. However, it surprised us all when it relaunched as a legitimate lottery site that also happens to have its own dedicated app. In this LottoGo app review, we will look at how this app works and whether or not it is worth installing on your mobile device.
Stand-Out Feature
As with the website, the main feature of the LottoGo application is to allow you to purchase lottery tickets while you are on the go. It must be said upfront, however, that LottoGo (both as an online lottery website and a lottery application) does not purchase lottery tickets for you on your behalf. Instead, the platform simply allows you to place bets on what you think the outcomes of the lottery will be. This is exactly how Lottoland, arguably the biggest lottery site in the world, functions.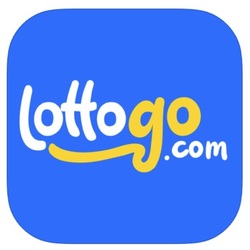 Doing this through the app is actually even more straightforward than we thought possible, and we were pleasantly surprised to see that you can actually purchase an entry in less than 30 seconds. To do this, all you need to do is select Jackpots from the bottom navigation pane to view a list of available lotteries. Once you have chosen your preferred lottery, just click on it to navigate to the bet selection screen.
Here, you will be able to select your own numbers or opt to use a quick pick option to choose numbers for you. We tested how many lines you can purchase at one time, and it appears that the app limits you to 15—which is a pretty decent amount.
Once you have chosen your numbers, you will have the chance to enable any game add-ons (such as US Powerball Max). After making your decision on this, you can proceed to checkout. The great thing about the app is that it allows this to happen as a guest. You can, if you are an existing user of the site, log into your account before continuing with your purchase. However, if you have never used the site, you will be able to enter your necessary information on the app—which will automatically create a user account for you.
Following this information, you will need to enter the details of your payment method—which appears only to be Visa or MasterCard. Clicking Bet Now after entering this information will complete your purchase and allow you to continue with your life until you see if you are a big winner.
Additional Features
The app has a rather great number of extra features spread across it. Some of these features include:
Game Information: The game information feature of the app can be found on each of the various lottery pages. This section shows you all the information you could possibly want to know about each game. The information available includes how to play, the odds of winning, and even things such as what the tax implications of winning could be.
Scratch Tickets: The Scratchcards tab of the app gives you access to the wide variety of great scratchers offered by LottoGo. These are all available to play directly on the app and could provide hours of entertainment while waiting in lines or lying on the couch.
Games and Live Games: The LottoGo mobile application also allows you access to the vast array of games and live games that are available on the main website. These games range from roulette and poker to game shows such as Deal or No Deal and will certainly keep you busy while hopefully winning you some money as well.
Bingo: If the lotteries, scratchers, and games are not enough to entice you, then you may be tempted by the different bingo rooms on offer by LottoGo. Each room has different opening times and different bet amounts. This means that you can easily find a room that is perfectly suited to you so that you can try your luck in it.
Syndicates: If you are wanting to play the lottery with others to increase your chances of winning, then the great variety of LottoGo syndicates could be precisely what you are looking for. These syndicates have been tailor-made to give you the best possible chance of winning for the lowest price possible.
Help Center: Not only does the app provide access to the full help centre that is found on the website, but you are also able to access the live chat with support directly from any screen in the program. This is a great feature that we never expected to see but is something that we cannot help but be impressed by.
One thing that's notably missing is a results section where you could check the latest draw results of your favourite games. While that's by no means a showstopper, it would be a nice addition that hopefully the developers will add to a future update—especially since the LottoGo website already offers this.
Location & Lotteries Available
As you may expect, the majority of the world's most popular lotteries are supported by the app. These include:
German 6aus49
Australia Monday and Wednesday Lottery
Australia Powerball
Australia Saturday Lottery
Cash4Life
Daily Million
El Gordo da Navidad
El Gordo de ta Primitiva
El Nino
Eurojackpot
EuroMillions
Finnish Lotto
French Lotto
Irish Lotto
Mega Millions
Oz Lotto
Polish Lotto
Super Sunday
Italy SuperEnalotto
Swedish Lotto
The Monday Million
US Powerball
User Interface & Usability
The app itself is truly something great. It is fluid and responsive, even though it can sometimes take a short while for a page to load. This, however, does not at all detract from the overall experience. The design used is modern, and the navigation (which occurs via the bottom navigation menu and a secondary hamburger menu at the top right of the screen) is fantastic and allows you to move around really quickly.
Ads
To be honest, we did not really expect to see any ads while testing the application. This is purely because the app is specially developed as a dedicated program for a major lotto website—which should have the money to develop an app. In this regard, we were certainly not disappointed (note the sarcasm) when we did not see a single ad while navigating and using the app.
LottoGo App: Scam or Legit
You can probably already guess from everything in this review so far that this app is certainly not a scam. LottoGo.com is one of the more popular lottery websites available today (just read our LottoGo.com review to see why). Therefore, it follows that any app developed by the people behind the website is not something that is going to lead you into a scam.
Add to this that the application has decent reviews on both the Google Play Store and the Apple App Store and we are even more convinced that you have no chance of getting into trouble whatsoever by downloading and installing this software.
Conclusion – LottoGo App Review
The addition of a dedicated mobile application is an excellent feature to LottoGo—an already decent website. The fact that the app works so well and holds so many features all neatly packaged into a bombshell of a mobile program is exactly what we always hope to find when trying out a new lottery app. With great extras, a wide range of lotteries, and a guest checkout that we love, this app has it all.
So, if you are looking for our humble opinion—you should not still be reading this review. Instead, head over to your preferred app store and download this application.
Join now