Lotto Korea 6/45 Review

South Korea is a country that may not get enough credit for what its people have done for the world. After all, this is the country that brought us brands such as Samsung, Hyundai, and Kia. There is, however, something else that people should know about that has its origins in South Korea—Korea Lotto. In this Lotto Korea 6/45 review, we will look at this popular lottery and see what it has to offer.
History
Launched in 2002, Korea Lotto 6/45 is arguably the most famous lottery in South Korea. It was started after the public demanded a decent lottery game that was fairly conducted. While it is unclear who launched the game or was behind running it at its beginnings, we do know that in 2018 the game fell into the portfolio of Dong Hang Lottery.
Incorporated in March of 2018, Dong Hang Lottery is the National Lottery Operator of South Korea and is designated by the Ministry of Economy and Finance in the country. Dong Hang Lottery was founded after multiple stakeholders (including the government) sought to form a singular lottery entity to ensure lottery games in the country ran smoothly.
How to Play Lotto Korea 6/45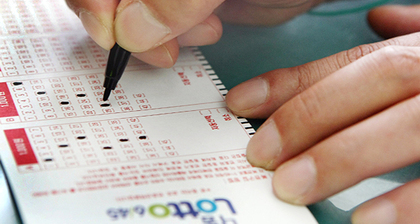 As the name may have intoned, this lottery game is a single-matrix (6/45) game. This means that to play, you will need to select six unique numbers from a number pool ranging from 1 to 45. If you do not feel like having the make the decision on which numbers to play, there is a quick pick option available that will allow a computer to select numbers on your behalf randomly.
Once you have selected your numbers (or had them chosen for you), all that you have to do is purchase your ticket and wait until the time of the draw. At this time, six numbers will be drawn. These six numbers will determine winners of the first, third, fourth, and fifth prize tiers. To determine the winner of the second prize tier, a seventh bonus ball will be drawn after the original six numbers have been drawn.
Odds of Winning
Amazingly, a single ticket for this lottery costs less than US$1. For this, you get the generous odds of 1 in 8,145,060 to win the jackpot. Unfortunately, there is no fixed jackpot amount. Instead, the jackpot amount is based on the number of ticket sales for each draw. As a base, 75% of the total prize pool is allocated to the jackpot.
To break this down, it is essential to note that only 50% of all incoming money received from lottery sales is given toward prizes. A portion of 42% of the income goes to a lottery fund that is used for charitable efforts. The remaining 8% is used for the administration of the lottery.
Korea Lotto 6/45 Payout Chart
There are five unique prize tiers available. We do not, however, understand how the lottery organisers decided upon the second and third prize tier allocations. As a standard, the second prize tier holds a higher prize than the third prize tier. The opposite is true here. Instead, the two different levels contain the exact same prize amount—despite the second tier having much tougher odds. To see what we mean, take a look at the table below:
| | | |
| --- | --- | --- |
| # of Matched Numbers | Prize | Odds of Winning |
| 6 of 6 | 75% of prize pool* | 1 in 8,145,060 |
| 5 of 6 + Bonus Ball | 12.5% of prize pool* | 1 in 1,357,510 |
| 5 of 6 | 12.5% of prize pool* | 1 in 35,725 |
| 4 of 6 | KRW 50,000 (US$ 40.72) | 1 in 733 |
| 3 of 6 | KRW 5,000 (US$ 4.07) | 1 in 11 |
*This prize pool excludes the fixed amounts paid out for the fourth and fifth prize tiers.
Drawing Time
Draws take place every Saturday at 8:40 PM (KST). The draws are televised on the local SBS channel. Results are also posted online shortly after the draw has finished.
Biggest Jackpots
The largest jackpot on record occurred in 2003. Due to a number of rollovers, the jackpot reached the incredible amount of KRW 85.95 billion (approximately US $70 million). After this occurred, the lottery realised that people were spending more money than they could afford in hopes of winning an amount this large. To curb this, a rule was instituted that limits the number of times a jackpot can roll over to three times. As a result, the jackpots have usually been quite a bit smaller; the biggest one in 2018, for example, was KRW 5.93 billion (about $4.9 million in US dollars).
Payout Options
All winnings won by playing this lottery are paid out in cash lump sums without the option of an annuity payment arrangement. This includes all jackpot amounts.
Taxes
Unfortunately, as with most places on earth, tax is an undeniable part of winning the lottery. In South Korea, any prize under KRW 50 million is subject to 22% tax. However, if your winnings are higher than this threshold, you will be liable to pay a whopping 33% in tax—an amount that is among the highest tax rates in the world.
How to Play Korea Lottery 6/45 Online
While there are no online lotto companies that deal with the online sale of tickets for Korea Lottery 6/45, there is still a way that players can access tickets online: via the lottery's official website. All tickets purchased from here are 100% legitimate, and players can buy tickets with confidence, knowing the official vendor of the lottery is issuing them.
Unfortunately, while non-Korean citizens can play, you have to be 19 years of age or older to play. In addition, you have to be within the borders of South Korea when purchasing your ticket.
Korea Lottery 6/45 – Is It Worth Playing?
We do wish that this lottery had a minimum starting jackpot—we are going to say that immediately—but since the jackpot can still grow to millions of dollars, that's ok. Even though this may not sound like a large amount of money compared to the best online lotteries, it is still pretty decent. And, add to that the incredibly cheap ticket price, and we are all for playing this lottery. So, if you are in South Korea, head over to the official website and grab yourself a ticket.
User Reviews and Comments (1)