Lottery Maximizer Review

Have you ever wished that there was a special tool out there that could help you win the lottery? Well, there is an entire industry out there trying to sell that very thing. A quick search online shows numerous lottery software programs that all claim that they're the product that will finally help you select the winning numbers. But if so many of these products work, then why don't we hear more about people winning big by using them? In this Lottery Maximizer review, we'll explain everything you need to know about one of these products.
WHAT IS LOTTERY MAXIMIZER?
Lottery Maximizer is a software program that claims to use a special mathematical equation to choose the next winning numbers for users. Lottery Maximizer isn't the first time we've seen this program—it has undergone numerous name changes, having been sold under the name Lotto Annihilator, Lotto Dominator, Lotto Processor, and Lottery Loopholes. The system is supposedly based off of the advice and experience of a notorious name within lotto circles—Richard Lustig.
WHO IS RICHARD LUSTIG?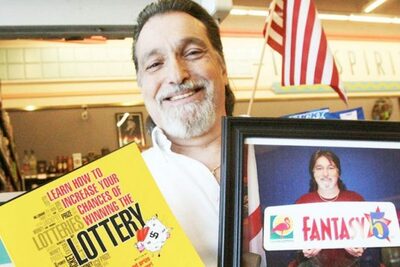 Richard Lustig is a familiar name to anyone who follows lotto news in the U.S. Lustig's claim to fame is that he won seven separate prizes from various lotto draws. These wins span amounts of $3,590 to $842,150, and include both scratch tickets and state lotto draws. In total, it is believed that he's won a total of just over $1,052,000. Once Lustig became known as a multi-lotto winner, he started appearing frequently in media broadcasts as a lotto expert, often weighing in with his opinion and advice any time there was a big jackpot draw coming up.
Lustig is also the author and spokesperson for many lotto advice and software products. His book, Learn How to Increase Your Chances of Winning the Lottery was once the third-highest seller on the Amazon self-help book list. He is also associated with numerous lottery software programs, but whether or not he is actually involved in many of these programs is unclear. Nevertheless, marketers often use his name to help promote their products and attempt to establish credibility.
Since Richard Lustig passed away in July 2018, any new products that claim ownership on behalf of Lustig, or that claim to be recently designed by Lustig, are clearly untrustworthy. The Lottery Maximizer website claims that the product and all sales copywriting used to promote the software are approved by Lustig, though perhaps the website simply hasn't been updated to reflect his death. Either way, this is just the first of many red flags about this software.
HOW MUCH DOES LOTTERY MAXIMIZER COST?
Lottery Maximizer software is not cheap, costing users $97 USD. Right at the checkout, there is an immediate attempt to upsell buyers, offering three books that contain advice on how to win the lottery. These books include Richard's Lottery Secrets Book, a 128-page book that costs $47, Scratch Off Secrets Exposed, a digital book that costs $37, and The Official Lottery Maximizer User's Guide with Tips that costs $27. First, it's pretty shady that any product would require an additional purchase for a user's manual. Second, shouldn't the software alone be enough to help users win the lottery? What's the need for all the additional information, unless the software doesn't work as it claims?
LOTTERY MAXIMIZER REVIEW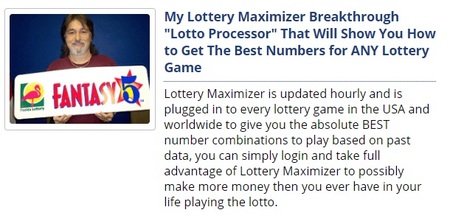 Lottery Maximizer software, and all other versions of this program, allegedly has a built-in formula that examines past winning jackpot data and patterns to give users a set of numbers that will help them win big. The website says every lotto game in the world can be plugged into the system, and in return users will receive the best number combos to play.
Aside from what we've already mentioned, there are a few things about this product that make us hesitant. The website seems to be very careful about claiming how effective Lottery Maximizer software is, while simultaneously plastering stories about Richard Lustig's wins and the success of Lottery Maximizer users throughout the site. Though it doesn't outright say that the software will help you win, it does claim to be made using the "secret to winning" as revealed by Lustig, who the site calls a "lotto professor."
If visitors can look past the aggressive and misleading marketing language, then they will see that Lottery Maximizer can't help them win at all. A legal disclaimer at the bottom of the site, along with the disclaimer page, explains that customers will not win the lottery because of the software, and that users should not expect to win the lottery. The many testimonials that the marketers use to sell the software are not the typical experience, the disclaimer states. Despite all the language throughout the site that would have visitors think otherwise, Lottery Maximizer software is purely sold for entertainment purposes.
BOTTOM LINE—IS LOTTERY MAXIMIZER A SCAM?
It is very clear from the Lottery Maximizer website that this is not a software program that will help users win the lottery. The lottery is, after all, completely random, which means winning numbers cannot be predicted—no matter how many times a person may have won the lottery in the past. As the website disclaimer says, you should only purchase this software for entertainment purposes, not because you think it will increase your chance of winning big. However, considering the $97 price tag, this is a very expensive and pointless form of entertainment. You'd be much better off buying $97 worth of lottery tickets for a single draw instead.