Lottery Loser Gerald Muswagon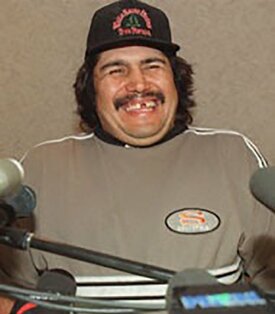 Winning the lottery is often the best thing to happen to those lucky enough to experience it. In many cases, winners are lucky enough to acquire legal assistance to help them spend their money cautiously. Others aren't always so lucky, and unfortunately, this can quickly spiral into chaos—as can be seen in tragic tale of the late lottery winner Gerald Muswagon.
The Jackpot Win & How He Spent It
In 1998, Manitoba resident Gerald Muswagon won $10 million in the Canadian Super 7 lottery on a single $2 ticket. The excitement he felt was immense, for he was finally capable of buying all of the things he'd ever wanted: cars, a big home, and expensive electronics. It wasn't all for him, of course; in fact, the winner wanted nothing more than to spoil his loved ones, which he did so abundantly.
His winnings also went toward a business of his own known as "Gerald's Logging" meant for cutting lumber. Though there were higher expectations for his company, it soon flopped due to a lack of business.
The spending soon became more irresponsible. Muswagon started to shell out his money on alcohol and partying, as many other lottery winners frequently do. Because of his bad habits, it didn't take long for him to blow his winnings.
Criminal Activity
Gerald Muswagon's partying wasn't the worst of his problems. In October 2000, he took his new Chevy Silverado on a joyride that ended in a police chase. When he landed in court, he had no option but to plead guilty to reckless driving. This resulted in a three-month jail sentence.
Two years after, just weeks after the loss of his wife, Muswagon sexually assaulted a 19-year-old woman filling in as his housekeeper. A few years later, in 2005, he was sentenced to another three-month jail sentence after pleading guilty to sexual assault. This sentence was served over time, as the court allowed him to keep working during weekdays while spending only weekends in jail.
It was evident that winning the lottery didn't change Muswagon's life as much as he'd hoped, as he had a lengthy criminal record that began in 1981. He was found guilty of several other crimes before his $10 million win, including drunk driving, robbery, assault, and more. His lawyer and family credit his behaviours to a difficult life, a lack of education, and insufficient support from the people around him.
After Losing It All
Despite being considered a "local legend" after his lottery win, Gerald Muswagon's life took a turn for the worse over the following years. With his millions gone, he had no choice but to take on a minimum wage job that consisted of manual labour; however, a minimal income makes it nearly impossible to care for a partner and six children, which led Muswagon down a dark path. With how much he worked to support his family on top of the depression he was struggling with, his life became much more difficult than he could ever imagine.
Unfortunately, in 2005—just seven years after his big win—Gerald Muswagon took his own life when he hung himself in his parents' garage.
A Cautionary Tale
Gerald Muswagon wasn't the first lottery winner to spend their winnings irresponsibly and land themselves in a tough spot.
"Lotto lout" and Norfolk resident Michael Carroll is yet another perfect example of how everything can go wrong. Winning the UK Lotto jackpot of £9,736,131 at only age 19 in 2002 resulted in Carroll becoming infamous for his reckless spending and behaviours. It didn't take long for the winner to lose it all, forcing him to take a job as a coalman and work 12-hour shifts seven days per week.
For hopeful players of the lottery, such stories should act as cautionary tales. If you're lucky enough to win a large sum of money, it is important to make plans for your newfound wealth to ensure you don't blow it all with nothing to show.
Conclusion
For Gerald Muswagon, the dream of winning the lottery turned out to be too good to be true. Even for responsible winners who had their lives together prior to winning, such as Craig Henshaw, a sudden newfound fortune can turn their lives upside down. And with no guidance or support, it was borderline impossible for Muswagon to make good decisions when spending his money, which undoubtedly took its toll on the quality of his life.
His unfortunate and untimely death should serve as a reminder for lottery winners everywhere to take care of themselves in all ways—not just financially. After all, the luck of winning millions comes with plenty of responsibility. For many, this can prove to be much more stressful than expected.