Lottery Loser Curtis Sharp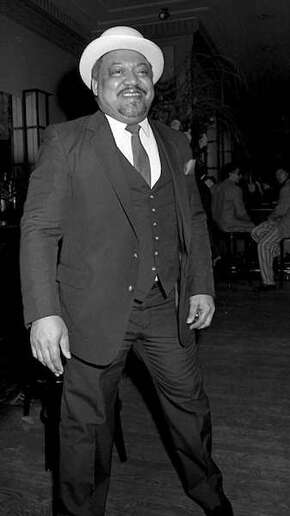 There are many pros to winning the lottery: newfound wealth, temporary fame, a glamorous lifestyle—all of which come with a price of their own. For lottery winner Curtis Sharp, it was easy to become comfortable with the benefits that came with his millions. After winning big in the November 1982 New York State Lottery, his life changed drastically. Though he benefited greatly, he also faced his own share of mishaps.
Winning the Lottery
Like many of us who play the lottery, New York resident Curtis Sharp had his doubts that he'd win. He didn't make a habit out of playing, and when he bought his winning ticket, it was only the fourth ticket he'd ever bought. Still, he held out enough hope that he checked the winning numbers. To his surprise, he'd won big time—$5 million, to be exact—and the excitement was so much that Curtis fainted.
At his New York Lotto press conference, Curtis was joined by his soon-to-be ex-wife, his fiancée, and his children. He didn't accept a lump sum payment; instead, he chose payment instalments that would be paid out over the course of 20 years ($239,000 a year). He also made the decision to keep working as a maintenance man after winning big, which would benefit him in the long run.
How Did He Spend His Winnings?
Curtis Sharp was a family man, so when confronted with how he'd spend his winnings, his first goal was to ensure his family was taken care of. After arranging trust funds for his children and finalising his divorce, his ex-wife Barbara was awarded a home in her name as well as more than $1 million to be paid out over time. Unfortunately, it wasn't long before he started to spend carelessly.
His first big purchase for himself was a 1983 Cadillac Fleetwood, which cost him about $60,000 (and was later stolen at gunpoint). After marrying his second wife, Jackie, the winner purchased a $555,000 ranch in New Jersey. The spending didn't stop there, as he fell in love with the material lifestyle and continued to shell his money out on things like clothes and accessories. Likewise, he loved to travel, a luxury he hadn't gotten much of a chance to experience before his win.
As Curtis himself has admitted, he didn't seek out appropriate guidance to help him manage his wealth. His debt exceeded his winnings, and when he later became involved in a tax shelter scheme, the IRS took his lottery checks as payment. Curtis's big tip for other winners is to invest in good financial planners and lawyers. Seeking out and following this kind of advice is usually what separates the lottery winners from the lottery losers.
A Little Taste of Fame
Winning the New York State Lottery came with many perks for Curtis Sharp. In particular, he gained notoriety and became one of the most publicised winners of his time, eventually becoming known as the "Five Dollar Million Man." Curtis notes that people would always get excited to see him in public, so much so that they'd "rub him for luck" and even ask for autographs. He also had commercial opportunities, most popularly a New York State Lottery advertisement featuring a hot dog vendor and Curtis insisting no stinginess on the mustard.
Despite losing his winnings, people still remember Curtis and his popularity, even nearly three decades later.
Friendship with Lou Eisenberg
When Curtis and his family arrived to claim his jackpot winnings, he met fellow lottery winner Lou Eisenberg, who'd won $5 million in November 1981—a year before Curtis's big win. The two had plenty in common. Before they stumbled into their newfound wealth, they were working low-wage jobs that were just enough to support their families. Lou remembers the two of them having immediate chemistry, with lottery spokeswoman Joanne Thompson stating they each brought out "what's fun about the other."
Curtis and Lou shared their fame and quickly became known as the "New York Lotto Poster Boys". Once, when at a Yankees game, the entire game was halted when people recognised them as they went for hot dogs. The crowd became so excited that they began chanting the winners' names. Just like that, two strangers became brothers.
Though both of the winners have lost their riches, they're still the best of friends all these years later. They talk weekly and reminisce on the good times they've had together. The two know that they'll be friends forever. As Curtis himself stated, "We've been with each other through the rich good times—and now we're together through the old and broke times."
Where Is Curtis Sharp Now?
Though Curtis no longer has his lottery winnings to stand on, his good work ethic eventually led to him securing his pension. After retiring, he invested his time in his church and preaching to prison inmates in Antioch, Tennessee. He likewise began driving a van part-time and invested in a landscaping business—for which he personally also mows about a dozen yards each month—with another minister. Though he has no regrets about his past, he hopes that his story can remind future winners to seek out the financial guidance they'll need.
Conclusion
Most lottery winners are faced with big lessons after taking home their winnings, and for Curtis Sharp the biggest lesson of all was learning the importance of seeking help where it's needed. Though it's easy to burn through lucky money, there are plenty of resources available to ensure that doesn't happen. If you're fortunate enough to stumble into a winning ticket, do yourself a favour: do your research, utilise your resources, and be responsible. More specifically, make sure you do these five things.