Lottery Banned States in India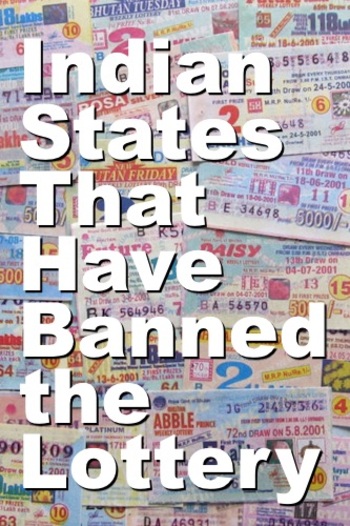 Playing the lottery and sports betting are incredibly popular pastimes in India—so popular, in fact, that the combined regulated and unregulated gaming industry is worth a whopping US$60 billion!
In recent years, India has made some progress in legalizing various forms of lottery and gambling. Currently, it is legal to sell lottery tickets in these 13 states: Arunachal Pradesh, Assam, Goa, Kerala, Madhya Pradesh, Maharashtra, Manipur, Meghalaya, Mizoram, Nagaland, Punjab, Sikkim, and West Bengal. However, the rest of the states prohibit lotteries and gambling in some—or every—form.
Keep reading to find out which Indian states have banned the lottery—and which ones might be opening up to the idea.
LOTTERY LAWS IN INDIA
India's political and religious climate influence how lotteries and gambling are regulated across the country. For example, gaming during the festival of Diwali is considered lucky, so Indian courts allow gambling during Diwali, as long as it's not in public.
Centuries of British rule still have a strong effect on Indian law today. When the Constitution of India came into power in 1950, the country adopted the British Public Gambling Act of 1857. Many states have since made alterations to this original (and somewhat antiquated) law—although some have not. In general, states that ban lotteries and gambling focus on prohibiting local ticket sales. They also ban playing stakes-based games and placing bets in "gambling houses."
The good news about these strictly local laws is that residents of no-lottery states can still buy tickets in other states or online. In particular, playing international lotteries online has many benefits, including significantly bigger jackpots, secure transactions, and convenient, 24/7 ticket purchasing.
Yet even in the Internet age, local laws matter. Here are the precise regulations in Indian states that have banned the lottery, and which ones allow online and in-person gaming now or might do so in the near future.
RAJASTHAN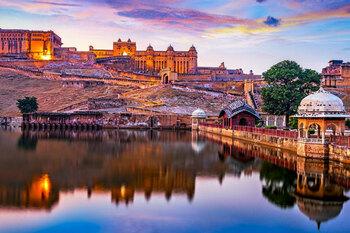 Most gambling has been illegal in Rajasthan since the Rajasthan Public Gambling Ordinance was put in place in 1949. Under this ordinance, it's illegal to sell lottery tickets in the state and to run a gambling establishment of any kind.
The somewhat antiquated law specifically bans betting on things like
The market price of cotton, opium, or other commodities
The occurrence or quantity of rainfall or any other natural event
Playing card games of chance that include betting, and
Gaming and setting birds and animals to fight
The law does not ban games of skill or games that combine skill and chance, such as the card game rummy and video games. The law also makes no mention of online betting.
UTTAR PRADESH
The government of Uttar Pradesh follows the Public Gambling Act of 1867, with a few strict amendments added in 1976. Locals are banned from owning or managing a public gambling house, and breaking this law will result in a ₹200 fine or imprisonment for up to three months. The Act also bans residents from visiting gambling houses under penalty of a ₹100 fine or up to one month in jail.
The state offers no leniency for popular games such as cricket betting, rummy, poker, horse racing, or lotteries. However, since the state has not updated its gambling legislation since the 1970s, there is no provision for or against online gambling or lotteries.
KARNATAKA
Karnataka banned all forms of gambling, lotteries, and sports betting in 2004 after an illegal single-digit lottery game had a negative economic impact on local workers. However, the home state of the famed Bangalore Turf Club does allow residents to bet on horse racing results and while playing skill-based card games.
This permissive law allowed for an explosion of card clubs in Bangalore and other cities. While playing these games is perfectly legal, the law is unclear on the status of placing bets within the games. The state also has not ruled on the status of online gambling.
GUJARAT
While many states are loosening restrictions on gambling, Gujarat is going in the opposite direction. The state has already banned all manner of gambling, including poker, both in person and online.
According to a report from the Times of India, the Ahmedabad Police Department proposed banning online gambling in 2019. The police had already succeeded in banning several online video games on account of their violent content. To date, there is no clear ban on online betting or lotteries in Gujarat.
TAMIL NADU
Gambling and lotteries in this state are regulated under the Tamil Nadu Gaming Act, 1930. Although a state lottery was legalized in 1968, all lotteries were eventually banned by 2003. The state also prohibits gambling-based card games (such as baccarat and poker), placing stakes in any other card game, and all forms of sport betting, except for horse racing.
Tamil Nadu does have a special provision for rooster fighting in Karur. Major cockfighting events involving anywhere from 200 to 1,000 roosters are allowed to proceed with court approval. The state also allows jallikattu, or bull-taming, in Central Tamil Nadu. There is no word yet on the state's view of online betting.
BIHAR
This state already operated under the national Public Gambling Act, 1867 and added the Bihar Ban on Lottery Act in 1993. This Act specifically bans printing lottery tickets, advertisements, and information about lotteries and raffles. Selling or promoting lotteries or prize-giving events in any way is also prohibited.
Finally, the sale of alcoholic beverages was banned in 1993, because it was believed that legal access to alcohol would increase unlawful gambling and other criminal activities.
PUNJAB
For many years, Punjab had a blanket ban on gambling and unofficial lotteries in the state. After several failed attempts to open casinos and increase alcohol sales to boost government revenue, the state decided to allow betting on horse racing in 2013 instead. The same year, the government launched its own online lottery to raise funds for various projects.
In 2017, the High Court of Punjab and Haryana also decided that the Dream11 fantasy sports-betting platform constituted a game of skill rather than gambling. While this one type of sports betting is now legal, all other forms of gambling and sports betting remain punishable offenses by law.
HARYANA
Officially, the state of Haryana continues to prohibit buying lottery tickets, online gambling, sports betting, and running gambling establishments. However, under the same ruling by the High Court of Punjab and Haryana, the state does allow fantasy sports betting online, as well as wagering on horse races.
In the early 2000s, the Former Chief Minister of Haryana, Om Prakash Chautala, proposed a plan to legalize in-person and online gambling and set up casinos close to Delhi. The idea was to attract tourists visiting the Taj Mahal, gain tax revenue, and create jobs. However, his plan was rejected in 2005. There has been no movement towards similar legal changes since.
TELANGANA
Telangana has some of the strictest anti-gambling laws in India. In 2017, the state passed the Telangana Gaming (Amendment) Ordinance and extended its ban to include online games as well as in brick-and-mortar gambling houses.
The state also redefined the Indian government's view that rummy is a game of skill. In Telangana, rummy is now a "game of chance"—and is entirely illegal. To underscore the change, the state amended its Gambling Law to remove the exemption for games of skill.
ANDHRA PRADESH
Andhra Pradesh officially outlaws gambling, including making bets and running gambling establishments. However, regardless of the law, local police report that there are many gambling dens in Hyderabad and across smaller cities in Andhra Pradesh.
Looking forward, gambling rules may be relaxing slowly in the state. Residents are already allowed to place wagers on lotteries, horse racing, and rummy. The state also recently released the Gaming, Animation, Media & Entertainment Policy (2015-2019), which aims to make the state a more favourable destination for future investments in animation and gaming ventures.
JAMMU AND KASHMIR
Jammu and Kashmir's Public Gambling Act of 1977 strictly forbids any form of gaming in gambling houses. If a person is found playing for money or other valuables in a gambling establishment, the penalty is 500 rupees or a maximum six-month jail sentence.
In 2015, the Deputy Chief Minister wanted to boost tourism to the state by emulating Goa's pro-casino regulation. However, the law didn't pass—and illegal lottery sellers and gambling houses are still prosecuted today.
CHHATTISGARH
On the surface, Chhattisgarh still abides by the Public Gambling Act of 1867. However, as the state is currently building its new capital, Naya Raipur, the government has a chance to develop new entertainment laws.
In addition to the planned five-star hotels, golf course, international cricket stadium, and zoo, the state is discussing opening a new gaming club in the capital where gambling will be allowed.
ODISHA
Unlike other states that allow residents to play games of skill, such as rummy and poker, Odisha's laws do not. This state functions under the British 1970 Assam Game and Betting Act and the Orissa Prevention of Gaming Act 1955.
According to these laws, no one can play games for money—anywhere—or own a gambling house where bets, stakes, or wagers are made. By extension, playing online gambling and lotteries are also illegal in the state.
JHARKHAND
Jharkhand differentiates between games of chance and games of skill, and there is no ban on selling lottery tickets in the state. However, state lotteries were banned in 2008 under section 12 of the Lotteries Regulation Act, 1998.
Selling fake lottery tickets is also certain to get you a court date, and police have been known to crack down on celebratory gaming during Diwali.
UTTARAKHAND
This state functions under the good old Public Gambling Act of 1867. The law simply states that gambling, betting, and wagering cannot take place in a "common gambling house." Any such business is liable to be shut down and its owners fined and/or imprisoned.
HIMACHAL PRADESH
There is no state lottery in Himachal Pradesh, and no lottery tickets may be sold. All gambling and gaming is prohibited, per the 1867 law. The only exception is for betting on a horse race on the day the race is run and within a sanctioned enclosure overseen by the stewards of the race. Currently, there is no law against online lotteries or gaming.
Residents are also allowed to buy tickets elsewhere—and in November 2019, a lucky painter from a village in Hamichal Pradesh hit a Rs 2.5 crore lottery prize while on his way home from Chandigarh, in Punjab and Haryana.
TRIPURA
For 80 years, this state's administration looked to the Tripura Gambling Act of 1926 for its handling of lotteries and betting. This law clearly defined several games of skill that were legal and allowed residents to open a lottery or lottery office, as long as it was sanctioned by the Council of Administration.
Then in the mid-2000s, the state issued a ban on the Tripura online lottery. By 2006, the government decided to ban the sale of all kinds of lottery tickets in the state. Police were tasked with taking strict action against all sellers of tickets in this officially no-lottery state.
CONCLUSION
While many states still ban lotteries on a local level, residents are allowed to buy lottery tickets in other states and online.
In addition to being legal to play, international online lotteries offer many benefits over traditional ticketed Indian lotteries. Multi-million dollar jackpots, secure transactions, convenient purchasing, and easy-to-collect prizes are just some of the perks. To find out more about how to play the lottery online in India, read our in-depth guide here.