Kenya Lotto 6/49 Review
Many countries run their own very successful lotteries, and Kenya Lotto 649 is no exception. Also known as "My Lotto Kenya 649" and "Toto Lottery", this government-operated game of chance is the national lottery of Kenya and is played by millions of citizens every week. In this Kenya Lotto 649 review, we will look at how this game came into being and what you can win by playing.
KENYA LOTTO 6/49 HISTORY
According to our research, it was not until relatively recently that Kenya had a lottery. In fact, the Kenya Lotto 649, which is now the leading lottery in the country, was only launched in 2003. The game is run by Oxygen8 East Africa, a company that is certified to operate the lottery by the Kenya Betting and Licensing Board. This board oversees the sale of all lottery tickets before each draw as well as runs the draws, which are done using a random number generator certified by Gaming Laboratories International.
HOW TO PLAY LOTTO KENYA 6/49
Playing in the Kenya Lotto 649 is very similar to many other lotteries. The lottery uses a double-matrix system, meaning you need to select a total of seven different numbers from two different number pools. To begin, you will need to select six numbers from a number pool ranging between 1 and 49. In addition, you will need to choose one special number (aka "The Seventh Number") from a pool consisting of 1 to 9.
Once you have selected your numbers, you may purchase a lottery ticket with those numbers. From what we can see, unlike other lotteries that allow you to play multiple lines on one ticket, with this lottery you will only be able to play one single line per ticket. If you would like to play more than one line, you are welcome to purchase additional tickets.
Each ticket costs KSh 50 (which is equal to around US$0.50). Unlike the variable price in lotteries such as the Nigeria Premier Lottery, this is a fixed price and cannot be raised to facilitate a higher jackpot.
ODDS OF WINNING TOTO LOTTO / KENYA LOTTO
The odds of winning the jackpot are 1 in 139,838,160, while the odds of winning any prize at all are 1 in 6.6. When comparing the odds against the prize amounts on offer, these odds are nothing spectacular and are most certainly not the best available when keeping in mind that many international lotteries offer much better odds and much bigger jackpots.
There are nine different prize tiers available, each with their own required number of matched numbers to win. The jackpot either starts at or is limited to KSh 100,000,000 (around US$982,000)—the official lottery website is not particularly clear which of these is true. It can, however, be rolled over each week that a winner does not claim it by adding an additional KSh 50,000 to the prize pot. The prize tiers are set out in the following way:
| | | |
| --- | --- | --- |
| Prize Tier | Numbers Matched | Prize Estimate |
| 1 | 6 + bonus | KSh 100,000,000 |
| 2 | 6 | KSh 10,000,000 |
| 3 | 5 + bonus | KSh 1,100,000 |
| 4 | 5 | KSh 50,000 |
| 5 | 4 + bonus | KSh 2,800 |
| 6 | 4 | KSh 600 |
| 7 | 3 + bonus | KSh 300 |
| 8 | 3 | KSh 200 |
| 9 | 2 + bonus | KSh 75 |
DRAWING TIME
There are two draws held each week for the Kenya Lotto 649. These draws occur on Wednesdays and Saturdays throughout the year at 21:00 EAT and are broadcast live on local television. The draw results are posted to the official lottery website within two to three hours of the draw happening to allow players who missed the draw to check the latest results.
BIGGEST JACKPOTS
There is no clear answer to what the biggest jackpot that the lottery has ever paid out is. However, looking at the testimonials of winners on the official lottery website, it is clear that there have been many winners that have walked away with over KSh 1 million, a few that have bagged KSh 10 million, and even fewer people lucky enough to win the highly coveted KSh 100 million (US $) jackpot prize. However, as the odds are really tough, it is hard to find much info on how many people won the jackpot since the lottery's inception in 2003.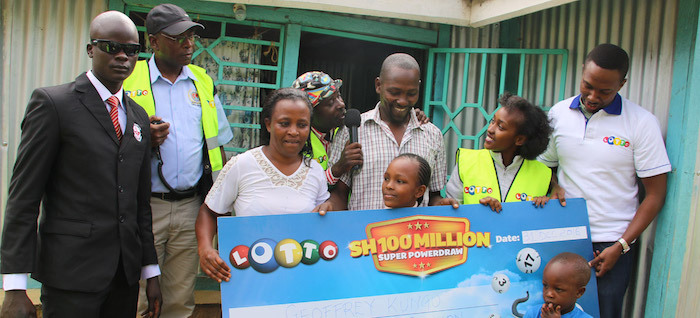 PAYOUT OPTIONS
There is no mention on whether the lottery offers annuity payment for winners who would like to receive their winnings over an extended period. Therefore, we must assume that the only payout option comes in the form of a cash lump sum.
TAXES
Taxes are usually the only part of winning a big lottery prize that hurt, and this is no exception in Kenya. All lottery winnings are subject to a flat 20% taxation fee that gets paid back to the government. While this is not as high as some other countries, it is still a sizable chunk of change that a happy new winner would rather not part with.
HOW TO PLAY LOTTO KENYA 649 ONLINE
Tickets for Kenya Lotto can only be purchased online via the official lottery website. Unfortunately, even though tickets are available online via the website, play is restricted to Kenyan citizens who are 18 years of age or older.
MY LOTTO KENYA 6/49—IS IT WORTH PLAYING?
Kenya Lotto 6/49 does many things right. It has an affordable price point for tickets, it boasts decent jackpots that roll over, and the operators have made it possible for people to buy their tickets online. Unfortunately, the odds are ridiculously tough and the jackpots aren't nearly big enough considering how slim your chances of winning are. Therefore, if you happen to be a resident of Kenya, this is certainly an OK national lottery, but overall there are many better lotteries out there to play.
User Reviews and Comments (1)