Jamaica Cash Pot Lottery Review
Out of the many lotteries that take place around the world, some stand out from the rest, but it generally takes a lot to make yourself know. The Jamaican Cash Pot Lottery, the premier lottery in Jamaica today, has attempted to do just this. In this Jamaican Cash Pot Lottery review, we will look at whether it has succeeded, how it operates, and what you could stand a chance of winning if you decide to play it yourself.
JAMAICA CASH POT LOTTERY HISTORY
In 1995, a small company by the name of Supreme Ventures Limited was founded in Jamaica. As part of their entrance into the world, they began holding a small lottery that has become the Cash Pot Lottery. As time went on, the lottery gained traction to become one of the best-known lotteries available in Jamaica today.
HOW TO PLAY JAMAICA CASH POT
To play in the Cash Pot lottery is an incredibly simple—and unique—process. All that you will need to do is select a number from a number pool ranging from 1 to 36.
Each of these numbers has a symbol and word attached to it. For example, 1 is called "Duppy" and its major meanings include ice, grey hair, rice, kiss a dead cow, while its minor meanings include sand, teeth and buildings. 22 is called "White Woman", and its major meanings include pain, nurse, and salt water, while its minor meanings include muddy water, bees, and anything dirty. Whether these meanings actually symbolize local beliefs, superstitions, or stereotypes or whether they are just totally random gibberish is anyone's guess, but it sure makes for a fun and original format.
Here's an excerpt from the number chart that's featured on the official Cash Pot website:

The minimum bet that you can play per ticket is $10, and we could not see any maximum bet. Each day a single winning number will be drawn for each draw. Unlike traditional lotteries, becoming a winner is not dependant on you matching a certain amount of numbers, which would be hard regardless considering you only choose one to begin with. Instead, because only one number is chosen for each draw, you will only have to match one number. If any of your chosen numbers match the number drawn, then you walk away a winner.
You will also have the option to enable the Cash Pot Mega Ball. This will cost you an additional $10, but you can choose to raise this bet if you would like to. Doing this will give you a great extra bonus if your number is drawn.
ODDS OF WINNING
Since there is just one number drawn in each of the six daily draws, the odds of winning are always the same: 1 in 36. This makes Cash Pot the lottery with the absolutely best odds we have ever seen. Furthermore, your prize money is directly linked to how much you wager on your ticket, so if you buy multiple tickets for the same number and that number wins, your winnings will be multiplied by the number of winning tickets in your possession.
Instead of having prize tiers like most international lotteries, the Jamaican Cash Pot has a prize multiplier that is placed against whatever you have wagered on your ticket. This not only means that you will never have to share a prize with somebody else (even if they have chosen the same number as you) but also that depending on how high you wager, you could earn a really decent chunk of cash.
The winning multiplier applied to tickets is 26 times your bet amount. This means that if you purchase a ticket for $10, you will receive $260 in winnings. If you have chosen to enable Cash Pot Mega Ball on your ticket, then you will also receive a 70X multiplier. In other words, if you purchased a $10 Mega Ball option, you will receive $700. This amount is added to your normal winning, meaning that (if we use the same $10 ticket—with Mega Ball enabled at $10) you could win $960. While this is not a great jackpot, it is decent considering you only need to match one number.
DRAWING TIME
There are six Cash Pot draws that take place every day of the year except for Christmas and Good Friday. The draws take place each day at 08:30, 10:30, 13:00, 15:00, 17:00, and 20:25 EST. All draws are broadcast live on local radio stations, and the results are posted on the official Supreme Ventures website.
BIGGEST JACKPOTS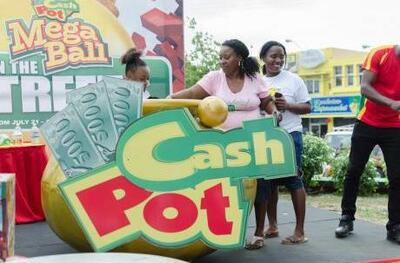 Because the lottery does not really hold an official jackpot amount since the wager on each ticket is determined by the player buying the ticket, there is no record of what the biggest jackpot paid out is. What we can guess is that if there was any major win, the player who won it would most likely have had to pay quite a large sum of money for the ticket in the first place to make the win worthwhile.
PAYOUT OPTIONS
Since winning amounts for this lottery are not excessive, there is no annuity payout available. Instead, winners are paid out what they are owed in a single cash lump sum. What they do with these winnings is then up to them.
TAXES
While lottery taxes in some countries can be incredibly excessive, Jamaica has relatively relaxed laws. All lottery winnings are subject to a 15% government tax that is to be paid when the player receives their money. Using the example above where a single ticket can win $960, the winner of this amount would be taxed $144—meaning that for their $20 investment they would earn $816 in total. Not too shabby!
HOW TO PLAY JAMAICA CASH POT ONLINE
At the time of this article, it does not look like there is any way to take part in the Jamaican Cash Pot lottery online. While we hope that this lottery will eventually be brought to the digital world (like almost all other lotteries are doing), it looks like at the moment the only way to play is to visit an accredited seller of Cash Pot tickets and buy your ticket in person.
JAMAICA CASH POT LOTTERY—IS IT WORTH PLAYING?
This is a somewhat tricky question to answer. Yes, the odds in this game are insanely good, and yes the Cash Pot Mega Ball feature is great. It is also awesome that you will never have to split your winnings with another person who also selected the winning number. But the unfortunate thing is that this lottery does not offer a great prize—especially considering it is not exactly cheap to play.
So, if you are in Jamaica and are looking for a solid lottery, then there is absolutely nothing wrong with this one. However, if you are looking for a lottery that has life-changing jackpots and can be played online, then we recommend taking a look at what lotteries are available on the world's top lottery sites.
User Reviews and Comments (1)