Idaho Cash Review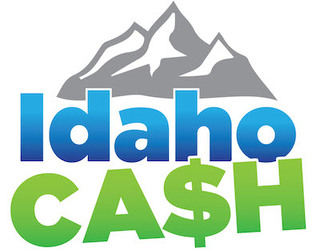 Due to the popularity of lottery games, it should come as no surprise that new draws are introduced on a fairly regular basis. Many of these draws never make it past a few draws, while others grow exponentially in popularity and cement their place in the lottery market for years to come. In this Idaho Cash Lottery Review, we will look at a lottery that is relatively new and yet has grown to be most popular.
History
Launched on February 15, 2017, Idaho Cash Lottery is one of the lotto draws run by the Idaho Lottery. The Idaho Lottery was founded in 1988 as a way to raise funds that were needed to maintain and benefit schools, universities, and public buildings throughout the state. Since it was founded, the organisation has launched many successful lottery games—one of the most recent being Idaho Cash Lottery.
How to Play Idaho Cash Lottery
This particular lottery uses a single-matrix format that makes it ridiculously easy to play—even if you are a newbie to the lottery scene. To play, you will need to choose five unique numbers from a pool ranging from 1 to 45. If you do not want to deal with having to choose numbers yourself, there is a quick pick option that will randomly select numbers for you.
After you have your five chosen numbers, you will need to select another five from the same number pool. This is because this lottery gives you two lines of numbers (or lottery plays) for the low price of $1. Then, after buying your ticket, you will need to wait patiently for the draw to take place to see if you are a winner.
Odds of Winning
The odds of winning the jackpot amount—which starts at a minimum of $20,000 and rolls over indefinitely until it is won—are 1 in 610,880. While these odds are not the best odds that we have ever seen, they are also certainly not the worst. We do think, however, that based on the rather low starting jackpot amount, that these odds should be a little better.
Minnesota Northstar Cash has offered some comparable jackpots at much better odds (1 in 169,911), while Fantasy 5 California (1 in 575,757) has bigger prizes and slightly better odds as well.
Nevertheless, the overall odds of winning any prize in the draw are 1 in 6—which are great.
Idaho Cash Payout Chart
| | | |
| --- | --- | --- |
| # of Matched Numbers | Prize | Odds of Winning |
| 5 of 5 | Jackpot | 1 in 610,880 |
| 4 of 5 | $200 | 1 in 3,054 |
| 3 of 5 | $5 | 1 in 78 |
| 2 of 5 | Free Ticket* | 1 in 6 |
*Free tickets can only be claimed as quick pick tickets. Choosing your own numbers is not accepted.
Drawing Time
The lottery holds two draws each week. These occur on Wednesdays and Saturdays at around 8 PM (MDT). The results of all draws are posted on the official lottery website shortly after the draw has been concluded.
Biggest Jackpots
At the time of writing this review, the largest jackpot ever offered is hanging in the balance. The draw, taking place on March 18, 2020, boasts the largest jackpot ever offered by the lottery—a whopping $366,000. If there is a winner of this draw, then this will be the most significant amount ever paid by the lottery. If there is no winner and this amount rolls over again, then it will break the record even more.
The largest jackpot that has already been paid out by the lottery was $299,000 on June 12, 2019. The average jackpot paid out by the lottery over the few years it has been in operation is $105,241. While this is no small amount by any means, it's not that great either when you consider the odds of winning.
Payout Options
You may expect that because the jackpot can roll over indefinitely and grow to a more substantial amount, that there may be an annuity option. In reality, however, there is none available. The lottery makes it very clear that all jackpot winnings are paid out in a single cash lump sum.
Taxes
A large number of states deduct both state and federal taxes from any lottery winnings that grow larger than the $5,000 mark. Unfortunately, Idaho is no exception to this. In fact, not only is it not an exception, it also has a steep state tax that is levied on winnings. The state will deduct 6.925% of all lottery winnings above the $5,000 threshold for state tax. In addition, a further 24% federal tax is deducted.
What this means for you as a winner is that you will be docked a total of 30.925% in tax before you even receive your winnings. If you happen to win the jackpot currently on offer ($366,000), you will pay $113,185.50 on tax and only take home $252,814.50.
How to Play Idaho Cash Lottery Online
Unfortunately, as with some other state lotteries, tickets for Idaho Cash Lottery are not available for purchase from any online lottery websites. As we have said numerous times before, we feel this is a sadly missed opportunity for the lottery, and we hope that there are plans in the making to bring the lottery online where it can be played by many more people who do not want to have to purchase a ticket physically.
Idaho Cash Lottery – Is It Worth Playing?
Idaho Cash Lottery is undoubtedly a lottery that offers value for money—especially thanks to the fact that for $1, you can get two plays. However, what makes this lottery even better is the fact that the jackpot rolls over indefinitely and can—and does—grow to some pretty decent amounts.
So, if you are in Idaho and are passing by a lottery retailer that sells tickets, we recommend you stop by and pick one up. You may just be the winner who makes history with the large jackpot currently hanging in the balance.
User Reviews and Comments (1)