Hometown Heroes Lottery Review
Playing in a charity home lottery is a great way to give something back to an incredibly worthy cause. The bonus to doing this is that you stand a chance to win something fantastic at the same time. However, with a large amount of charity home lotteries available across Canada, choosing the one to play in may be a tough choice. In this Hometown Heroes Lottery review, we will look at this game and see how it can help you win some great prizes.
History and Cause
The Hometown Heroes Home Lottery is organised and managed by the Vancouver General Hospital (VGH) and UBC Hospital Foundation. While it is not specified when the foundation first began offering the lottery, it is clear that the lottery was started as a way to raise funds for the many hospitals that the foundation supports. This support extends from brain health to cancer research and cancer treatment.
Heroes Lottery Odds & Ticket Prices
There are a total of 445,000 tickets available for the main lottery draw. This means that if you purchase a single ticket, your odds of winning the grand prize are 1 in 445,000. At first glance, these odds may not seem that great, but they are significantly better than the vast majority of traditional lotteries, including popular Canadian ones. And, considering there are options to purchase ticket bundles and save money, your odds could be much higher than this.
There are three different ticket bundles available for purchase:
$75 for 3
$100 for 6
$275 for 20
The Grand Prize
Unlike some other charity home lotteries, this lottery draw gives the winner of the grand prize a selection of nine different prizes to choose from. These choices are:
White Rock ($2.7 million): This great home features five bedrooms and six bathrooms. The house hosts 5,766 square feet of living space to ensure that you enjoy living in comfort. This prize also includes over $105,000 in furnishings and electronics.
Vancouver ($2.3 million): With two bedrooms and one and a half bathrooms, this penthouse includes two private parking bays. This is great considering that this penthouse comes with a 2020 Tesla Model 3. To add to this, the prize also includes $50,000 cash for furnishings, a European escape travel gift card, and $250,000 in cash.
Kelowna ($2.4 million): This home has three bedrooms, three bathrooms, and a cosy den. It boasts 2,880 square feet of living space and comes furnished with over $30,000 in furniture. This prize also comes with a 2020 Tesla Model S Long Range and an incredible $1.1 million in cash.
Abbotsford ($2.3 million): With 4,977 square feet of living space, this home has six bedrooms and five bathrooms. Included with the house is over $85,000 in furniture, a 2020 BMW X5 xDrive 40i, a 2020 Chevrolet Bolt 2Lt, and $500,000 in cash.
Courtenay ($2.3 million): Selecting this prize will gain you a three-bedroom home that has two and a half bathrooms and 2,333 square feet of living space. In addition, you will also receive $600,000 in cash, $50,000 for furnishings, a 2020 Toyota Tundra Platinum, a 2019 Rockwood Signature – 5th Wheel, a 2020 VW e-golf, a 2020 Duckworth 22 Pacific Pro, and a five-year annual couples membership at Crown Isle Golf Course.
Penticton ($2.3 million): This home offers 2,351 square feet of living space that includes three bedrooms and three bathrooms. In addition, this prize is accompanied by $40,000 for furnishings, a 2019 Tesla Model X Long Range, and a staggering $1.3 million in cash.
White Rock & Cultus Lake ($2.3 million): This prize gives you two great homes instead of just one. The first home is a 1,130 square foot condo that has two bedrooms and two bathrooms. The second house is a 1,520 square foot home that also features two bedrooms and bathrooms. You will also receive $250,000 in cash, a 2020 GMC Yukon Denali, and a 2020 Audi e-Tron Progressiv Quattro.
Sooke Point ($2.3 million): This fully furnished home offers 1,763 square feet of living space that has three bedrooms and three bathrooms. Included is $300,000 in cash and a 2020 Audi Q7 Progressiv Quattro.
$2.1 Million in cash: The final prize option is a fantastic $2.1 million in tax-free cash.
Additional Draws and Prizes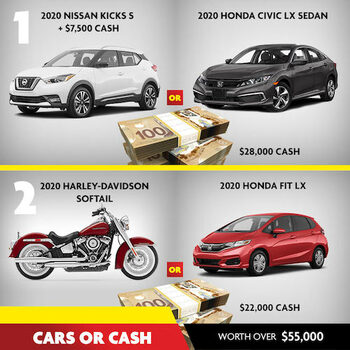 Aside from the main draw, the lottery holds a variety of additional secondary draws. Each of these draws has specific dates that you will need to purchase your lottery ticket by in order to be eligible to claim a prize. The available secondary draws include:
Early Bird: As with the main prize, this prize comes with a choice of three prizes. Winners may choose between two 2020 Tesla Model 3's, a $100,000 travel gift card, or $100,000 in cash.
Summer Bonus: Winning this draw will give you a choice between a 2020 Honda Insight Hybrid, $26,000 in cash, or a $30,000 La-Z-Boy furniture and design package.
Heroes Bonus: If you are the lucky winner of this draw you will be able to choose between an appliance package from Midland Appliances worth over $31,000, $24,000 in cash, or a 2020 Honda HR-V LX 4WD.
Daily Cash Plus: Separate tickets are required for this draw and are sold at $25 for two or $50 for six. This draw gives away prizes over the span of five months and gives away $1,000 to a lucky winner every day of the week except for Fridays. On Fridays, lucky winners will receive $2,500.
50/50: Tickets for this draw are available in bundles of two for $15, six for $30, and 20 for $60. The winner of this draw will take half of the total jackpot determined by the sale of these tickets. The jackpot for this draw has previously reached $2.2 million—meaning winnings of $1.1 million for one lucky person.
Prize Collection
As is familiar with charity home lotteries, the lottery operator will cover all costs associated with claiming your prize. If you are the grand prize winner, this includes all legal costs of transferring ownership of your new home into your name (unless you opt for the cash option). The only condition is that all prizes must be claimed within 12 months of the date of the draw.
Rules for the Hometown Heroes Home Lottery
The only rules for playing in this lottery is that you must be a minimum of 19 years of age and physically within British Columbia when you purchase the ticket. Any tickets purchased when not physically located in the province will not be seen as valid.
Conclusion
We think that the Hometown Heroes Lottery is fantastic. Aside from supporting a cause that we think everybody would be happy to support, the lottery gives all winners a choice in what they would like their prize to be. And it must be said that the choices available are spectacular. So, if you are looking for a Canadian charity lottery to play in, then you should look closely at this lottery—as long as you are in British Columbia, that is.
Disclaimer
Due to the nature of these draws, the prize available change each time a new draw is announced. However, all the information above was correct and relevant at the time of this review. We do encourage you to visit the official lottery website for the latest and most current information.
User Reviews and Comments (1)