Georgia Jumbo Bucks Lotto Review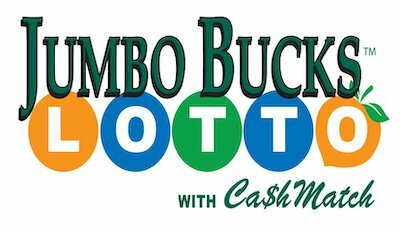 Almost all states in the United States have their own unique lotteries. These range from traditional lotteries to wacky lotteries that offer entirely new and exciting ways to play. Georgia is a state that is no exception to this rule. In this Georgia Jumbo Bucks review, we will look at one of the lotteries offered in Georgia and see how it works.
History
Georgia Jumbo Bucks is a relatively new game to the state. It held its first draw on February 23, 2015. Since then it has grown in popularity to become one of the state favourites. This is partly because of the ease of play and partly because it was the first lottery in the state that offered an instant-win add-on.
The Georgia Lottery runs the lottery. Founded in 1992, this lottery—like so many others—was established to aid the drive of education in the state. To date, the lottery has contributed more than $21 billion to its Lottery for Education fund.
How to Play Georgia Jumbo Bucks Lottery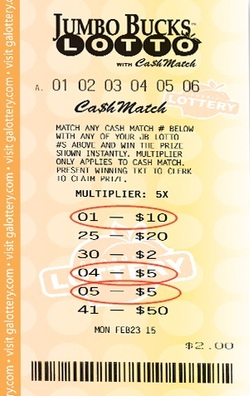 Because the lottery follows a single-matrix (6/47) format, it is effortless to get started playing regardless of whether or not you are new to the game. All that you will need to do is select six unique numbers to play with. These numbers must be chosen from a number pool that ranges from 1 to 47.
If you would not like to have to choose your own numbers, you may opt for the quick pick option. This allows the computer to use a random number generator to select six unique numbers on your behalf.
Once you (or the computer) have chosen your numbers, you will be faced with one more decision. This is whether or not to participate in the Cash Match add-on. If you have heard about the EZ Match option offered by other lotteries, then you already know what the Cash Match extra is.
This add-on allows you to instantly win prizes of up to $500 when purchasing your ticket. It costs an additional $1 per ticket and will result in an extra ticket of Cash Match numbers being printed with your ticket. If any of your chosen numbers match any of the numbers printed on the Cash Match ticket, then you will win the amount printed next to the winning number in the Cash Match sheet.
In addition to this, each Cash Match also prints with a multiplier that ranges from 2X to 10X. This multiplier is added to any amount that you win—increasing the amount that you have won and giving you even more value.
Odds of Winning
The odds of winning the $1 million minimum jackpot are 1 in 10,737,573—precisely the same as Michigan Lotto 47. These are relatively acceptable when considering the fact that the jackpot will roll over each time that it is not claimed and that there is no limit on how many times a rollover may occur. International lotteries like Irish Lotto offer better odds of 1 in 10,737,573, respectively.
While the odds of winning any prize are an underwhelming 1 in 48, on the bright side the odds of winning any prize on a Cash Match ticket are only 1 in 3.
Georgia Jumbo Bucks Lottery Payout Chart
| | | |
| --- | --- | --- |
| # Of Matched Numbers | Prize | Odds of Winning |
| 6 of 6 | Jackpot | 1 in 10,737,573 |
| 5 of 6 | $500 | 1 in 43,649 |
| 4 of 6 | $50 | 1 in 873 |
| 3 of 6 | $5 | 1 in 50 |
Drawing Time
The lottery holds two draws each week that begins at 11:00 PM (EST). The draws are held on Monday and Thursday. The results of each latest draw are posted on the official lottery website shortly after the draw has been completed.
Biggest Jackpots
On August 30, 2018, the lottery paid out its largest ever jackpot amount of $12.5 million. This is a decent amount considering the age of the lottery and proves that the jackpot can reach life-changing amounts, but there are better games out there. Even when considering the average jackpot amount paid by the lottery of $3.89 million, it is easy to see why the $1 ticket is worth buying.
Payout Options
Winners will have two payment options available to them. The first, which is not recommended due to the high penalty involved, is a cash lump sum. This will pay the winner approximately half of the stated jackpot. From this, taxes will still need to be deducted.
The second, and more viable option, is a 30-year annuity payment. This option will entitle the winner to the full jackpot amount. However, it will only be paid in 30 payments over the course of 30 years—which is understandably not ideal for all players.
Taxes
All lottery winnings claimed in Georgia are subject to a whopping 31% of tax. This tax is broken down into 6% state tax and 25% federal tax. What this means is that if you are the happy winner of $1 million, you will only receive $690,000 of your winnings. The additional $310,000 will be deducted for tax.
How to Play Georgia Jumbo Bucks Lottery Online
While the Georgia Lottery does have an online platform from which they sell tickets to a number of their games, unfortunately, tickets for Georgia Jumbo Bucks lottery are not available. Tickets for this lottery are also not available on any leading online lottery sites. This means that to get a ticket, you will need to visit any authorised dealer to purchase one physically.
Georgia Jumbo Bucks Lottery – Is It Worth Playing?
Many lottery players were excited when Georgia Jumbo Bucks lottery launched in 2005. While this may have been because it was the first lottery with an instant-win add-on, we think it was more than that. This is a solid lottery that features acceptable odds, a decent price range, jackpots that can grow to exciting levels, and a fun extra in the form of Cash Match.
So, while we do wish that this game was available online, this game has our stamp of approval. And, if you are within reach of an authorised dealer, we recommend heading out and grabbing a ticket.
User Reviews and Comments (1)