EuroMillions Winners Steve and Lenka Thomson
In our most difficult times, it can often seem unimaginable to offer help to others, especially when it feels as if we have no help to offer. Fortunately, not everyone is cut from the same cloth. EuroMillions winners Steven and Lenka Thomson always had a different outlook, and when the two stumbled into a £105 million jackpot, their selflessness only became that much more notable.
Steve and Lenka Thomson's Big Win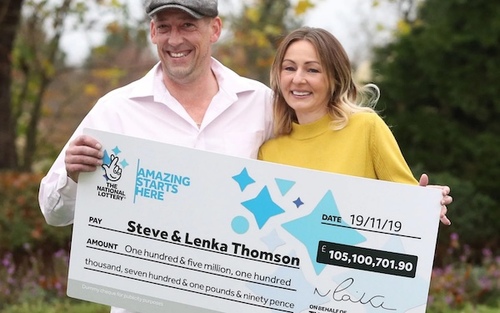 To say West Sussex residents and EuroMillions winners Steve and Lenka Thomsom were shocked about their £105 million jackpot winnings would be an understatement. 42-year-old Steve, a builder, and 41-year-old Lenka, a shop assistant, were used to a modest living; in fact, the two lived in a home worth a reasonable £120,000 with their three children.
When the winning numbers were revealed on November 19th, 2019, neither of the Thomsons realised they had won. It was three days later when Steve Thomson checked his numbers, and when he realised his numbers matched, he was so emotional that he thought he was having a heart attack. When Lenka found out, she was sure that it was only £105,000—not the £105 million they had really won. The lottery winnings were so large that the family instantly became richer than the likes of Daniel Radcliff, the top star in the Harry Potter saga.
Despite becoming one of the biggest winners of the National Lottery, Steve Thomson stayed true to his commitments, to the point that he returned to work to finish active jobs—something most people wouldn't even consider upon winning the lottery. Likewise, he promised to contribute to his community with the money he and his wife had won, showing just how much the two cared for others.
How Did Steve and Lenka Thomson Spend Their Winnings?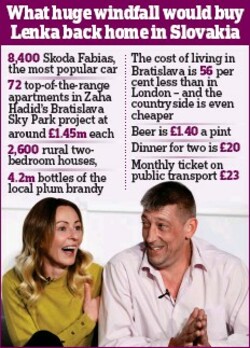 While their 10-year-old son would love to tell you that it was on a Tesla, the family had other, humbler, goals in mind. Their first objective was to ensure their friends and family were taken care of—even to the extent of planning to purchase new homes for their closest friends and relatives. Beyond that, the winners committed to buying a bigger house in the same village they live in now, allowing each of their children to have their own rooms and plenty of space to play in. Their first purchases were clothes for their children, a haircut for Steve, and a used vehicle. Considering they could easily afford a fleet of brand-new Lamborghinis, this was definitely some pretty modest spending on their part!
However, as a family who once experienced financial troubles, they maintained the mindset of spending carefully. They did not intend to live luxuriously, but rather comfortably, which would allow them to show great generosity to their loved ones as well as their Selsey community. In fact, the couple reportedly threw a big party for their friends and promised to share some of their winnings with them. Reports state that Steve was planning to share as much as £4 million with his long-time friend and business partner, Neil Peet.
Lenka, meanwhile, whose family lives in her birthplace of Slovakia, said that a personal goal of hers was to contribute towards the growth of her brother's small business. The winnings will also allow Lenka and her family to visit her relatives in Slovakia more regularly.
Background
Steve and Lenka Thomson are much more than their lottery winnings. The couple met in 2002 at a campsite they were both working at and married just a few years later. Thirteen years of marriage gave them three children—two sons, ages 15 and 10, as well as one daughter, age 8—as well as a home and an entire community that they love.
While Steve operates his own business as a builder, Lenka worked as a shop assistant. Upon winning the EuroMillions jackpot, Lenka left her job with the support of her co-workers. Steve, however, has plans to continue working and fulfilling promises he made to his community. His commitment to the people of Sulsey has never wavered, even after stumbling into £105 million— a trait that his community continues to applaud him for.
Steve and Lenka Thomson Lottery Scam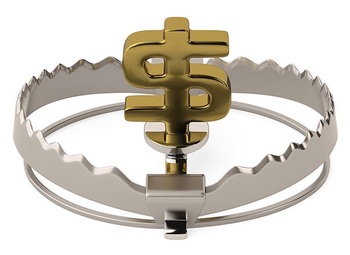 Unfortunately, as many winners will tell you, it is common for scammers to use winners' names to steal people's personal information by offering victims large sums of money. Though EuroMillions winners Steven and Lenka Thomson wanted the world to know that they would be putting their good fortune back into the world, they never intended for scammers to use their information in email scams. The emails that has circulated since their win, riddled with the types of typos and grammatical errors that are always a sure sign of a lottery scam, claim that the recipient has become a beneficiary of £1.5 million. All of this is, of course, completely bogus.
When dealing with potential scammers, it is important to stay vigilant about sharing your information. Make sure to never share your personal details—name, address, bank account information, and any other sensitive information—in unofficial transactions. Remember, it is highly unlikely that winners would ever offer high sums of money to random people by way of e-mail or social media—regardless of how generous they are.