EuroMillions Winner Adrian Bayford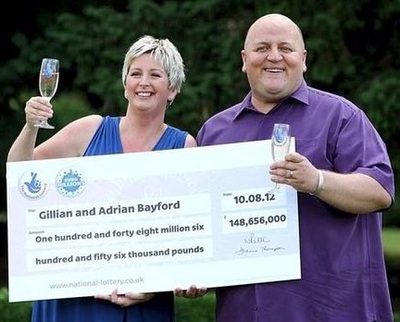 Lottery winners start their lives much like the rest of us: working normal jobs, leading monotonous lives, and hoping for the day they can win a big jackpot. When such luck strikes, it is enough to turn our lives upside down and take us away from our roots. EuroMillions winner Adrian Bayford got a taste of this when his big win shifted his entire life—for better and for worse.
Adrian's Exciting EuroMillions Win
Before the lottery drawing on August 10, 2012, Haverhill, Suffolk, resident Adrian Bayford excitedly stocked up on five lottery tickets from the local Premier Convenience Store, owned by Sanjay Patel. Adrian and his now ex-wife, Gillian, were relaxing at home watching the news when it was revealed that someone was carrying a winning EuroMillions ticket. Checking the numbers on his phone, Adrian soon realised it wasn't just anyone carrying the jackpot numbers—it was him, and his luck had just won him £148.6 million. At that moment, the couple became the second-biggest lottery winners in the UK.
Naturally, the couple reacted with sheer excitement, waking their kids and calling their relatives to inform them of the big win. They then spent the rest of the night researching the best ways to spend their money. The next day, the family went to Domino's Pizza to celebrate and soon after took a flight to Scotland to celebrate further with family.
Despite taking home millions, Adrian returned to work just days after the big win.
How Did Adrian Bayford and His Family Spend Their Winnings?
When they publicised their win at a press conference, Adrian and Gillian Bayford revealed that their plans included sharing their newfound wealth with their friends and family as well as donating money to children's charities. Of course, they also had lavish plans of their own, including buying a new £6 million home as well as an Audi Q7.
In an interview, Adrian indicated he didn't plan to blow through his winnings. He and Gillian were both adamant that they would continue their sparing spending habits and continue budgeting and bargaining. Unlike many lottery winners before them, the two immediately chose an instinctively responsible route, which would allow them to live off of their winnings for years to come.
Before and After the Lottery
Before Adrian stumbled into such wealth, he was living quite the average life. He was the owner of a music shop, while Gillian was a full-time healthcare assistant. The couple lived modestly in their affordable home with their two children.
After winning the lottery, Gillian was able to retire and lead a more relaxing life. Adrian closed his Haverhill music shop in December 2012; however, he relaunched his business as an online store, giving customers access to the content they loved. Beyond that, he was quick to create a musical instruments workshop in his home as well as invest in a facility with his business partner.
Unfortunately, their winnings couldn't keep the couple's marriage from falling apart. In November 2013, Adrian and Gillian revealed their plans to divorce. Despite his investments in his new home, Adrian soon moved out and purchased a luxurious new home for £500,000. While many rumours surfaced online about their marriage troubles, Adrian maintained that he and Gillian had an amicable split and continued to get along regardless of their relationship's end.
Where Is Adrian Bayford Now?
Since his 2012 win, Adrian Bayford has been all over the place—in mostly a good way. The winner opened a new record shop in 2016 called Blackbarn Records, eventually even opening up a second location in 2018. The shops offered a large variety of memorabilia, including a £10,000 Lady Gaga collection that Bayford invested in. If one thing was certain about Bayford's big win, it was that he was able to continue investing in his passion for music.
Though Bayford has lived in many homes and been in a few different relationships since his split from Gillian, it was revealed that he left his £10 million mansion near the end of 2019 to buy a home in Dundee, Scotland, where he could be closer to his ex-wife and two children.
Adrian Bayford Email Scam
Unfortunately, lottery scams have been around for a long while and don't seem to be going anywhere any time soon. Several people received emails from scammers claiming to be Adrian and Gillian Bayford. The emails indicated that the winners would be giving away cash grants of £1 million to individuals, NGOs, and charity organisations alike. The scammers would ask for personal details, including bank information.
Rest assured, if you receive an email from a lottery email, it's safe to delete it. Most lottery winners don't share their winnings with strangers by way of email, which is the biggest red flag associated with these scams. Keep your private information safe by never sharing your name, address, bank account information, etc. with people you don't know—especially through email.
Conclusion
Though the Bayfords lived a relatively normal life post-lottery compared to other lottery winners, they still hit several snags in their personal lives that were frequently publicised for the world to see. Winning the EuroMillions jackpot may be a dream come true, but for those taking home the money, it often comes with the price of their privacy and security.
At the end of the day, it seems Adrian Bayford wants nothing more than to live a normal life as he used to. As it turns out, living a high-maintenance lifestyle may not be all it's cracked out to be—but he's definitely managed it much better than the countless other winners who weren't nearly as responsible.