Play Ukraine Super Loto Online – How to Play and Buy Tickets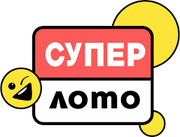 Ukraine Super Loto, known within the country as Суперлото, is arguably Ukraine's biggest, best, and most popular lottery.
Featuring decent odds, cheap ticket prices, two weekly draws, and a minimum guaranteed jackpot of 3 million UAH (€101,252), it's got a lot to offer.
Read on as we take a close look at this game and explain how you can play Ukraine Super Loto online.
Ukraine Super Loto History
Ukraine Super Loto's early days go back almost 20 years to 2001. This is when the game was first introduced to the country's eager lottery players by the Ukrainian National Lottery (UNL).
Its format was updated in November 2008. At this point, the number of balls increased to 52 and players had to choose six of them in order to win the jackpot.
The UNL was founded in 1997 in order to operate various lottery games within the country. The UNL is a member of the World Lottery Association, a global authority on lotteries that ensures all its member organizations adhere to strict ethical principles. As such, all of its games are guaranteed to be fair and transparent.
How to Play Ukraine Super Loto
Understanding how to play Super Loto is easy, as the game uses a single 6/52 matrix.
In layman's terms, this means that players much choose six numbers from a range of 1 to 52 to scoop up the jackpot prize.
Players can choose to play their own lucky numbers or use the Quick Pick feature to have the lottery system randomly choose a set of numbers for them.
If someone doesn't win the jackpot, it automatically rolls over to the next draw, so the prizes can grow in size fairly quickly after a few weeks.
One of the best things about Super Loto is how cheap the tickets are, as a single ticket only costs 8 UAH (€0.27). This makes it one of the cheapest lotteries in the world.
How to Play Ukraine Super Loto Online
It's easy to buy a Super Lotto ticket within Ukraine thanks to the 5,200+ lottery ticket retailers scattered around the country.
But for international players it's even easier to play via some of the best lotto sites online.
The convenience that these sites offer, along with the access they provide to many other great lotteries from all over the globe, is unparalleled.
Odds of Winning Ukraine Super Loto
Super Loto's jackpot odds aren't exactly great at 1 in 20,358,520, but since the ticket prices are so cheap, it's easy to buy more tickets than you normally would for bigger lotteries that cost more to play. This greatly increases your odds.
What's more, the overall odds of winning a prize are 1 in 7.
Unfortunately, neither of these pluses changes the fact that the jackpot prizes and secondary prizes offered by the game are generally pretty low.
Therefore, you'd be better off playing other lotteries from around the world. Some that we recommend include Canada Lotto 6/49 (with odds of 1 in 13,983,816), Austria Lotto (1 in 8,145,060), Hungary Hatoslottó (1 in 8,145,060), and Italy MillionDAY (1 in 3,478,761).
That being said, Super Loto definitely offers much better value than Ukraine Megalot, which has much tougher odds (1 in 52,457,860) despite having very similar jackpots.
Here's the complete breakdown of Super Lotto's five prize tiers and their respective odds and winnings:
# of Matched Numbers

Prize
(Estimated)

Odds of Winning

6

Jackpot

1 in 20,358,520

5

51,590 UAH

1 in 73,763

4

773 UAH

1 in 1,311

3

28 UAH

1 in 67

2

10 UAH

1 in 8
Ukraine Super Loto Drawing Time
The two weekly Super Lotto draws take place on Wednesday and Saturday nights at 10:50 p.m. EEST at the UNL headquarters in Kiev.
The draws are televised live on the UT1 channel and are also printed in UNL's Zigzag of Luck newspaper, which is published on Thursdays.
All prizes must be claimed within 180 days of the draw date.
Biggest Ukraine Super Loto Jackpots
Compared to most national lotteries, the biggest Super Loto jackpots really aren't all that impressive.
The three biggest ones in its history are as follows:
2 million UAH (€513,469): April 14, 2007
12 million UAH (€476,883): July 4, 2012
5 million UAH (€455,637): January 8, 2012
These types of jackpots are pretty paltry compared to what the best lotteries in the world generally tend to offer.
However, despite not allowing you to retire early, winning this kind of money could still have a massive positive impact on your life.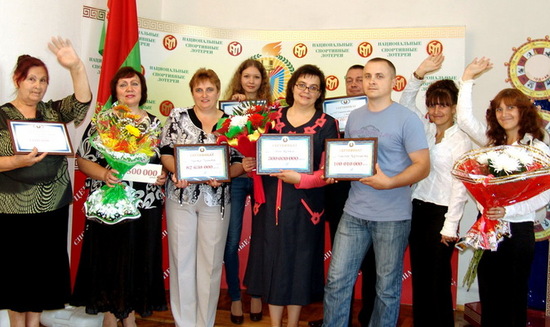 Payout Options
Some other lotteries offer winners the option of receiving their money as a single payment or via annual payments spread out over 20+ years. However, Ukraine Super Lotto only offers lump sum payments.
For most people this shouldn't be a problem, especially since the prizes never reach the type of mind-blowing heights that annuity payments would allow people to manage more responsibly.
Taxes
All lottery windfalls won in the Ukraine are subject to a 19.5% tax.
An interesting—and somewhat unfair—factoid about this tax is that it's actually a little higher than the 15% regular income tax that residents of the country must pay.
If you live in a country that also taxes lottery winnings, you could be taxed a second time once you transfer the money back home.
If you're not aware of what your local tax laws are, then it's worthwhile to google the details or discuss them with a knowledgeable accountant.
Ukraine Super Loto – Is It Worth Playing?
Let's face it, Ukraine Super Lotto is nowhere close to being the best lottery out there today. Especially with its relatively small jackpots, fairly tough odds, tiny secondary prizes, and 19.5% tax on winnings.
That being said, its cheap price means that players can easily stock up on tickets and drastically bend the odds of winning in their favour.
As long as you approach this game knowing it won't make you a millionaire but might help you pay off some your debts, then it's certainly worth a shot.
User Reviews and Comments (1)