Play Ukraine Loto Maxima Online – How to Play and Buy Tickets
With so many lotteries available around the world, it is borderline impossible to know about every single one taking place. The downside to this is that you may be missing out on some great games.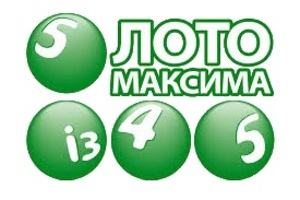 One lottery that many people may not know about unless you live in the country is the Ukraine Loto Maxima.
Read on as we look at what this lottery is all about. We will also see how you can play Ukraine Loto Maxima online, what sorts of prizes you could win, and more.
History
The lottery was first launched way back in December 2008. Unlike many others, the game has retained its initial format since it first began.
It is operated by Ukrainian National Lottery (UNL). The UNL is a state-run company that operates under the Ministry of Finance's supervision and the State Treasurer. It is also the only provider of lotteries in the country.
How to Play Ukraine Loto Maxima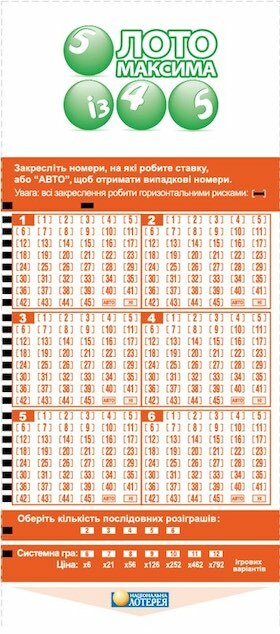 Buying a ticket for this lottery is ridiculously simple thanks to its single-matrix system. This means that there are no bonus or extras numbers.
Instead, you will just need to pick five numbers from a pool ranging between 1 and 45. As with most lotteries, if you don't want to choose your own numbers, you can opt to play using a quick pick. This will allow a computer to pick random numbers for you.
While there are no bonus numbers available, the game does allow system play. This means that you can play up to 12 numbers on a single play. While doing so drastically improves your chances of winning, it costs more than a standard play.
Standard play will cost you 10 UAH per play. System play will cost you an additional 10 UAH per extra number played.
Once you have chosen your numbers and decided if you would like to play a standard or system game, you can purchase your ticket. Then all that is left to do is wait until the draw to see if you've won.
How to Play Ukraine Loto Maxima Online
For many years, the Ukraine Loto Maxima was restricted to local residents. However, as the popularity of online lottery websites has grown, the lottery has adapted and is now available online.
Aside from the official Ukrainian Lottery website, tickets can also be bought from theLotter.
Odds of Winning
The odds of winning the jackpot are 1 in 1,221,759. These are really good odds and are certainly something to get excited about.
Sadly, the reason these odds are so great becomes apparent when looking at the starting jackpot. The minimum jackpot offered by the game is just 50,000 UAH (approximately US$1,794).
On the upside, this jackpot carries over indefinitely until it is won. This means that the jackpot can reach respectable amounts even only if in local currency.
Regardless of the slightly disappointing jackpot, the game still holds overall odds of winning of 1 in 11.
Ukraine Loto Maxima Payout Chart
There are only four prize tiers offered. The prize pools of the first and second-tier prizes are also dependant on the number of tickets sold and are paid out on a pari-mutuel basis. This means that the total prize pool will be split evenly amongst all winners.
The four prize tiers available are:
| | | |
| --- | --- | --- |
| Balls to Match | Odds of Winning | Estimated Prize |
| 5 of 5 | 1 in 1,221,759 | Jackpot |
| 4 of 5 | 1 in 6,108 | 8,328 UAH* |
| 3 of 5 | 1 in 156 | 202 UAH* |
| 2 of 5 | 1 in 12 | 15 UAH |
* Theoretical amounts only
Drawing Time
The lottery holds a draw every day of the week at around 10:50 pm (EEST). This means that while the jackpot may not be great, there are plenty of chances to try and win.
Biggest Jackpots
The largest-ever jackpot occurred on August 31, 2014, and was advertised at four million UAH (or around US$143,463 in today's currency).
As we said earlier, this may not seem like much in foreign currency. However, considering that the average salary in Ukraine is only 11,741 UAH, a win of four million UAH is worth about 28 years' worth of salary payments.
Payout Options
If you are a lucky winner, you will not have an option to receive your winnings as an annuity. Instead, you will be paid your winnings as a cash lump sum.
This is entirely understandable considering that the jackpots rarely get to amounts that justify an annuity.
Taxes
Lottery winnings are taxed at a flat rate in Ukraine. This rate is 18% basic tax plus an additional 1.5% that is taken to be used by the country's army. This equates to 19.5% in total.
This is much less than what many other countries take but is still relatively high. On winnings of four million UAH, you will be liable to pay 780,000 UAH. This will leave you with just 3.22 million UAH.
Ukraine Loto Maxima – Is It Worth Playing?
If you are an international player looking for big jackpots, then we will be honest that this game is probably not for you.
However, if you like the great odds and don't mind much smaller winnings, then it's worth looking at.
With really decent odds and a jackpot that, in the local currency, is nothing to complain about, this game offers a great chance of changing your life for the better. Especially considering the price of a standard play.
We will, however, warn against the use of the system plays. While these can greatly improve your chances of winning, playing with system plays can end up being very expensive.
At that point, you'd definitely be better off playing bigger lotteries with bigger prizes.
User Reviews and Comments (1)