UK Lotto Winners Emma Cox & Luke Pittard: Back to Flipping Burgers
Most people who win a lottery jackpot quit their jobs without a second thought. Unfortunately, some lotto winners spend so lavishly that they manage to burn through their winnings in just a few years. When this happens, they find themselves back at work and often financially worse off than before.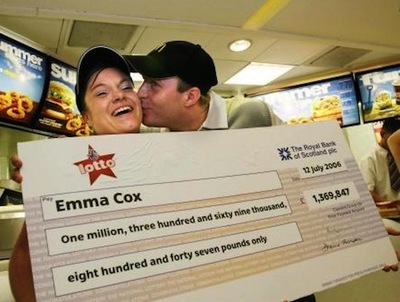 Meanwhile, some winners find that relaxing all the time gets a little… boring. If you have a hard time believing this, read on to discover the story of Emma Cox and Luke Pittard, the lottery winner who went back to flipping burgers at McDonald's.
Who Are Luke Pittard and Emma Cox?
Luke Pittard, a 23-year-old living in Cardiff, Wales, was a hardworking employee at his local McDonald's. Pittard's then-fiancée, Emma Cox, 28, was also employed at the fast food restaurant.
Earning £5.85 an hour each, the couple brought home a combined £21,000 per year—certainly no fortune, even in 2006.
Luke and Emma had a young daughter and were each living with their respective parents, hoping to save up enough to move out on their own. Accustomed to hard work, they never dreamed of an easy solution—and certainly not that they would ever win the lottery.
How Did Luke and Emma Pittard Win the Lottery?
In July 2006, Emma left work for a break and decided to buy a ticket to the National Lottery's UK Lotto game on a whim. The jackpot that week was a hefty £1.3 million (US $2.7 million). There was no special reason why she decided to buy a lotto ticket that Wednesday—perhaps it was just fate.
When Emma returned to work, a colleague noticed a tiny money spider crawling on her hand. Emma joked that it meant she was going to win the lottery that night.
The next morning, she turned on the TV to check the winning numbers.
"I saw the first three numbers and I thought, we've won a tenner," she told BBC News.
But the hits kept coming.
"Then the next three came up. I was looking at the ticket thinking, no, it's not real."
But it was certainly real. Emma Cox had won the massive jackpot—and her family's luck was about to change.
Astonished, she immediately called Luke, who was having a tough day at work. He didn't believe the good news and decided to hang up and get back to flipping burgers. Of course, he discovered that his fiancée had indeed hit the £1.3 million jackpot as soon as he got home.
The lucky couple went to pick up their cheque at Cardiff's Millennium Stadium a few days later and celebrated their big win with a burger lunch.
How Did Luke and Emma Pittard Spend Their Winnings?
From the beginning, Luke and Emma wanted to keep their feet on the ground after winning the lottery.
"I don't think much will change in my life," Pittard predicted, "just the fact that I got money."
However, there was the small matter that they didn't have their own home and were not yet married. So, the first order of business was to purchase a comfortable £230,000 house in Cardiff.
Next, the couple quit their jobs. However, when they planned a lavish wedding in the Canary Islands and invited their closest friends, many of the guests were colleagues from the McDonald's back home.
Over the next 18 months, the couple lived happily in Wales. They spent wisely and invested the sizeable remainder of their lotto winnings into a fund to continue to collect interest on the cash.
Why Did Luke Pittard Go Back to Flipping Burgers?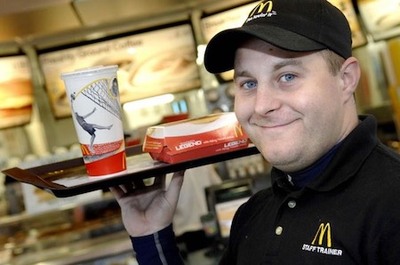 While their post-win life was certainly comfortable, Luke and Emma began to miss their old workplace friends. When Pittard finally said that he wanted to return to work, Emma supported his decision.
Just 21 months after winning the jackpot, Luke was back to getting up at dawn five days a week to make it on time for the early shift.
"To be honest, there's only so much relaxing you can do," he explained at the time. "I'm only young and a bit of hard work never did anyone any harm."
To our knowledge, he continues to work at McDonald's to this day. The BBC reported at the time that the couple earned more in interest on their winnings per week than Pittard brought home in pay.
Conclusion
Luke and Emma Pittard set a great example of how to spend money wisely after winning a lottery jackpot. While it surprised many people, Luke's return to work is actually not such an uncommon choice among lottery winners. In 2003, a group of caretakers and kitchen workers at a Minnesota school won $95 million—and five years later, many of them continued to work at the school.
The lesson here is that when you win big, it pays to strike a good balance between enjoying your riches and spending time with those who matter most. As some lottery winners discovered, forgetting your values and letting the money go to your head can have disastrous consequences.