Play Texas All or Nothing Online – How to Play and Buy Tickets
We are all pretty clear on the way that lotteries work: match a few numbers, and win a small prize.
Match all the numbers, and celebrate for a long time. However, there is one lottery that decided that this formula for lottery winnings does not work.
Read on as we explore how you can play Texas All or Nothing take a close look at a game that flips lotto convention on its head.
History
Launched on September 10, 2012, the Texas All or Nothing lottery game changed how people see the lottery.
However, its legacy did not last long, and in June 2013 the lottery was suspended.
The reason for this suspension is something that you may not believe—there were too many winners, and the lottery was struggling to pay out the amount of money that was being claimed!
However, after tweaking the prize structure slightly and making a few amendments to the game, the draw was reopened on August 25 of the same year.
How to Play All or Nothing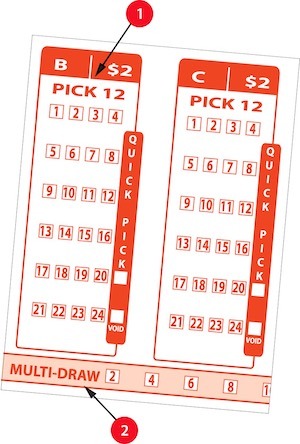 The lottery uses a single-matrix format that requires you to choose only one sequence of numbers without worrying about any special or bonus balls.
However, unlike other lotteries that only require you to choose five or six numbers, this lottery requires you to choose 12.
These 12 numbers must be selected from a number pool that ranges from 1 to 24.
If you don't want to choose your own numbers, there is a quick pick option available that will select your numbers for you.
Once you have chosen your numbers or used a quick pick, simply select whether you would like to enable Multi-Draw on your ticket.
This feature allows you to play the same number sequence in recurring draws. The highest Multi-Draw you can select is 24 consecutive draws.
Once you have done that too, you may purchase your ticket—and then hold your thumbs.
However, this is where the game really starts to get interesting.
Rather than only holding thumbs that you match all 12 numbers, you may also hope that you do not match any at all.
This is because this lottery has equal prizes for winners who match all the numbers and those who match none at all.
How to Play Texas All or Nothing Online
It appears that no online platform currently allows you to purchase tickets for All or Nothing—including the official lottery website.
This means that if you would like to play in this lottery, you will need to visit an authorised dealer in Texas and purchase your ticket in person.
Odds of Winning
The odds of gaining the jackpot win by matching all or nothing are 1 in 2,704,156. These are really great odds considering it only costs $2 per play.
While these odds are put more into perspective when you consider that the jackpot is set at a static $250,000, this is thankfully still no small amount.
The overall odds of winning any prize at all are 1 in 4.5—great odds that we find nothing to complain about.
All or Nothing Payout Chart
As mentioned, this lottery pays out equally to those who match numbers and those who do not. However, this is not limited to just the jackpot.
In fact, the prize tier starts reversing as soon as it gets halfway and starts allowing for higher-paying prizes.
| | | |
| --- | --- | --- |
| # of Matched Numbers | Prize | Odds of Winning |
| 12 of 12 | $250,000 | 1 in 2,704,156 |
| 11 of 12 | $500 | 1 in 18,779 |
| 10 of 12 | $50 | 1 in 621 |
| 9 of 12 | $10 | 1 in 56 |
| 8 of 12 | $2 | 1 in 11 |
| 4 of 12 | $2 | 1 in 11 |
| 3 of 12 | $10 | 1 in 56 |
| 2 of 12 | $50 | 1 in 621 |
| 1 of 12 | $500 | 1 in 18,779 |
| 0 of 12 | $250,000 | 1 in 2,704,156 |
One of the amendments made to the prize structure that we mentioned earlier was a limit to the maximum amount that can be paid out per draw. This limit was set at $5 million.
The changes also state that any time where more than 20 people win the jackpot, prizes shall be paid on a pari-mutuel basis rather than at the fixed amount stated.
Drawing Time
Four draws happen every day from Monday to Saturday. These draws take place at 10:00 AM, 12:27 PM, 6:00 PM, and 10:12 PM. All times are CDT.
Biggest Jackpots
Because the jackpot is set at a static amount, the highest one ever paid out is $250,000.
Payout Options
Because the amount paid out on this lottery is nothing close to the millions paid out by other lotteries, it would be somewhat redundant to offer annuity payments to winners.
Instead, all prizes are paid out in cash lump sums.
Taxes
Thankfully, if you win any prize aside from the jackpot, you will not need to worry about paying any taxes.
However, if you win the jackpot—which pushes your winnings above the $5,000 exemption threshold—you will be liable to pay tax.
This tax is calculated at 24%, meaning that of your $250,000 jackpot winnings, you will only receive $190,000.
Texas All or Nothing – Is It Worth Playing?
It should not even be a question of whether or not this lottery is worth playing. After all, how many lotteries do you win the jackpot for by matching none of the numbers?
But it is not just this fact that makes this lottery worth playing.
The fact that there are four draws each day, tickets are reasonably priced, and the odds are rather good all work together to make this lottery something special.
So, our verdict? Get out there and get a ticket (or four)!
FAQ - frequently asked questions
How Does Texas All or Nothing Lottery Work?

All or Nothing TX is a unique lottery in that it awards prizes to players for both matching many numbers, like other games, but also for matching few numbers. In other words, you can win the jackpot for matching all 12 of 12 numbers—but also for matching none of them. The same applies to secondary prizes, with the smallest prize ($2) awarded for matching either 8 or 4 of the 12 numbers that are drawn.

How Many Balls Are in Texas All or Nothing?

The All or Nothing pool consists of a total of 24 numbers. To win, players must match either all 12 OR zero of the 12 numbers that are drawn.

What Combinations Win on All or Nothing Lottery in Texas?

More than 50% of all the All or Nothing draws that have taken place so far have seen a fairly even spread of high (13 to 24) and low numbers (1 to 12). For example, five have been from the high range and seven from the low range, or six have been high and six have been low, or seven have been high and five have been low. No drawing has ever produced all high or all low numbers.

How Much Money Do You Win on Texas All or Nothing With 2 Numbers?

Matching 2 numbers in All or Nothing is the same as matching 10 numbers and will win you the same prize of $50.

How Often Does the All-or-Nothing Game in the Texas Lottery Play?

All or Nothing draws happen four times per day from Monday to Saturday at 10:00 AM, 12:27 PM, 6:00 PM, and 10:12 PM CDT.

What Does It Mean to Have 10 of 12 Matching All or Nothing Texas Lottery?

Matching 10 of 12 numbers in All or Nothing is the same as matching 2 numbers and will win you the same $50 prize.

What Is Prize Amount for Texas Lottery All or Nothing?

The top prize is $250,000, second is $500, third is $50, fourth is $10, and fifth is $2.
User Reviews and Comments (1)