Play South Africa National Lottery Raffle Online – How to Play and Buy Tickets
Every day, millions of people from all around the world purchase lottery tickets. These players all dream of winning the jackpot from one of the hundreds of draw games that take place every day.
However, many players take part in draws that are not as common. The draws that we are specifically talking about are lottery raffles—unique draws that usually only occur on special occasions.
Read on as we explore how to play South Africa National Lottery Raffle online, how the game works, and what you can win from it.
History
The first-ever South Africa National Lottery Raffle was held on Friday, December 30, 2016. The raffle was a new concept on the South African lotto market, and it marked the start of an incredibly popular draw that would continue to be run into the future and prove to be a valuable addition to the country's offering of lottery games.
The raffle (like the SA Lottery and SA Powerball) is run by the South African National Lottery—an organisation owned and managed by Ithuba Holdings (Pty) Ltd. Ithuba has been the national operator of the lotto since June 2015 and is responsible for running all games offered by the lottery in the country.
How to Play South Africa National Lottery Raffle
Playing in this draw game is deceptively easy. In fact, possibly the hardest part about playing is knowing when the draw will be taking place (which we will discuss below). However, once you have figured this information out, entering into the raffle draw is quick and easy.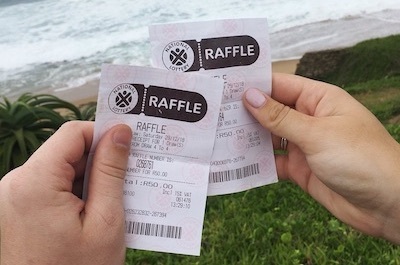 The only decision that you will need to face when purchasing tickets for the raffle is how many tickets you would like. You can buy as many tickets as you want as long as the total amount of your tickets does not exceed the limit of ZAR 2,000 per person (tickets for the 2019/2020 draw cost ZAR 50 each). The lottery instilled this limit to ensure that one person could not purchase enough tickets to give themselves an overly unfair advantage at the time of the draw.
Once you have decided how many tickets you would like to play with, all that you will need to do is purchase your tickets from an authorised dealer. You will not be required to (or be allowed to) select any numbers for your tickets, as all tickets are drawn from a predetermined number pool using a quick pick play (random number generator).
Once you have purchased your tickets, all that is left to do is have a braai (South African grill for cooking meat) and relax until the time of the draw.
How to Play South Africa National Lottery Raffle Online
While there are one or two online lottery websites that do offer online purchase of tickets, the best place—provided you reside in South Africa, of course—to purchase tickets online is from the official National Lottery website. The site is easily accessible, and buying tickets is relatively easy. In addition to the official website, tickets can be purchased through almost all banking apps in the country or via your cell phone.
Odds of Winning
While most international lotteries have a specific figure that tells you what your odds of winning are, this benefit is not available with this game. This is because each lottery raffle is entirely different, and so features completely different odds. However, if we look at the draw that was held on January 10, 2020, we can see that the odds are not bad—in fact, at 1 in 50,000 for the top-tier prize, they are rather good.
South Africa National Lottery Raffle Payout Chart
As mentioned above, each raffle draw held by the lottery is entirely different from the draw that took place before it. This means that the payout chart for each raffle is also wholly unique. The prizes do, however, include things such as cars, home renovation vouchers, and cash prizes. To give you an idea of what the available prizes are, we have outlined the 2019/2020 raffle prize chart below:
| | | | |
| --- | --- | --- | --- |
| Prize | Number of Prizes | Odds of Winning | Prize Tier Value |
| Mercedes-Benz C200 Cabriolet | 10 | 1 in 50,000 | ZAR 7.79 million |
| ZAR 50,000 | 20 | 1 in 25,000 | ZAR 1 million |
| ZAR 10,000 | 155 | 1 in 3,226 | ZAR 1.55 million |
| ZAR 1,000 | 2,160 | 1 in 231 | ZAR 2.16 million |
Drawing Time
As is usual with most lottery raffles, there is no set drawing time for this draw. In fact, there is not even a set draw date. The raffle is usually scheduled only to take place on dates throughout the year that have a significant holiday falling upon them (such as Christmas or Easter). Looking at the history of raffles held, the South Africa National Lottery Raffle seems to take place at Christmas and not really any other time of the year. However, details about when the next draw is taking place can be found on the official National Lottery website.
Biggest Jackpots
There is no real biggest jackpot, as each raffle holds different prizes. However, we can tell you that the largest prize pool appeared in the May 2017 draw. During this draw, the lottery gave away prizes totalling ZAR 21 million. The average prize pool, however, seems to be a substantially smaller ZAR 15 million. This is still a rather large amount of money and certainly is nothing to complain about.
Payout Options
All cash prizes (where applicable) are paid out in the form of a cash lump sum. After all, it would be rather pointless choosing to receive ZAR 10,000 as annuity payments.
Taxes
Amazingly, lottery winnings are one of the very few places that SARS (the South African Revenue Service) does not try and grab tax payments from. This is thanks to the fact that all lottery winnings in South Africa are exempt from capital gains or income tax.
This does not mean that you will not have to declare your winnings when filing your tax during each tax season. It does mean, however, that you will have more money to go out jolling than if you lived in a place like America where the tax on lottery winnings can be quite harsh.
South Africa National Lottery Raffle – Is It Worth Playing?
A raffle always brings a refreshing change to just having a continuous draw game that is more of the same each week—not that there is anything wrong with those types of games (of course). However, if you are getting tired of playing the same games and are looking for something that offers great prizes with really good odds of winning, then this raffle might be the perfect thing for you.
User Reviews and Comments (1)