Play Slovakia Loto Online – How to Play and Buy Tickets
Slovakia Loto is a super popular number draw game. With simple game play, tons of bonus opportunities, excellent odds, and a low ticket price, it's one of the most economical lotto games in Europe. The multi-million euro prizes aren't too shabby, either.
Read on as we explain how you can play Slovakia Loto online, what the rules of the game are, and what makes it special.
Slovakia Loto History
The history of the lottery in Slovakia has evolved over hundreds of years through many political changes. Area residents have been playing lottery games since 1874, when the region was still part of the Austro-Hungarian Empire. The first lottery was launched to raise money to help build a school. After the Czechoslovakian state was formed in 1918, locals founded the first national lottery. It cost 3 crowns to play and the jackpot was a whopping 90,000 crowns—the equivalent of $2000 today!
In 1953, Czechoslovakia was controlled by the Eastern Bloc, which forbade gambling and lottery games with cash prizes. Underground betting rings took the official lotto's place until the Czechoslovakia State Lottery was established in 1957. The new lottery organization offered cash prizes. The first lotto game was called Sportka, and it operated until 1993. This was the year that Czechoslovakia was split into two countries: the Czech Republic and Slovakia.
Immediately, the TIPOS company was registered to run Slovakia's new official lottery games. The Slovak Ministry of Finance owns and operates TIPOS and all national lottery—except for the Eurojackpot, a popular transnational lottery similar to the famous EuroMillions draw. TIPOS also runs the cheap and cheerful Slovakia Loto game this article is all about.
How to Play Slovakia Loto
The Slovakia Loto is a fun and easy game to play—and it has a few unique bonus features, too. First, players choose six numbers from a range of 1 to 49, plus a bonus number. Next, there's a unique second drawing. An additional six numbers and one bonus number can be chosen for each draw. All the balls are drawn from the same drum, so players have two chances to win with every single ticket! Betting on both draws is called a "double bet," and each double bet costs €0.80 to play. Players can place up to 10 double bets at a time. Finally, players have the option of placing a "Joker" bet on the outcome of the draws. It costs €0.40 per Joker play.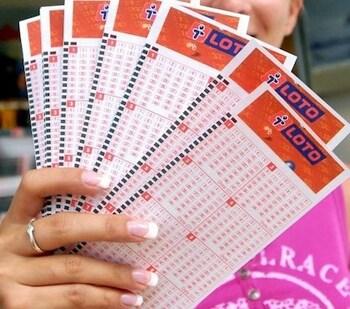 There are many convenient ways to buy Slovakia Loto tickets. Players can buy tickets in person from a lotto terminal operator, online through the TIPOS official website, via SMS (text message), or through reputable online lottery agents (more on that below). Buying in person allows players to mark their numbers on a physical ticket or opt for the "quick pick" option and have the terminal select numbers at random. To play on the TIPOS website, players must create a secure lotto account and input their banking information to easily collect winnings. To play by SMS, one simply sends an SMS message to TIPOS and connects their phone number to their bank account. The cost of each SMS play is charged to the phone company or is taken from the user's prepaid plan.
When the draw takes place, six numbered balls plus a bonus ball are chosen by the lottery machine. This bonus ball creates additional prize divisions, for a total of seven prize tiers. To win the top prize, players must match all six numbers. You don't need to match the bonus ball to win the jackpot. The jackpot prize starts at €500,000, and if no one wins, it keeps rolling over to the next draw and getting bigger until it's won. The top prize for the second draw is fixed at €500,000. There are also secondary prizes, as outlined below.
How to Play Slovakia Lotto Online
With its great odds, bonus game opportunities, and low ticket prices, international interest has been growing in Slovakia Loto. Now, players from all over the world can buy tickets to Slovakia Loto through reputable online lottery agents and betting websites.
These sites employ local agents on the ground who buy your tickets to the Slovakia Loto and other international games. Once the tickets are purchased, they are scanned and uploaded to your secure online account, and any winnings are transferred straight to your account or your bank.
Odds of Winning Slovakia Loto
Thanks to the fact that every draw includes two sets of numbers, the odds of winning the Slovakia Loto are pretty great.
| | | |
| --- | --- | --- |
| Division | Matched Numbers | Odds |
| 1 | 6 | 1 in 13,983,816 |
| 2 | 5+ Bonus | 1 in 2,330,636 |
| 3 | 5 | 1 in 55,491 |
| 4 | 4 | 1 in 1,083 |
| 5 | 3 + Bonus | 1 in 812 |
| 6 | 2 + Bonus | 1 in 81 |
| 7 | 3 | 1 in 61 |
Slovakia Loto Drawing Time
The Slovakia Loto numbers are recorded on film and drawn every Wednesday and Sunday at 18:00 local time (CET or Central European Time). The results are shown on local television channels the same day and are also immediately reported on the TIPOS official lottery website. Local daily papers also publish the winning numbers.
Biggest Slovakia Loto Jackpots
The biggest jackpot on in Slovakia Loto history was a whopping €11 million in January 2009.
Payout Options for Slovakia Loto Prizes
Slovakia Loto offers lots of ways to buy tickets and collect prizes. Winners who wish to collect smaller prizes in person must have their winning tickets verified by a lottery ticket seller using the lotto terminal. Those who bought their ticket on the TIPOS website will have their win confirmed and their prize money transferred directly to their bank by the organization.
Winners of prizes worth €1,000 or less who bought their tickets by SMS must send a toll-free SMS with the word "VYHRA" (which means "win") to the number 3333. The prize money will then be transferred to the player's designated account at a commercial bank.
Prizes larger than €1,000 must be claimed in person at the TIPOS head office in Bratislava. All winners need to present their winning tickets, official state identification with address, and banking information. Players who bought their ticket via SMS must also bring the SIM card that was used for the purchase.
All prizes need to be collected within 35 days of the winning draw date.
Slovakia Loto Taxes
Like many lotteries, Slovakia Loto's operators don't tax winners on their prize money. However, international players are subject to their home countries' tax laws, and must pay whatever tax is prescribed for lotto winnings.
Slovakia Loto – Is It Worth Playing?
Considering all the fantastic lotteries around the world that exist today, Slovakia Loto is a pretty solid European lottery. The double bet draw is unique, and its odds are pretty good overall considering it can make you a millionaire. The jackpot also regularly surpasses €1 million—which is rare among smaller lotteries with such cheap tickets. For lotto enthusiasts who want serious results, this gem of a game is an excellent choice.
User Reviews and Comments (1)