Sky Lotto Review: Win Free Money Daily and Weekly
With the large number of free lotteries available nowadays, it may be challenging to decide which games to spend time entering each day or week. This is because each lottery has its own strengths and weaknesses—all which lead to you ultimately having a greater or lower chance of being a lucky winner. In this Sky Lotto review, we will look at one two free lotteries (Daily Lotto and Super Lotto) and one paid one (Super Lotto Boost), all of which are undoubtedly worth entering for a chance to win some great prizes.
History
While it's not clear when exactly this excellent lottery game was launched, it is owned and operated by the massive gambling brand Sky. The brand is known throughout the UK for their other gambling entities—namely Sky Bet, Sky Casino, Sky Poker, Sky Bingo, and Sky Vegas—and has proven to be a trustworthy brand that aims to give players one of the best gaming experiences possible. 
How to Play Sky Lotto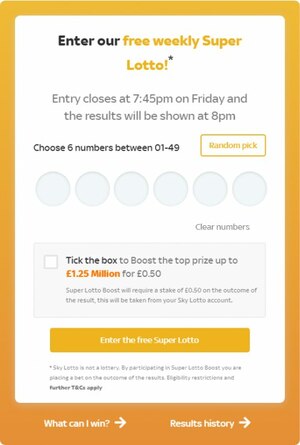 Playing in Daily Lotto or the weekly Super Lotto and Super Lotto Boost is ridiculously simple. For all of these draws, all that you will need to do is select six numbers from a number pool that ranges from 1 to 49. If you don't want to choose your own numbers, there is the option to have a random number generator select them on your behalf.
Once you (or the computer) have chosen you numbers, you can enter them into the next draw. For the daily draw, this is where your involvement ends, and you can wait until the draw to see if you are a winner. If you are entering the weekly draw, you will have one last decision to make—whether or not to play the Super Lotto Boost.
The Super Lotto Boost is an excellent add-on for the main weekly draw. This add-on effectively quadruples the main jackpot prize and gives you a chance to win much more than what you could without it. The even better news about this add-on is that it costs only £0.50 extra.
After selecting if you would like to enable Super Lotto Boost, you can submit your ticket and wait for the draw. You will probably also notice that we have not mentioned anything about how much these tickets cost (other than the add-on). This is because both of these great draws are entirely free to enter, and it will cost you nothing more than a bit of time to submit your tickets.
Odds of Winning
The odds of winning the jackpot in this lottery (which are 1 in 13,893,816) are not any worse than popular international lotteries like Canada Lotto 6/49. The stand out in terms of the odds in this game, however, is the odds of winning anything at all (based on the lowest prize tier). These odds of winning are only 1 in 2.42—which are insanely good and something that should get you excited very quickly.
Sky Lotto Payout Chart
There are a total of 12 different prize tiers available. Both draws (daily and weekly) have their own prize amounts; however, they share odds of winning and requirements to win. One thing to note about how to win is that, at the time of the draw, six numbers will be drawn followed by a bonus ball that is used to determine prize handouts.
| | | | |
| --- | --- | --- | --- |
| Balls to Match | Odds of Winning | Daily Lotto Prize | Weekly Lotto Prize |
| 6 of 6 (boosted) | 1 in 13,983,816 | - | £1.25 million |
| 6 of 6 | 1 in 13,983,816 | £25,000 | £250,000 |
| 5 of 6 + bonus | 1 in 54,200 | £2,500 | £5,000 |
| 5 of 6 | 1 in 54,200 | £200 | £1,000 |
| 4 of 6 + bonus | 1 in 1,032 | £100 | £25 |
| 4 of 6 | 1 in 1,032 | 4 x £2.50 scratcher | £10 |
| 3 of 6 + bonus | 1 in 56.66 | 1 x £1 scratcher | 2 x £2.50 scratcher |
| 3 of 6 | 1 in 56.66 | 1 x £1 scratcher | 1 x £1 scratcher |
| 2 of 6 + bonus | 1 in 7.55 | 5 x £0.10 scratcher | 5 x £0.10 scratcher |
| 2 of 6 | 1 in 7.55 | 2 x £0.10 scratcher | 2 x £0.10 scratcher |
| 1 of 6 + bonus | 1 in 2.42 | 2 x £0.10 scratcher | 2 x £0.10 scratcher |
| 1 of 6 | 1 in 2.42 | 1 x £0.10 scratcher | 1 x £0.10 scratcher |
Drawing Time
Daily draws take place daily at 9:00 pm (BST), while the weekly draw takes place every Friday at 9:00 pm (BST). For both draws, entries close at 8:45 pm (BST), and the results are posted on the official website shortly after the draw.
Biggest Jackpots
Because the jackpot offered is static, the biggest jackpot amount ever awarded is £1.25 million on a boosted ticket. As you may imagine, for the unboosted draws, the highest jackpot is £250,000 for the weekly Super Lotto and £25,000 for the Daily Lotto.
Payout Options
All winnings are paid out in the form of a cash lump sum—aside from if you have won a free scratcher. These free scratcher prizes are loaded onto your Sky Lotto account, and you can play them online from your account.
Taxes
If you are from the UK, then you already probably know the good news. In case you don't, let us share it with you—lottery winnings in the UK are non-taxable. This means that anything that you win will be yours to keep and you will not have to pay a single penny over to the taxman.
How to Play Sky Lotto Online
Unlike other lotteries, the only way to play Sky Lotto is online via the official Sky Lotto website. There are no other online lotto sites that offer the game—understandably—and you will need to register a Sky player account to enter the available draws.
Sky Lotto – Is It Worth Playing?
Aside from the fact that both the daily and weekly draw are free, Sky Lotto is actually a great lottery that we are genuinely excited about. The game features a great prize table, decent odds, and a fantastic add-on in the form of Super Lotto Boost—which is available at a small price. As a result, we highly recommend trying your luck in this game that we feel is easily one of the best free lotteries available online today.
User Reviews and Comments (1)