Prankster EuroMillions Winner Charlotte Peart
Most of us tend to believe that we'll never be lucky enough to win the lottery. Still, we continue to buy tickets to keep our hope alive, even if there's only a sliver of it. When prankster EuroMillions winner Charlotte Peart actually hit the jackpot just weeks after faking a lottery win, even she couldn't believe that she could truly be so lucky.
A Prank Brings Good Fortune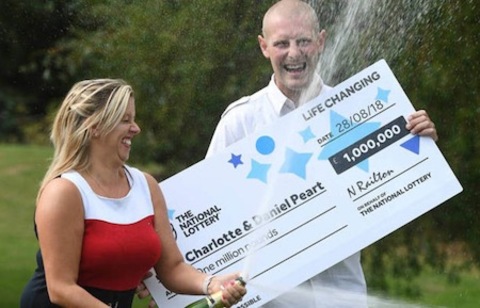 When Whittlesey, Cambridgeshire, resident Charlotte Peart pranked her husband by faking a £250,000 lottery win, it was all in good fun. Of course, Daniel Peart didn't find it all that funny considering he really believed her. Everyone who thinks they've hit the jackpot starts planning what they'll do with their winnings, so when he found out it was a joke, he was certainly disappointed—despite the fact that the two had a long history of playing pranks on one another. Charlotte was all laughs, though, as she was certain they'd never win.
Not long after, Charlotte spent her and Daniel's last £1.50 in their online lottery account to buy a EuroMillions HotPicks ticket. Even though she figured the ticket would be a bust, she had no idea just what the world had in store for her. Just three weeks after the prank, on August 28, 2018, Charlotte checked to see if her ticket was a winner after all. To her surprise, she'd matched five numbers on the ticket!
After realising she was now £1 million richer, she excitedly called her husband to share the good news. Naturally, he didn't believe her—in fact, he just assumed it was yet another prank. When Charlotte sent him a screenshot of the winning screen, Daniel was stunned speechless. After telling his wife he couldn't talk, he handed his phone to his brother. The good news was definitely worth sharing.
How Did Charlotte Peart Spend Her Winnings?
Of course, Charlotte's family was the first thing on her mind. As a newly rich wife and mother, she knew just what she wanted to spend her money on first. Because they were a family of five, living in their three-bedroom home had always been just a little bit cramped. She and Daniel decided that buying a larger home was the most important thing they could do with their winnings, so shortly after their win, the couple purchased a four-bedroom home. They were just happy that their children finally had their own rooms. After that, they purchased two new cars—a Ford Kuga and a Mitsubishi Barbarian—and went on a family trip to Lapland, the northernmost region of Finland, to celebrate.
While they didn't have plans to go crazy with their money, they both knew they could finally take some much-needed time off to spend time with their family. Charlotte worked in an administrative office, and when she told her boss the good news, they told her that she could take as much time as she needed and return to work whenever she wanted. Daniel was a self-employed carpenter, so he didn't even have to ask for time off! The two enjoyed a nice four months' worth of vacation with their three children. During that time, they even added two Labrador puppies to the mix, making their family even bigger.
The Pearts Share Their Wealth
Months after their win, in December 2018, Charlotte and Daniel Peart decided to spread their wealth by participating in a charity Christmas event for young carers (young people who care for needy friends or relatives). They were amongst several other lottery winners acting as bartenders, chauffeurs, and face painters for the event. When asked why they participated in the event, Charlotte Peart responded that "it [was] so nice to do something for children that don't get a Christmas," showing off her charitable spirit.
In May 2020, the Pearts were still adamant about sharing their good fortune. During the coronavirus lockdown, Charlotte, Daniel, and their children took on making decorated wooden planters for essential workers in their area. More than anything, they hoped that their work would show the workers just how grateful people were for the employees' continued hard work during a crisis. They even gave gifts to the children of key workers as well as local police. While the parents admitted that the project started as a way to keep their kids busy, they were more than happy to be able to spread such positivity during a hard time.
Conclusion
While the Pearts' story started with a prank, it had one amazing continuation when their luck brought them a million-pound win. Like many other lottery winners, Charlotte and her husband wanted nothing more than to take care of their family and act charitably to better serve their community. Being lucky enough to hit the jackpot can definitely bring out the worst in people; fortunately, the Pearts wanted the world to see their best, making them role models for future winners.