Mavis Wanczyk: The Third-Biggest Powerball Lottery Winner Ever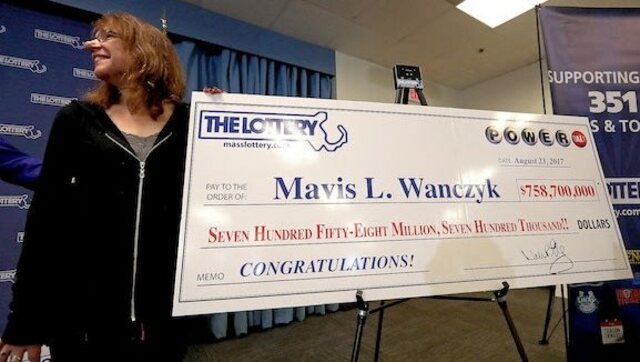 On August 23, 2017, Mavis Wanczyk became the sole winner of a $758.7 million Powerball jackpot, the fourth lottery jackpot winner from Massachusetts state and the second-biggest U.S. lottery winner of all time. The then 53-year-old Chicopee, MA, resident purchased her winning Powerball ticket at Chicopee's Pride Station and Store. The ticket was one of five that Wanczyk purchased—three with numbers she chose herself and two with randomly assigned numbers from the Quick Pick generator. The lucky numbers (06, 07, 16, 23, 26, and 04, the Powerball number) were significant to her, representing special occasions such as family members' birthdates. Though she is living proof that picking your own numbers (as opposed to going for the quick pick option) can result in a big win, both strategies have their pros and cons.
Claiming Her Prize
Massachusetts allows up to one year to claim lottery winnings, but Wanczyk did not waste a minute. She signed her ticket and claimed her prize immediately, opting for a lump-sum payment of $480,500,936 ($336,350,655 after taxes). Less than 24 hours later, she contacted the media and took her story public. On hitting the jackpot, she told reporters that her impossible dream had come true.
How Did Mavis Wanczyk Celebrate Her Winnings?
Prior to winning the Powerball, Mavis Wanczyk worked in patient care at Mercy Medical Center in Springfield, MA, but hoped she'd be able to retire early. After winning the Powerball, she knew she could. One of her first big moves after becoming a millionaire? To contact her employers and make her early retirement dream a reality. Resigning from Mercy Medical Center ended Wanczyk's 32-year career in the healthcare industry.
Sharing Her Winnings
It is unknown whether or not Wanczyk shared her winnings with family or friends but likely beneficiaries include her two adult children, William Jr. and Marlee. They were her only immediate family at the time. Ex-husband William Wanczyk died tragically in a hit-and-run car accident in 2016, many years after their divorce in the 90s. Though she never remarried, Wanczyk did have a 15-year-long romance after her divorce with fellow Massachusetts resident Richard Lord. The couple split just one year before Wanczyk hit the incredible jackpot, and one can only imagine how difficult dating must be after becoming a well-known millionaire.
Widespread Media Attention
Fame often has drawbacks and can even be dangerous. An instantly wealthy Wanczyk learned this quickly. Choosing to make a sudden and unplanned media announcement about winning a large jackpot, especially a record-breaking one, may not have been the best decision. In Wanczyk's case, doing so instead of setting up a lottery trust to stay anonymous ensured that many more people would know about her fortune and try to capitalize on her gain. Following the announcement, both strangers and media personnel were asking around for Mavis Wanczyk's address, hoping to nab a piece of the fortune. Repeat occurrences made this more than a momentarily scary situation, and the Chicopee Police Department responded by sending vehicles to guard her residence.
Subsequent Scams
The Chicopee Police Department also issued a warning about the many Mavis Wanczyk scams creeping up all over the Internet. On their official Facebook page, the department announced that fraudulent accounts were being made on popular social media sites like Twitter, Facebook, and Instagram. Scammers were posing as Mavis Wanczyk, claiming that a portion of the winnings would be awarded to those who answered their questions and provided personal information. The police were not the only source of cautionary statements. Warnings were also given in articles written by the Boston Globe and CBS Boston.
What Future Winners Can Learn
To avoid things like media frenzies and money scammers, financial experts advise potential lottery winners to keep a low profile and take strategic steps. The best way to do this is to immediately hire a team of professionals to help navigate the process of coming forward and claiming the money. Minimal media contact is also a must. Although most states do not allow anonymous lottery claims, there are ways to protect one's identity, like creating a trust and appointing a trustee. It's also a good idea to not try to hide your winnings from your husband like Denise Rossi did.
Where Is Mavis Wanczyk Now?
Although in the past few years there have been several lottery winners who have won jackpots even bigger than Wanczyk's, it's a pretty safe bet that she's not going to run out of money any time soon. When asked what she wanted to do with her winnings, Mavis told the press she simply wanted to relax. Since then, she has kept a low-profile, virtually disappearing from the public eye. One can only suspect that she is staying true to her word, enjoying her early retirement and (hopefully) relaxing in ways most people could never imagine.