Money Cruncher Lottery System Review
Books relating to the lottery and how to win the lottery are abundant and seem to be growing in number almost daily. The problem with this is that the number of different lottery system books appears to be growing quicker than the number of winners that have actually won using any of these books. In this Money Cruncher Lottery System review, we will look at another book that promises to make you rich and see if it can actually deliver on that promise or whether it will just "crunch" / eat up your money and leave you with less than you started with.
What Is the Money Cruncher Lottery System?
Simply put, the Money Cruncher Lottery System is a book released by Hamilton Publishing Company—a company with a deplorable reputation of releasing useless products like "Super Power Lotto" and "XXNG Lottery System" and stealing people's hard-earned money. The book claims to be the simplest lottery method ever invented and states that almost anybody can use it. We'll see about that…
What Money Cruncher Says It Can Do for You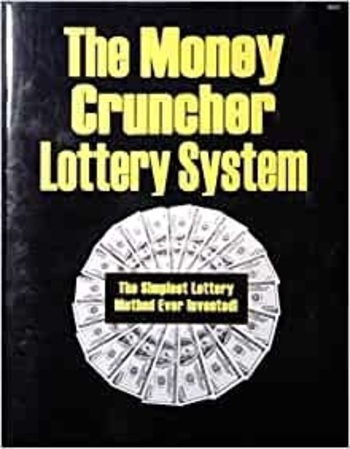 Like most other lottery systems, the Money Cruncher Lottery System claims that it can help you improve your chances of winning the lottery. The problem is that the system makes this seem like an outright certainty. It seemingly forgets one of the fundamental rules of the lottery—it is random. Regardless, this system will do everything to convince you that by using the method within, you will be a lottery winner in less time than you could possibly imagine.
How Does It Work?
The tricky part of answering this question is that there is no definitive answer available. While there are many—and we really do mean a staggering amount—of user reviews relating to the book online, there is no mention of how this system actually works. On Amazon, the book has no description, and it seems that no website exists for the Hamilton Publishing Company that claims to be behind the book.
This leads us to believe that the system, which is so simple according to the book, may not be nearly as simple as claimed. If it was, we are sure there would be some writeup of how the system works somewhere online. What we do know is that, as mentioned above, the system claims to help you be able to select lottery numbers that are more likely to help you in winning.
How Much Does It Cost?
Sadly, there is no definitive answer to how much this system cost while it was still available, as Amazon has removed all pricing and marked the book as out of stock. However, while doing our research, we have uncovered that the consensus is that players who made the mistake of purchasing the book paid around $87 for the book. At the time that they bought, it seems that the book carried a satisfaction guarantee that offered a refund of around $50 should you not be happy with the book within 60 days of purchasing it.
While there are a number of people who say that they requested their refund, none of them actually received it. A few customers who did receive their refunds received them in the form of a cheque that would not clear and was consistently not able to be cashed—often resulting in them being hit with a $15 penalty by their bank.
Does Money Crusher Actually Work?
Usually, we would tend not to offer an entirely blunt opinion on a system when we have not been able to thoroughly vet it ourselves to see what it has to offer. We usually do this before looking at any user reviews in order to remain as unbiased as possible. Generally, after reviewing a system, we tend to be in agreement with the reviews—which are negative more often than not.
In this case, however, we have not been able to review the system—and yet we agree wholeheartedly with the user reviews which state that this system is an utter waste of time and money. While all this is irrelevant considering the fact that it does not look like this system is still available anywhere, we are shocked that a system that has such bad reviews from users managed to make any sales at all. Unfortunately, in the we-can-help-you-win-the-lottery-quick industry, this is all too common.
That being said, we are thankful for those players who purchased the system and left feedback for the rest of us so that we could be forewarned not to make the same mistake that they did.
Conclusion
The Money Crusher Lottery System is just one more example of a lottery system that enters the market with all the hype it could possibly muster to prey on people's gullibility and then quickly fizzles into nothingness. Unfortunately, this initial hype inspires people to spend their money on a system that is entirely pointless and more of a scam than a system. By the time that customers realise their mistake, it is generally too late to get their money back, and they are left with pointless advice in the form of a book—as is the case here.
So, while we do not need to advise against purchasing this lottery system because it is no longer readily available, we would like to use this system to warn you to be on the lookout for similar scams. Because, as we all know, this is not the first lottery system to take people's money and then disappear—and we are sure that it will not be the last.