Michigan Make Me Rich Winner Amanda Clayton: Dead at 25
Winning the lottery seems like a dream come true for most of us, but for some winners it's not always that simple. It can be complicated to suddenly have a lot of money in your possession, and when winners don't plan properly or receive proper guidance it's easy for things to unravel. For Michigan "Make Me Rich" winner Amanda Clayton, it was impossible to escape the challenges she faced after her win.
A Million-Dollar Win
Michigan resident Amanda Clayton didn't exactly have a luxurious life before she won the lottery. In fact, her financial troubles ran deep, though she luckily had welfare benefits to keep her afoot. When she purchased an instant lotto ticket, she wasn't expecting to be invited to appear on Michigan's lottery game show Make Me Rich, but when the opportunity presented itself, she gleefully accepted—and it certainly worked out in her favour. On September 11th, 2011, Amanda Clayton took home $1 million ($735,000 after taxes) after winning on Make Me Rich.
How Did Amanda Clayton Spend Her Winnings?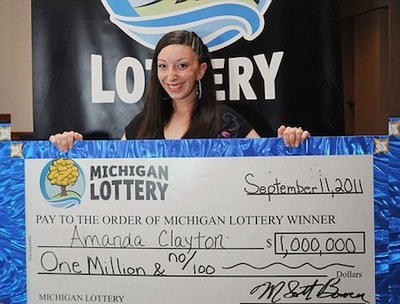 While Amanda Clayton made several headlines in the time after her big win, the details of how she spent her lottery win remained relatively private. She seemed to be a modest spender; in fact, her lawyer indicated that she skipped out on buying expensive cars and homes and settled for more traditional options. Likewise, her winnings were immediately put towards trusts for her children to fund their education.
Scamming the System?
Though she'd had won a decent chunk of change, Clayton continued to collect welfare benefits and claimed it was because she still needed help. Unfortunately, that excuse didn't fly with Michigan Attorney General Bill Schuette. In July 2012, Clayton was charged with felony welfare fraud. Fortunately, her sentencing wasn't too harsh—she received only nine months of probation. She was also responsible for repaying the $5,500 in food and medical benefits she received during the time after her win. Considering how much money she had won, that shouldn't have been too difficult for her, but she certainly deserves her spot among the stupidest lottery winners for even attempting such a greedy and completely unnecessary stunt.
This instance of welfare fraud prompted Michigan's state officials to analyse and change the law to ensure lottery winners couldn't receive federal or state benefits.
Assault on Neighbours
Just months after the news broke about the Clayton's fraudulent activity, her neighbours were brutally attacked. Accusations against her immediately made tabloids, as Candace Combs and Victor Bartolo claimed the winner hired three hitmen to break into their Lincoln Park home and kill them. This was apparently sparked by an argument between the three neighbours.
Though Combs and Bartolo were insistent that she was responsible, Clayton's lawyer, John Dahmak, noted that the allegations were false and the result of a "long-standing feud" between the three Lincoln Park residents. He also noted that the attackers were arrested with the potential charge of felonious assault. Clayton was neither arrested nor charged.
A Tragic Death at 25
On September 29th, 2012, Amanda Clayton was found dead at a home in Ecorse, Michigan. Her two young children were found at the scene. Though few details were released regarding the matter, her suspected cause of death was a drug overdose.
Conclusion
Winning the lottery may be exciting, but all too often, jackpot winners expect their new wealth to fix all of their problems. Amanda Clayton was eager to use her $1 million to change her circumstances, but unfortunately, her problems only seemed to grow before her saddening death.
It's clear from her story that money can't solve everything, but with a little bit of careful planning and responsibility, a lottery win could certainly change one's life for the better. If more people realized this and made greater efforts to stick to it, there'd be far fewer lottery winner horror stories like Amanda's reported each year.