LotWin Software Review

If you're playing the lottery without a strategy and not having much luck, the makers of the LotWin lottery predictor software want to help you. According to its website, LotWin offers users a set of tools to give them "complete control" over their lottery entries. LotWin helps users choose numbers for pick-5 and pick-6 lotteries and for games with one or two bonus balls, such as the US Powerball and EuroMillions draws.
But what are these tools, and how do they work? Does the software actually increase your odds of winning? Our LotWin software review digs deep to find the answers.
WHAT IS LOTWIN?
Officially named "LotWin Lottery Line Builder," this lottery predictor software uses statistical tools and filters to narrow down possible numbers to play.
LotWin is available to download for Android phones and on Windows 7, 8, and 10 computer systems. The phone application is free, but it doesn't offer the same tools as the paid version. The computer software also has a free version that users can try out before paying for the full "Pro" version.
LotWin is available for use in the UK and in the rest of the world. However, the website explains that due to EU Tax Regulations, only the free version is available to EU residents.
HOW MUCH DOES THE LOTWIN APP COST?
LotWin Pro comes with several payment options. Players who want to use the program only for five-ball lotteries or only for six-ball lotteries pay £7.45 per month to access the app. Players who want to use the app for both five- and six-ball lotteries pay £9.95 per month. A yearly subscription to the full program costs £99.95, while a single lifetime payment costs a mind-boggling £339.95!
There are three other options: LotWin Standard, LotWin Standard Syndicate, and LotWin Pro Syndicate. LotWin Standard costs £4.82 per month and £48.82 per year to use the program for both types of games. LotWin Pro Syndicate costs an outrageous £439.98 to buy the full program for life.
There is no price listed for LotWin Standard Syndicate or the lifetime purchase of LotWin Standard.
HOW DOES LOTWIN WORK?
According to the software's website, LotWin contains an up-to-date database of the latest winning results from lottery draws around the world. When downloading the software, users select their lottery of interest, and the software automatically downloads the data set for that game.
If a player wants to use the software for a lottery that isn't in the database, he or she can create a "New Lottery" file and specify the number of balls and prize tiers for the game. LotWin can work with any 25- to 60-ball lottery, including one or two bonus balls.
Once the lottery is selected, players can use LotWin's tools to filter combinations and create lists of potential numbers to play.
WHAT TOOLS DOES LOTWIN USE TO PICK NUMBERS?
LotWin offers the following tools to help users pick their numbers:
Statistical Tools
LotWin assumes that all numbers have the same likelihood of being drawn, based on the theory of probability. When it's first downloaded, the software collects data (statistics) about previous winning numbers and analyses them to determine which numbers have been drawn recently and which are "more likely" to be drawn next. However, from that point forward, you'll have to enter all future draw results MANUALLY, as for some inexplicable reason the software can't do this itself. Why? Your guess is as good as ours!
Filters
According to its website, LotWin comes with over 30 group filters that can be used to select or avoid certain types of numbers. Some examples of tools include a Consecutive Filter, which eliminates more than two or three consecutive numbers; a Sum of Line Filter, which filters out lines of numbers that add up to above or below a certain threshold; and an Odd/Even Filter, which eliminates lines based on the user's preference for playing mostly odd or even numbers.
Entry Reduction
Based on the filters, the software generates anywhere from a few to several thousand possible number combinations. LotWin's reduction tool allows users to narrow this down by selecting how many optimized entries they want to see and how many times the algorithm should run through analysing the numbers.
Once the reduction tool is applied, the software produces a shorter list of the "most statistically probable lines," including how likely the list is to contain a winning line. Users can then decide whether they want to play the suggested numbers.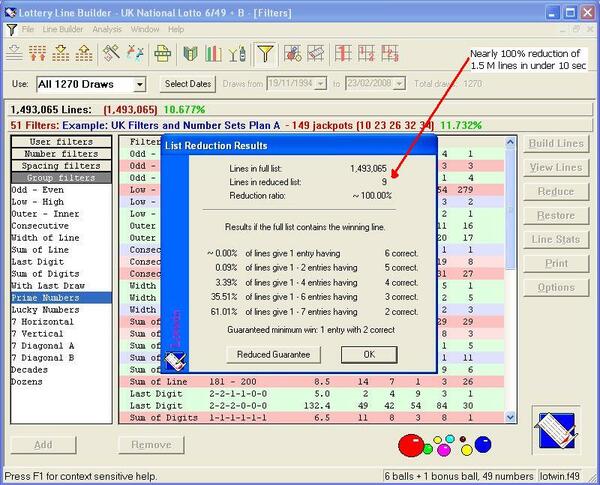 DOES LOTWIN INCREASE YOUR ODDS OF WINNING THE LOTTERY?
LotWin's tools help filter down numbers to make it easier for users to pick their numbers from the millions of possible combinations that exist for most popular lotteries. However, it offers no guarantee of increasing users' odds of winning.
Instead, the product website explains that statistical analysis provides insight into previous winning trends and which numbers are likely to be drawn next. It also clarifies that "the most likely outcome isn't always the actual outcome." Not exactly a ringing endorsement.
There are also some red flags that should make players wary of purchasing the software. Firstly, the site offers no product description for the Syndicate versions of the software and no pricing for some of its software options. The site also only accepts PayPal and Bitcoin, which may indicate that it's not a registered business. Third, there are no verified testimonials from people who have won the lottery by using LotWin. Fourth, neither the website nor the software has been updated since 2018. Finally, the price of the software is ridiculous—in fact, the Pro Syndicate version is the most expensive lottery software we have ever come across. Considering we have reviewed quite a few other similar software products, this speaks volumes.
In short, the only thing the software does is narrow down numbers based on users' personal preferences, such as a desire to play more odd or even numbers. Once these choices are made, the program again relies on the user's "intuition" to make the final choice of numbers. In other words, choosing numbers with LotWin's tools is no different than using your intuition to select them at random—although using LotWin will leave you much poorer.
THE VERDICT
Like most lottery predictor apps, LotWin probably won't increase your odds of winning. We also found no positive reviews for the free version of the software. Due to the red flags and lack of guarantees, we do not recommend that anyone spend their money on this app. Instead, you'd be much better off playing through a lottery syndicate (aka group play), which is a mathematically proven, and therefore guaranteed, way to improve your chances of winning.