LottoSend Welcome Promo: $30/€25/£20 in Free Tickets
If you've been thinking about signing up with LottoSend, now's a good time because they are offering a sweet "Buy 1 Lottery Ticket & Get 1 Free" welcome promo. Despite the wording here, they will actually match your purchase up to $30/€25/£20—meaning you can get a lot more than just one ticket if you want to. This deal will double your chances of winning great prizes from any of the 16 major international lotteries available on the site, and it is only open to new customers who are registering with the site for the first time. In addition, you'll automatically get a "Free Share", which is an additional LottoSend promotion that will give you 1 syndicate share for free when you first make a deposit into your player account.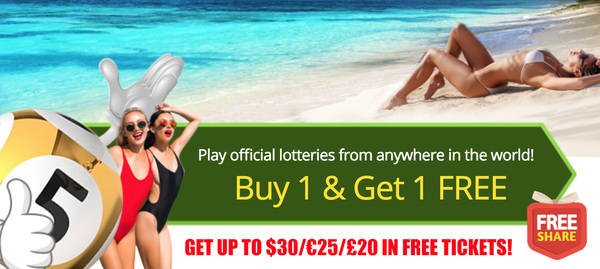 To access this deal, simply click on the link below and you'll be redirected to the LottoSend website. Once there, fill in the form on the right-hand side of the screen with your name, email address, password that you want to use for your user account, your country of residence, and your phone number, then click "Sign Up to Play". On the next page you will see an order summary for 1 Line/1 Draw and a 50 Line/1 Draw/1 Share purchase, just like this: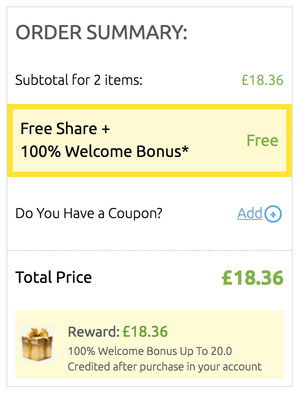 If you'd like to edit the first order, click on the little pencil to the left of this order summary and make whatever changes you prefer. Then hit the "Update" button and your changes will be reflected in the order summary.
LottoSend buys official lottery tickets on behalf of its players to 16 major lotteries around the world via single play, group play, and subscriptions. Not only that, but it also scans the tickets so that you can relax knowing they are safe and sound in your player account. LottoSend regularly offers various discounts and promos, and the website, which is available in 10 languages, has a clean and user-friendly design.
Join LottoSend now