Lotto Max Winner Adlin Lewis Takes Home a Record-Breaking Prize
Winning any jackpot prize must feel like a blessing, but taking home a record-breaking amount of money would make any player feel like they're truly living a charmed life. Though Canadian lotteries don't see jackpots as large as some other draws in the world, they do sometimes award some pretty impressive prizes—and Lotto Max winner Adlin Lewis was the recipient of one of the most impressive prizes in Canadian history.
Who Is Adlin Lewis?
Adlin Lewis is a man from Brampton, Ontario, Canada, who made headlines thanks to a record-breaking jackpot win in January 2020. At the time of the win, Lewis was 49 years old and working as a credit risk manager. Lewis was actually getting ready to head to work when he checked his Lotto Max ticket on the Ontario Lottery and Gaming Corporation (OLG) lottery app. He was sitting in his cold car in the middle of the Canadian winter, waiting for the vehicle to heat up when he learned that he was now a multi-millionaire.
How Much Money Did Adlin Lewis Win?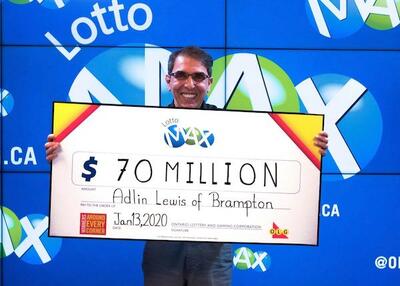 Lewis won the biggest lottery prize ever awarded in Canadian history when he took home a cheque for CAD$70 million. As Canada doesn't take any tax off of lottery prizes, Lewis took home every cent of the advertised jackpot. The win was the first time that a player had won the maximum jackpot allowed for Lotto Max, after a format change had increased the cap from CAD$60 million to CAD$70 million in May 2019. Incredibly, since Lewis's win, a few more lucky winners have taken home the record-breaking amount.
When Lewis first scanned the ticket while sitting in his car before leaving for work, he said he actually received an error message. It wasn't until his second try that he saw the "Big Winner" message along with the number 70. In shock, Lewis checked the website to confirm that his numbers were the winners. Though some winners' first thought might be to quit their job and start planning for retirement right away, Lewis actually went into work that day, keeping the big news to himself.
He spent the day thinking about how he would share the news with his wife. Though he had big ideas of taking her on a trip or finding some other creative way to share the news, he couldn't hold back his excitement and ended up waking her up in the middle of the night to tell her that their lives had changed forever.
A Streak of Good Luck
While the odds of winning the lottery are always tough, it seems that Adlin Lewis is simply a lucky man. A few years prior to his big lottery win, Lewis won a car. Then, mere months before the Lotto Max win, he was lucky enough to win both the first and second-place prizes at a holiday party at his work. Lewis's good fortune was so well-known at his workplace that when the news came out that the winning ticket had been sold in Brampton his co-workers immediately started joking about whether or not he had called in sick. Though he hadn't called in sick, his co-workers were right—Lewis was the lucky winner.
Lewis wasn't the only repeat winner in this draw either. Just a few years earlier, in September 2015, Brampton was in the news for being the city where another record-breaking winning ticket had been sold. That draw marked the first-ever Lotto Max jackpot that had reached CAD$60 million, and the single winning ticket had been purchased by a Brampton resident. With a relatively small population of just over 600,000, it's pretty incredible that not one but two record-breaking wins took place there in such a short period of time. Who knew that one city could hold so much luck?
What Did Adlin Lewis Do With His Money?
Lewis, being a regular lottery player of over 20 years, might have spent a lot of thinking about what he would do if he ever won the jackpot. Not only would he buy tickets every week, he'd sometimes buy a couple extra lines any time the jackpot got particularly big. These years of reflection may be why he was able to have such a practical plan for his newfound millions—he planned to make some investments, go on some trips, and use his money to simply enjoy life. He also mentioned being able to make his wife's dreams come true by playing the VIP $100 slots in Las Vegas. Overall, Lewis says he simply feels blessed that he and his family have so many options available to them thanks to their incredible jackpot win.
Conclusion
The lottery is always unpredictable, and it's no surprise that jackpot winners almost always feel shock and disbelief when they first learn that they have the winning ticket. We can only imagine how that feeling must be amplified when the win comes with a record-breaking jackpot prize.