Play Lotto America Online – How to Play and Buy Tickets

With the number of great international lotteries available today, it can sometimes be incredibly hard to choose a lottery.
To compete with these lotteries, any lottery needs to have (as a standard) great odds, fantastic jackpots, and a reasonable price tag.
Read on as we look at a game that has all of these elements and explain how you can play Lotto America online.
LOTTO AMERICA HISTORY
Lotto America first appeared on the scene way back in 1988. However, it only lasted four short years before eventually being scrapped.
In 2002, a game called Hot Lotto was launched, but it too was discontinued due to poor ticket sales in 2017.
At that point, the Multi-State Lottery Association decided to revive Lotto America, and it was officially reborn on November 12, 2017.
The lottery is fully regulated and controlled by the New Mexico Lottery Authority.
This governing body ensures that everything to do with the draw is correctly done and that there is no chance for anybody to defraud the lottery or the people who play it.
HOW TO PLAY LOTTO AMERICA
Lotto America is simple to play because it is a simple double-matrix lottery.
To play, you will first need to pick five numbers from a number pool that ranges from 1 to 52. These will be the main numbers that you will need to match.
You will then need to pick a single 'Star Ball' number from a pool ranging from 1 to 10. This 'Star Ball' will need to be matched alongside your original five numbers for you to win the jackpot.
The price of a single ticket is a respectable $1 when purchased within the US.
However, as with some other lotteries, there is an option to enable a special feature on your ticket. This extra is called the All Star Bonus and costs an additional $1 per ticket.
Activating this feature will take any winnings that you are entitled to (except for the jackpot) and apply a multiplier to them so that you receive much more than you originally expect. These multipliers range from 2X to 5X multipliers and are chosen before each draw.
HOW TO PLAY LOTTO AMERICA ONLINE
Although not many, several online lottery websites do sell Lotto America tickets at the time of this review.
We sincerely hope that more start offering it. Especially considering the number of people who prefer to play the lottery from the comfort of their home and the growing list of lotteries that are now allowing online sales.
ODDS OF WINNING
Lotto America has a whopping nine different prize tiers available. And, while the minimum jackpot amount is no small amount—$2 million to be precise—the odds of winning the jackpot are not incredibly great.
The odds of winning the jackpot are 1 in 25,989,600, which are nothing to get overly excited about, but they are decent. Thankfully, the odds of winning any prize are much better at 1 in 9.63.
The nine prize tiers, what is required to claim a prize, what the prize amount are, and the odds of winning appear in the table below:
| | | | |
| --- | --- | --- | --- |
| Prize Tier | Required to Win | Prize Amount | Odds of Winning |
| 1 | 5 + Star Ball | Jackpot (Minimum $2 Million) | 1 in 25,989,600 |
| 2 | 5 | $20,000 | 1 in 2,887,733 |
| 3 | 4 + Star Ball | $1,000 | 1 in 110,594 |
| 4 | 4 | $100 | 1 in 12,288 |
| 5 | 3 + Star Ball | $20 | 1 in 2,404 |
| 6 | 3 | $5 | 1 in 267 |
| 7 | 2 + Star Ball | $5 | 1 in 160 |
| 8 | 1 + Star Ball | $2 | 1 in 29 |
| 9 | Star Ball | $2 | 1 in 17 |
LOTTO AMERICA DRAWING TIME
There are two draws held each week. These draws take place on Wednesdays and Saturdays at around 9:15 PM (Mountain Time). Results from the draws are posted on the official website almost immediately once the draw is concluded.
BIGGEST JACKPOTS
There is no clear answer as to what the largest jackpot ever awarded in this lottery is.
However, judging by the fact that the jackpot has no limit and can roll over until it eventually gets a winner, it's safe to assume the jackpots can get pretty exciting.
From our research, we did see that in July 2019 the jackpot grew to $21.6 million. And in May 2018 Debbie Kujava won a jackpot bundle worth $22.8 million—no small amount for a $1 or $2 ticket!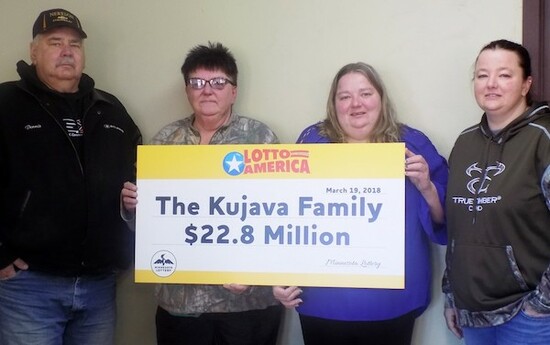 PAYOUT OPTIONS
As with almost all big American lotteries, winners have the option of either choosing a cash lump sum payout or an annuity that will be paid out over 30 years.
The lottery does clearly state that all annuity payments are increased by a set percentage each year to accommodate inflation and changes in the economy. This is a great perk that is sure to encourage more people to take this option and hopefully lead to wiser spending of winnings.
TAXES
Unfortunately, aside from the 24% federal tax on all lottery winnings over $5,000, the state of New Mexico also charges all lottery winners an additional 6% tax on their winnings.
This brings the total amount of payable tax to 30% of your winnings—a rather large amount.
LOTTO AMERICA—IS IT WORTH PLAYING?
There are some very good reasons that we think that Lotto America is worth playing.
Among these is the cheap ticket price, the fact the jackpot is nothing to laugh about—even on its lowest of $2 million—and the game's nine prize tiers.
For these reasons alone, we recommend you check it out if you haven't already.
User Reviews and Comments (1)