Play Lebanon Lotto Online – How to Play and Buy Tickets
Lotto Lebanon is a national lottery game that also happens to be one of the most popular in the world.
Available in 75 countries, in 2005 it accounted for 42% of all lottery sales worldwide.
Read on as we explore how you can play Lotto Lebanon online, how the game works, and whether it's worth playing.
Lotto Lebanon History
Lotto Lebanon is run by La Libanaise des Jeux (LLDJ), the organisation that runs all lotteries in the country. LLDJ is supervised by the Lebanese Ministry of Finance.
The game as we know it today had its first draw in September 2002. At the time, it was a weekly lotto game, but changed to a bi-weekly game a year later. The second drawing was added in 2003 due to the game's popularity with players.
How to Play Lotto Lebanon
To play Lotto Lebanon, you choose six numbers from a pool of numbers 1 through 42. You also need to choose a bonus number from the same number pool.
You can select your own numbers or opt for the Quick Pick option.
You can choose to play between one and eight grids per ticket. Each grid represents one line, and one line costs 2,000 LBP.
Lotto Lebanon is open to international players through the LLDJ website. If international players buy tickets from a third-party website, the ticket cost may be higher.
Players can also choose the advanced ticket grid. The advanced grid lets players choose seven, eight, nine, or ten numbers instead of six.
Playing the advanced grid is the same as playing a system. This increases the cost by quite a lot, but also increases a player's odds of winning.
An advanced grid with seven numbers costs 14,000 LBP. An advanced grid with eight numbers costs 56,000 LBP. An advanced grid with nine numbers costs 168,000 LBP. Finally, an advanced grid with 10 numbers costs 420,000 LBP.
Lotto Lebanon also offers subscriptions. This means players can buy tickets for multiple future draws all at once. Players can subscribe to up to 208 draws at once.
Players can buy tickets at an official retailer, by SMS, online, or through the official mobile app.
How to Play Lotto Lebanon Online
Both Lebanese and international players can play Lotto Lebanon online through the LLDJ website. Players can access the site from all over the world.
International players should check with their country's laws to see if they are banned from participating in Lebanon's lotteries. International players may also play Lotto Lebanon online through third-party lotto websites.
Prizes and Odds
Lotto Lebanon has a rolling jackpot, which means it grows until there is a winner. There is no minimum jackpot and no jackpot cap.
However, jackpots tend to be smaller than some of the more popular international games like US Powerball and UK Lotto.
Despite that, Lotto Lebanon offers much better odds of winning than its bigger international competitors. The odds of winning the jackpot are 1 in 5,245,786, compared to US Powerball's 1 in 292,201,338 and UK Lotto's 1 in 45,057,474.
To win the jackpot, a player must match all six numbers. The bonus number only applies to the second-highest tier. This tier requires five matches plus the bonus number.
There are a total of five prize tiers, with the lowest requiring only three numbers to win.
The overall odds of winning any prize are 1 in 12.
The odds of winning and prize breakdown are as follows:
| | | |
| --- | --- | --- |
| Numbers Matched | Odds of Winning | Estimated Winnings |
| 6 | 1 in 5,245,786 | Jackpot |
| 5 + Bonus | 1 in 874,297 | Depends on number of winners and prize fund |
| 5 | 1 in 24,286 | Depends on number of winners and prize fund |
| 4 | 1 in 555 | Depends on number of winners and prize fund |
| 3 | 1 in 36 | 8,000 LBP |
Drawing Time
Lotto Lebanon has two draws per week. Draws are held every Monday and Thursday at 7:30 PM EEST. Draws are supervised by the National Lebanese Lottery and are broadcast live on TV.
Biggest Lotto Lebanon Jackpots
The biggest jackpot in Lotto Lebanon history was won in April 2006. The jackpot reached a record-breaking 7,230,803,688 LBP.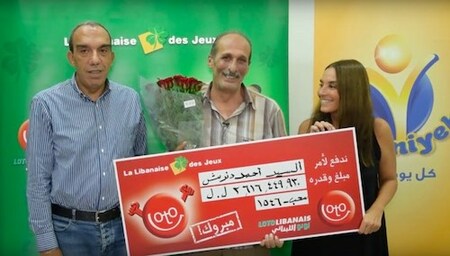 There were three winning tickets sold for the draw, so the prize was split three ways. Each winning player received 2,410,267,896 LBP.
Payout Options
Winners of Lotto Lebanon have four months from the draw date to claim their prize.
Winners of tiers three, four, and five who bought their tickets at a store can collect their prize at any official retailer. If they win one of the top two tiers, they have to claim their prize at LLDJ headquarters in Beirut.
Winners who bought their tickets through SMS will receive a credit to their phone bill for prizes of up to 8,000 LBP.
Prizes of 8,000 LBP to 400,000 LBP can be claimed four different ways:
At a retailer
By cheque through the post
By wire transfer
By transfer to an online account
Prizes over 400,000 LBP must be claimed at LLDJ headquarters.
Winners who bought tickets online for Lotto Lebanon will have their prize credited to their account. All prizes are paid as a lump sum.
Taxes
Lebanon has a unique tax structure on lotto prizes. If a player wins ten times or more what they spent on their ticket, then they have to pay a 20% tax. Players who win less than that amount do not have to pay the tax.
For example, if a player spent 2,000 LBP on a ticket and won 40,000 LBP they would have to pay the tax. However, if a player spent 10,000 LBP on a ticket and won 40,000 LBP, they would not have to pay the tax. The tax is considered income tax.
Players who buy tickets online from third-party sites may have to pay a different tax rate. Their prizes may be taxed at the rate of their country of residence. This is in addition to whatever tax they may have to pay in Lebanon.
Lotto Lebanon—Is It Worth Playing?
Lotto Lebanon has many features that make it a good choice for lotto players. It offers two chances per week to win and has some pretty decent odds.
Though prizes are usually on the smaller end, Lotto Lebanon makes it easy to play systematic games to increase odds.
The game is also very easy for international players to buy tickets for, making this a great choice for both Lebanese and non-Lebanese players.
User Reviews and Comments (1)