Jose Antonio Cua-Toc: The Illegal Alien Who Almost Lost $750,000
When playing the lottery, it is important to be familiar with the ins and outs of winning. After all, knowing about state laws and the resources available to you could save you plenty of hassle in the event good luck comes your way. Unfortunately, many winners are unprepared and victims of circumstance, as is the case for Guatemalan winner Jose Antonio Cua-Toc. Though he desperately needed someone to trust with his winning ticket, he was led down an unexpected path with twists and turns he never could have prepared for.
The Winning Ticket & The Events That Followed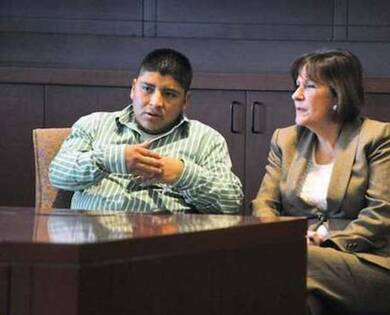 When Guatemala native and Georgia resident Jose Antonio Cua-Toc purchased a Jingle Jumbo Bucks lottery ticket on November 17th, 2010, from an OM Food Mart, he was just running errands for his boss. When he came back that same night to validate his ticket, he and his girlfriend were filled with excitement when the cashier notified him of his win. Unfortunately, panic quickly settled in. As an undocumented immigrant, he feared he couldn't claim the money without potentially facing legal trouble and deportation. Instead, he put faith into his boss Erick Cervantes (pictured below with giant novelty cheque) by asking him to claim the ticket on his behalf. However, things quickly took a turn for the worse.
Erick Cervantes readily cashed in the lottery ticket worth $750,000, and though he'd supposedly planned to share the winnings with Jose, Erick decided he'd keep the entirety for himself. As a result, Jose was filled with rage and panic, apparently going so far as to call Erick's household multiple times to demand the winnings and threaten Erick's family if he did not comply. Not long after, Jose was arrested.
Jose faced charges of violating probation, terroristic threats, and forgery. Still, he remained consistent in his story—Erick had stolen the ticket from him and claimed the winnings for himself. The facts didn't sway the police, and despite Jose's best efforts, he faced deportation.
Jose Antonio Cua-Toc's Lottery Lawsuit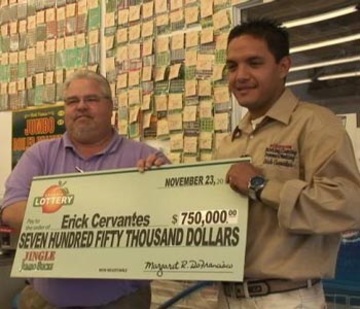 Despite his legal troubles, his story gained traction and he soon received support from the public in his case. With the surveillance video from OM Food Mart confirming Jose was the purchaser of the ticket, Erick Cervantes suddenly didn't have a leg to stand on. Still, Erick claimed that the ticket was rightfully his, as he'd given money to Jose to make a few purchases at the store—including a $20 bill for lottery tickets.
When the two landed in court after Jose initiated a lawsuit against his former boss, the jury was able to make the decision based on the surveillance footage. After hearing Jose's attorneys and deliberating, the jury determined that the winnings would go to Jose in the amount of $750,000—less than $500,000 after taxes. He was also awarded $207,000 in attorney's fees and $25,000 in punitive damages.
It was emphasised by officials after the fact that Georgia law does not require citizenship verification to cash in a lottery ticket so long as the ticket holder meets age requirements. Unfortunately, the situation could have been avoided had Jose only known.
Further Legal Troubles
While Jose won the case against Erick Cervantes, legal troubles still followed him. Though he'd been granted the right to stay for the duration of the civil case, which was expected to be appealed and continued for a different settlement, Jose was jailed in Houston County on a drunken driving charge in 2011. As a result, an ICE hold was placed.
Regardless, the public stayed on his side. His defence argued that his life would be in danger if he was deported. This was further emphasised when his family home in Guatemala was ransacked after word of his win spread throughout his hometown.
Where Is Jose Antonio Cua-Toc Now?
After the news of his lawsuit win alongside his potential deportation, Jose has kept out of the media. Whether or not he was eventually deported remains unknown.
Conclusion
Winning millions seems so simple when looking at the possibility from an outside perspective, but the reality is that money and ignorance often bring out the worst in people. This can be seen with plenty of other lottery winners, but especially with Jose Antonio Cua-Toc, whose trust for his employer as well as his ignorance of the law resulted in legal troubles well beyond expectations.
Winning the lottery can really mess with your judgment, so if the day comes that you're holding a ticket worth a large amount, it is important to sit on it and do your research. After all, knowing your state's lottery laws may keep you out of unnecessary legal battles.