Is It Safe to Buy Lottery Tickets Online?
With the ever-growing accessibility of online lottery websites, more and more players are purchasing tickets to the biggest and best lotteries on the planet from the comfort of their smartphones and personal computers. There is a pretty apparent reason for this—it is infinitely more convenient than having to physically go to a store. However, it is quite natural to wonder whether or not it is safe to buy lottery tickets online, and in this article, we'll answer this very question.
How Safe Is It to Buy Lotto Tickets Online?
To answer the question simply, it is very safe to purchase lottery tickets online—but this depends on where you are buying your tickets from. While most online lottery websites are secure and will not scam you in any way, there are sites out there that exist solely to steal your money and leave you wondering what happened. These sites, however, are far and few between and can easily be identified if you know what to look for.
To aid you in making the right choices, we have compiled a list of things to look at when you are investigating a potential site to use to play lotteries within your country or one far away. These things are all items that we consider when looking at online lottery sites as a basis to see if they are even worth digging into. Therefore, they should help you recognise a scam long before it is too late.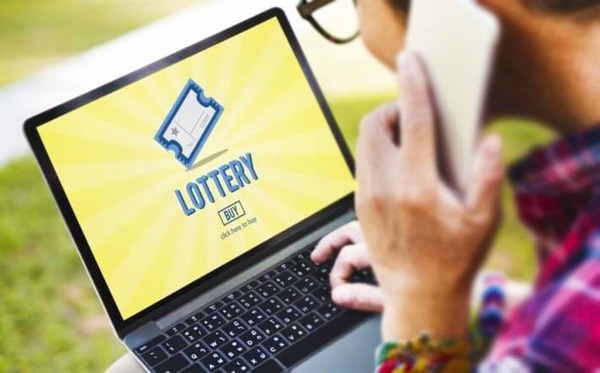 Terms and Conditions
A site's terms and conditions are one of the most important things—if not the most important thing—to look out for when choosing an online lottery website to play through. The terms and conditions of a website are the 'contract' that exists between you as the user and the operators of the site. While it may sound like an incredibly tedious task, it is always best to at least skim through the terms and conditions of any site you're not 100% certain about to see if there are any sneaky or suspicious clauses in the document that could harm you as the user. Also keep an eye out for any clauses that should be in the document but are not.
An example of this is any terms and conditions that do not outline the claims process for winners. Not having this in the document means that the operators of the site have no legal obligation to assist you in claiming your prize. Or, if the site purchases the ticket on your behalf (but not in your name), they may have no obligation to pass any winnings onto you even if your ticket is a winner.
This is also the perfect place to identify whether the site is a lottery agent or a lottery betting site. Lottery agents are sites that physically go out and purchase tickets on your behalf. They then keep these tickets safe for you until the draw. Lottery betting websites, however, do not actually allow you to play in the official lotteries that they offer; instead, they will enable you to wager bets on what the outcomes of those lotteries will be. Both are completely acceptable practices, but as we'll examine below, knowing which type of site you'll be playing through has a massive bearing on what you should be looking for to ensure the site is legit.
Gaming/Gambling License (Betting Sites Only)
If the site that you have found is a lottery betting site, you will need to look if the site holds a gambling or gaming license. This information will typically be clearly displayed in the footer of any webpage of the website. Holding a license like this means that the company running the site has applied for permission to operate from a governing body (such as the UK Gambling Association or Malta Gaming Authority). If they have been granted a license, it is almost a guarantee that the site is safe to use.
The reason for this is that not just any site is granted a license easily. In order to qualify for a license, the website has to adhere to a strict list of protocols and procedures. These go beyond simple things like who the site allows to register a player account and looks at things like how the owner of the website distributes winnings, how the inner workings of the company are conducted, and whether or not the company provides accurate and timely reporting of their activities.
Lottery betting websites are required to have these licenses due to the fact that they are essentially allowing you to 'gamble' your money—based on the outcome of the lottery you choose. As such, they function very similarly to online casinos. Lottery agents, however, do not need these licenses because they are not allowing you to gamble. They are simply providing a service through which you can conveniently purchase official lottery tickets without having to physically be in a particular country, region, province, or state.
Scanned Ticket Systems (Lotto Agents Only)
If the site you are looking at using is a lottery ticket agent, then one of the simplest ways to see if it is legit is by seeing if the site has something like a scanned ticket system. Many online lottery agents offer this service in order to prove that you are receiving precisely what you are paying for.
These systems allow you to see a scanned digital copy of the ticket that the agent has purchased on your behalf. This scan is usually done right after the agent has purchased your ticket for you and is generally viewable on your online player profile on the website.
It must be said, however, that not all lottery agent sites offer this feature. A number of them simply email an official receipt once you have ordered your ticket. This works more or less the same as having your ticket scanned because you can use it as proof that you did purchase and are the owner of the ticket. It is still always more comforting to see your ticket scanned though.
Payout Guarantees
While this may not be incredibly common, there are a number of online lottery websites that offer payout guarantees. These sites are generally lottery betting sites and not lottery agent websites. The reason for this is that lottery agent websites rely on the actual lottery operators to pay out your winnings if you win. Lottery betting websites, however, pay out prizes from the money they generate from sales, and in the case of jackpots have insurers that are responsible for paying out winnings to players—which is a slightly more straightforward and streamlined process.
Payout guarantees are usually well advertised by the site and generally form part of the site's terms and conditions. They state that if you win a certain amount, you are guaranteed to receive that amount—even though it may sometimes take a while.
Payment Methods
Looking at the payment methods offered by a website is another way that you can check whether or not your money will be safely spent on the site. While it is possible to register a business account with several payment gateways (e.g. PayPal) and link this to a website without actually being legitimate, there are limits to this. Generally speaking, a site that is linked to services such as Visa, Mastercard, Neteller, and Skrill is a site that can be trusted, as such payment companies have a reputation to uphold and do not do business with shady companies. An added bonus is you can avoid the cash advance fees on lottery tickets that credit card companies charge when you purchase directly from a regular lotto retailer.
However, while ensuring that the site offers well-known and reputable payment methods, this should never be used as the sole standard by which a website is judged. Always look at the payment methods in conjunction with the site's terms and conditions and other factors.
User and Website Reviews
Another great tool to check if a website is safe to use is to look at the reviews that it has online. There are several places online (such as Lotto Analyst) that provide honest and unbiased reviews of a large number of online lottery websites. Not only do these resources usually tell you outright whether a site can be trusted or not, but they generally also tell you all the pros and cons of a specific website and even sometimes offer exclusive deals for particular sites.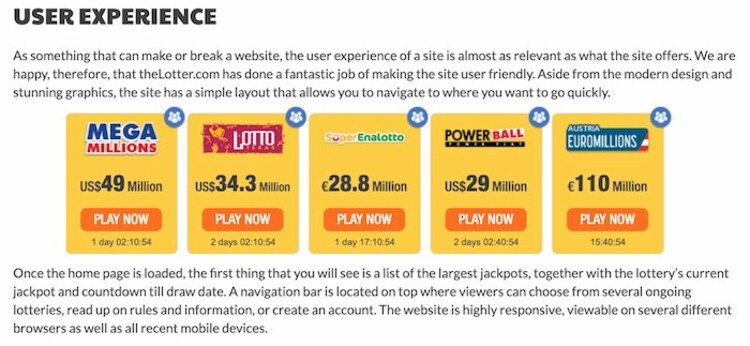 The other thing to look for is user reviews of a website. Places to look for user reviews are sites like TrustPilot.com. These reviews have the added advantage of being written by actual users of the website they are reviewing, meaning the reviews are based on personal experience and generally give you great insight into the way that the site deals with its users.
Age
This is not entirely a final deciding factor but is still something to consider when looking at an online lottery website. As a rule, websites that have been around longer are less likely to be a scam than newer websites. The sole reason for this is that if a site was a scam, they tend not to be around for an extended period and usually shut down after a few months when they are called out by a player—or several thousand—that has been burned.
We are in no way saying that new lottery websites are scams. In fact, a number of recently launched lottery websites are quite excellent. However, it is always better to take a look at all the other factors mentioned above in conjunction with the age of the site—especially considering that newer websites will typically not have any user or website reviews for you to rely on.
Site Requirements
This is something that may seem small but may be a significant warning sign when looking for a decent lottery site to use. As is the standard almost internationally, lottery tickets are not allowed to be sold to players who are under the age of 18 years. There are very few exceptions to this. Therefore, if you come across a site that does not specify somewhere (even an icon in the footer depicting the minimum age), it means that even with this simple thing they might not be following regulation. And if they can overlook this simple rule, what other rules might they be flouting?
Contact Details
As you may imagine, any site that is hoping to gain you as a player will be enthusiastic to answer all your questions (no matter how seemingly innocent they are) in order to assure you that you are secure when using the site. To achieve this, the site openly displays their contact details and, even better, offers phone support or live chat feature with agents who work for the site.
Any site that hides this information or does not clearly make it available is one that we would recommend scrutinising carefully. It is rather strange for a website not to want to be contacted by its own customers, wouldn't you say?
SSL
As a basic standard, all sites should hold an SSL certificate. SSL means Secure Sockets Layer and is the most commonly used way to show that a site is not a scam. Websites with this certificate have been tested and verified by the owner of the site to show that they are not bogus URLs that exist simply to redirect you to danger. Due to regulations and the discontinuation of support of sites without SSL by popular browsers (such as Google's Chrome browser), it may be incredibly hard in this day and age to find a website that does not have an SSL certificate. Therefore, if you somehow manage to get your browser to load a lottery site that does not have an SSL, we recommend getting out of there as soon as possible.
Conclusion—Is It Safe to Buy Lottery Tickets Online?
As we have said above, it is generally completely safe to purchase tickets to the best lotteries from around the world, provided you sign up with a legitimate online lotto website. However, if you're not careful and rush into signing up with a site you've never heard of without doing your due diligence, then that's when you run a chance of being scammed.
Using the above tricks—and reading our lottery site reviews—should make you an expert on identifying a scam site long before it manages to get a single cent out of you. And once you find a site (or five) that you like, stick with it and make sure to take advantage of perks like loyalty points and special offers. Good luck.