Indian Lottery Scammer Kola Venkata Krishna Mohan
Scammers are found in every industry in every country on Earth—but Kola Venkata Krishna Mohan holds the distinction of being India's first major cybercriminal. In 1998, Krishna Mohan ran a lottery scam that convinced news outlets, banks, investors, and government officials that he had won £12.5 million on the Euro Lottery.
This article tells the story of how one incredible lie laid the groundwork for a legendary spending spree and countless fraudulent transactions—and gave lottery scammer Kola Venkata Krishan Mohan an unquenchable thirst for crime.
Who Is Kola Krishna Mohan?
Until 1997, Kola Krishna Mohan was living with his wife in the city of Vijayawada in Andhra Pradesh and running his own export business. However, he had a secret: he loved playing high-stakes card games. In 1998, a bad bet with a gambling syndicate ended in tragedy when the syndicate cheated him out of an estimated Rs 30 million (about US$764,331).
Like many other gamblers would do in this type of situation, he decided to make some more big bets to win the money back. Meanwhile, during a sponsored trip to the US and the UK, he bought tickets to the Euro Lottery while waiting for his flight at Heathrow Airport. Three months later, the news came out that he'd apparently won an astounding £12.5 million on this lottery (worth $19.8 million or Rs 83 crore).
"I've seen many ups and downs in my life, but this is overwhelming," Krishna Mohan told India Today Magazine at the time. The magazine also reported he'd spent $600 on tickets and hadn't dared to tell his wife until he was sure he'd won. Everyone from relatives to banks and investors believed the story of his incredible windfall. However, the "news" of his win was just the beginning of a soon to be legendary fraudulent free-for-all.
How Did Kola Krishna Mohan Fake His Lottery Win?
In November 1998, a few months after buying the Euro Lottery ticket, Kola Krishna Mohan decided to solve all his money problems by pretending that he had won the jackpot—just like Howard Walmsley did in 1996. To make the story believable, Mohan created an "official" website for the Euro Lottery and an email address that the media could contact to confirm the story. This website named Krishna Mohan as the winner of the £12.5 million Euro Lottery prize.
Next, the fraudster sent an email from the "official" website to a major newspaper to inform them that a local man had won a huge jackpot. To verify the information, the newspaper emailed Krishna Mohan's website and got "confirmation" of his win. When they printed the story, other newspapers and media outlets spread the tale like wildfire—and Kola Krishna Mohan literally became a celebrity overnight.
Kola Krishna Mohan's Fraud Grows – And Gets Political
Krishna Mohan was not just a gambler; he was also a businessman. He understood that in order to come back from his devastating gambling losses, he would need to fund more business ventures. But as they say, it takes money to make money. Leaning on the "verified" news of his jackpot win and solid financial status, Krishna Mohan convinced several banks to give him large short-term loans. He claimed he would repay them as soon as his winnings arrived from the UK. Major investors also began contributing funds for his new businesses. All the while, Krishna Mohan was using this money to repay creditors, spread money around, and build a high-profile image of wealth.
To complete the picture, he purchased luxury cars and a home worth Rs 4 million in an affluent neighbourhood. Then in May 1999, barely half a year since news broke of his win, Mohan joined the TDP political party. To support his wealthy image, he donated Rs 1 million to the NTR Trust, a respected Indian non-profit welfare organization, and Rs 150,000 to a police trust. Based on his generous donations, he even tried to get on the TDP party's ticket to be elected to office—but was (thankfully!) denied due to his lack of experience.
How Kola Krishna Mohan Was Caught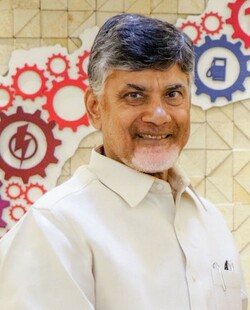 Krishna Mohan rode the wave of his "win," making and breaking promises to lenders, for nearly a year. But by October 1999, creditors were losing patience that he would repay them soon. One lender, Kolli Gandhi, filed a complaint about an Rs 1.45 million repayment cheque bouncing. Undeterred, Krishna Mohan told the bank that he had some investments in the UK that he would be collecting shortly.
Soon, another cheque from Krishna Mohan worth Rs 1.73 million bounced at Andhra Bank. This is when the bank decided to verify the fraudster's paperwork. Mohan had originally used a copy of a bond certificate from a London bank to prove the existence of his £12.5 million prize to Andhra Bank. However, when Andhra Bank authorities called London, they discovered the certificate was fake—and promptly contacted the police.
The shocking news got to the TDP leader, Chief Minister of Andhra Pradesh Chandrababu Naidu, who ordered the state police to investigate. Soon, domestic and international airports were looking for Krishna Mohan, and so was Interpol. After hopping on one flight after another and leading investigators on a merry chase around India, the soon-to-be-infamous criminal was fresh out of money. He flew home and was arrested in November 29, 1999, eventually getting a four-year prison sentence and Rs 20,000 in fines for his crimes.
Kola Krishna Gets Out of Prison... and Strikes Again!
After his release from jail, Kola Krishna Mohan was ready to get back to work defrauding people. His newest scam venture was a special home delivery "Mak Donalds" chicken and lamb biryani business that he planned to turn into a franchise. Or so he told investors.
Working with his two sons and using fake names, Krishna Mohan rented a property to pack the food and made payments for air conditioners, deep freezers, and steel counters for the business.
He also managed to dupe two investors into giving him deposits of Rs 100,000 each to open their own outlets. However, the investors never got their outlets or saw their money again. They went to police, who immediately collected cheque books, passports, and more from the fraudster's home. Mohan was arrested again in short order.
Kola Krishna Mohan's Story Ends
We cannot confirm whether Kola Krishna Mohan is in jail or just laying low today. All we know is that he certainly earned his place in history as Indian's first and biggest cybercriminal—and his exploits will not be forgotten anytime soon. Given Krishna Mohan's proven penchant for criminal activity, we hope Indian authorities keep a sharp eye on this wily fellow for the foreseeable future. He's certainly one of the craftiest lottery winners we've ever heard of!