Georgia Cash Pop Review
Many lottery games have needed to adjust and evolve in order to stay relevant, compete with each other, and entice players to play. These evolutions have resulted in some truly spectacular draw games that throw conventions out the window and try something new. Sometimes, this works really well, while other times, it leaves some things to be desired. In this Georgia Cash Pop review, we will look at one of these new lotteries and see if it is a game-changer or something that would have been better off staying on the top shelf.
History
You may have already guessed that the Georgia Cash Pop Lottery is run by the Georgia Lottery—the operator of all lotteries within the state of Georgia. One of the youngest lotteries in the entire industry, Cash Pop was only launched on December 8, 2019.
All profits from the lottery go toward education reform within the state and help fund the Georgia HOPE Scholarship Program and Georgia's Pre-K Program. The two programs that the lottery helps fund have helped provide schooling for over 3.4 million children since they were first launched.
How to Play Georgia Cash Pop Lottery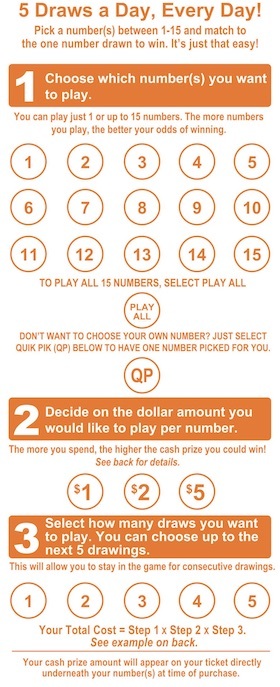 This lottery is easily one of the simplest lotteries on the market today. To play, you will need first to choose how many numbers you would like to play with. You can select any amount from 1 to 15 numbers. Each number that you wish to play with will need to be picked out of a number pool that also ranges from 1 to 15—meaning that if you select to play 15 numbers, you will be playing one of each of the available numbers.
If you would not like to pick your own numbers, there is also a quick pick option available. The quick pick will simply ask you how many numbers you would like to play with before randomly selecting that amount of numbers from the number pool using a random number generator (RNG).
After you have chosen the amount of numbers you would like to play with, and what numbers these should be, you will need to select your bet amount. Your bet amount is applied to each number that you have chosen to play and can be either $1, $2, or $5. As with almost all lotteries that allow different bets, the higher your bet, the more you stand to win.
To win in this lottery, you simply need to match a single number with the number drawn by the lottery.
Odds of Winning
Unlike other international lotteries that have staggering odds of winnings, the odds of winning by playing Georgia Cash Pop Lottery are fantastic. That is because the overall odds for each draw are only 1 in 15. Even better than this is that the jackpot odds are only 1 in 8,250. This is only possible because there is no limit to the number of winners that there can be for any particular draw.
As you may imagine, however, this means that the jackpot available is nothing to write home about. In fact, the most that you can win by playing is only $1,250—and only by playing a $5 bet.
Georgia Cash Pop Lottery Payout Chart
The different prize amounts that you are eligible to win are printed on your ticket at the time of your purchase and are wholly dependant on the amount that you have decided to bet. However, even these amounts are entirely random, and playing a $5 bet could make you eligible for a $25 win or a $1,250 win. In the case of a win, your minimum prize amount will be equal to five times your bet amount. Below is a breakdown of what your minimum prize will be when matching with the drawn number as well as what other prizes are available and what your odds of winning them are:
$1 Bet

$2 Bet

$5 Bet

Odds of Winning

Prize Amount

Odds of Winning

Prize Amount

Odds of Winning

Prize Amount

1 in 8,250

$5

1 in 8,250

$500

1 in 8,250

$1,250

1 in 4,500

$7

1 in 4,500

$200

1 in 4,500

$500

1 in 2,250

$10

1 in 2,250

$100

1 in 2,250

$250

1 in 825

$15

1 in 525

$50

1 in 360

$125

1 in 225

$20

1 in 210

$40

1 in 165

$100

1 in 165

$25

1 in 150

$30

1 in 150

$75

1 in 105

$50

1 in 105

$20

1 in 120

$50

1 in 75

$100

1 in 90

$14

1 in 105

$35

1 in 32

$250

1 in 31

$10

1 in 31

$25
Drawing Time
The lottery holds five draws every day. Each draw has been given a unique name that identifies the time slot that it occurs in. The five daily draws are:
Early Bird: 8:00 am
Matinee: 1:00 pm
Drive Time: 5:00 pm
Primetime: 8:00 pm
Night Owl: 11:59 pm
All draw times take place at Eastern Daylight Time (EDT).
Biggest Jackpots
As we said earlier, the maximum amount that you can win on this lottery (with a $5 bet) is $1,250, and this does not look like it will increase any time soon. However, considering that the lottery is less than a year old, we are sure this will eventually improve to a higher amount.
Payout Options
Due to the rather small jackpot prize amounts available, the only option for payment is a cash lump sum.
Taxes
While lottery winnings in Georgia are usually subject to 6% state tax and 24% federal tax, winnings from this lottery are not subject to any tax. This is because all prizes offered fall below the taxable threshold of $5,000.
How to Play Georgia Cash Pop Lottery Online
While it's hard, if not impossible, to find Georgia Cash Pop Lottery on any third-party lottery websites, this does not mean that it is not available to play online. You can purchase tickets for this unique lottery online from the official Georgia Lottery website.
Georgia Cash Pop Lottery – Is It Worth Playing?
The Georgia Cash Pop Lottery is undoubtedly a fun lottery game that has entered a competitive market with a real boom. It hosts fun gameplay, decent odds of winning, and an all right jackpot for each betting category. While we do wish that the jackpot amounts were higher (of course), this is still a promising new lottery.
The best part, however, is that there are five draws held every day—giving you five chances to win some cash. So, if you are in Georgia, we highly recommend logging online and getting your ticket for the next draw to see if you can win yourself some extra money.
User Reviews and Comments (1)