Formula 1 Lotto System Review
As a lottery player that is looking to gain an edge on the millions of other people playing, it can sometimes be hard not to get pulled in by the bold claims made by the many different lottery methods and systems available today. Each of these systems tries to tell you how they are better than the next and how they can help you more than any other. In this Formula 1 Lotto System review, we will look at yet another lottery system that does just this.
What Is the Formula 1 Lotto System?
The Formula 1 Lotto System is yet another of the many lottery systems that you may have come across before. The main distinction between this and the others, however, is that Formula 1 has been developed by Glen Hooke—supposedly an MIT professor who spent over 25 years creating and perfecting the system to ensure that it works the way he advertises it.
What It Says It Can Do for You
If you have ever heard extravagant claims made by a lottery system before, then you best forget them because they will never beat the allegations made by Formula 1. Glen is so confident in his software (or at least wants you to think that he is) that he claims that his software will help you win something from the lottery 8.7 times out of every 10 times that you play.
If that is not a bold claim, then we don't know what is. Unfortunately, when someone makes a claim like that and we do not see a plethora of testimonials confirming that this is true, then we immediately label it as doubtful. And in the case of Formula 1, we have yet to see any convincing testimonials.
How Does the System Work?
Formula 1 works in a very similar manner to most other types of lottery software. The program analyses mathematical progressions and calculates the probability of different numbers being drawn by looking at past results and looking for patterns and trends in the way numbers appear. Using this information, the software then selects which numbers it thinks are more likely to be drawn next and places these numbers in a separate number pool. A random number generator is then used to pick however many numbers you would like to play from this number pool.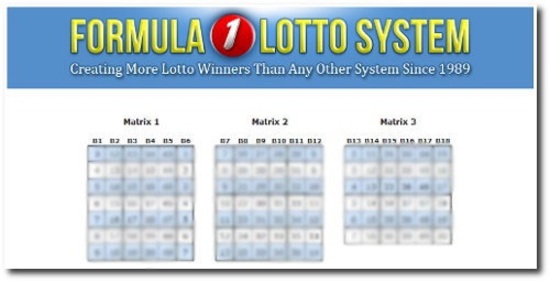 To use the software, you will not need to install it on your PC because the program is web-based and can be accessed through an Internet browser. However, at the time of this review, it does not seem that the official website of the system still exists. Instead, we found multiple mock websites that all appear to be rip-offs of the system or else reviews of the system—mostly proclaiming its brilliance and paid for (we are sure) by Glen.
How Much Does the Formula 1 Lotto System Cost?
When it was still available online, you could purchase lifetime access to the software for $87. However, the site reportedly ran specials regularly that gave 60% off and brought the price down to $39.98. Sadly, there have clearly been players that have been hoodwinked by Glen, as we found multiple complaints online from players who had paid for the software and then never received access to it.
Does Formula 1 Lotto System Actually Work?
No, this system does NOT work and will most certainly NOT help you win the lottery "8.7 times out of 10." As we have said before in reviews of similar systems, we agree entirely that it is possible to detect trends and patterns in the way that lottery numbers are drawn. However, knowing that these trends and patterns exist will not every guarantee that you will be able to predict future numbers. In fact, there is a distinct possibility that knowing this information may not make any difference to your chances of winning at all. And if it does, it's merely due to a coincidence rather than any logical reason.
Conclusion
Formula 1 Lotto System is just another program in the already long list of lottery systems that claim to help you be able to become the next big winner in some of the biggest international lotteries around. Sadly, just like the rest, this software is nothing more than big advertising, sketchy methodology, and false claims.
We expected more from Glen after working with numbers for so long—unless, of course, Glen doesn't exist and/or was never a professor at MIT. In our opinion, he should have known better than to try and predict the lottery—something which we have long said is not possible. In fact, not only is Glen's software a complete scam, it is an insult to things like lottery syndicates—which are legitimate ways that are mathematically proven to improve your chances of winning a prize. So, if you are really looking to win, then we suggest taking a look at those instead rather than throwing your money away on useless systems like this.