Play Canada Salsa Bingo Online – How to Play and Buy Tickets
There are a variety of great mini-draws that take place every day around the globe.
These games don't offer close to the massive jackpots of regular lottery draws but give consistent chances to win prizes that are still nothing to mock.
Read on as we explore how to play Canada Salsa Bingo online, how this game works, and whether it's worth playing.
History
There is no clear answer to when this game first came into existence (at least, none that we could find in our research). What we can tell you is that the game is offered by the Atlantic Lottery Corporation (or just Atlantic Lottery)—a lottery operator located in Eastern Canada that serves Nova Scotia, New Brunswick, Newfoundland/Labrador, and Prince Edward Island. We assume that the game was introduced in 2008 (the year it awarded its first jackpot) and was revised to its current format in July 2015. This was when the current rules and conditions of the game came into effect. What we do know for sure is that this is one of the most popular daily games in the region.
How to Play Canada Salsa Bingo
Playing this game is so easy that you don't even have to worry about selecting any numbers. Instead, all you need to do is choose to purchase a ticket. For CA$2 you will receive two bingo cards that will each have 25 numbers printed on them. These numbers are generated using a random number generator and are, therefore, totally random. They are also printed on your ticket in the form of a grid—just like in real bingo.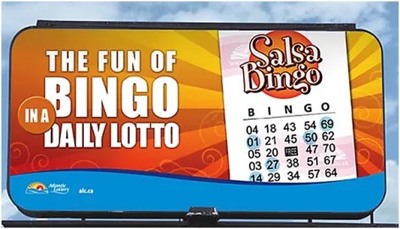 Unfortunately, winning is not quite as simple as playing. At the time of the draw, a random number generator will draw 28 different winning numbers. Each of these numbers will be prefaced with a randomly selected letter from the word BINGO (e.g. B 25, N19). You will need to match these drawn numbers to those on your ticket to win.
Full lines of matching numbers are winners. However, there are different ways that you can win, depending on how you match your numbers and the way they fall into different lines. A Big-X match and two additional lines are required to win the jackpot. This means that in addition to matching numbers in an X from corner to corner of your ticket, you'll need two more lines that appear vertically, horizontally, or both.
The game also has an add-on feature titled Tag. This add-on can be played up to ten times per ticket and gives you the ability to increase your chance of winning by printing an additional six-digit number on your ticket. This number is eligible for a secondary draw that has prizes up to CA$100,000. Adding Tag to your ticket will cost an additional CA$1 per play.
How to Play Canada Salsa Bingo Online
There do not seem to be any independent third-party lotto sites that offer tickets for the Canada Salsa Bingo Lottery. Thankfully, this is not really an issue considering that it is entirely possible to play online via the official Atlantic Lottery website. It is also possible to play via the official mobile lottery application that is available from Atlantic Lottery.
Odds of Winning
The odds of winning are relatively good in this game at only 1 in 130,210. These odds are, however, based on a CA$2 ticket purchase that gives you two lines of play. If you choose only to purchase a single ticket, your odds of winning will decline to 1 in 260,419. These still seem great, but you will need to take into consideration the relatively low jackpot offered here compared to some of the best lotteries from around the world.
Canada Salsa Bingo Payout Chart
As mentioned above, the jackpot in this game is not particularly anything to write home about. However, it is also nothing to snarl about considering that it starts at CA$10,000 and rolls over every time that it is not won. This could potentially lead to some great jackpots that retain their original odds of winning. The downside here is that the jackpot is not promised to each winning but is shared equally amongst all players with an eligible claim.
The different prizes and the odds of winning them are outlined below.
| | | | |
| --- | --- | --- | --- |
| Match | Odds of Winning ($2 play or 2 lines) | Odds of Winning (Single line) | Prize |
| Big X + 2 additional lines | 1 in 130,210 | 1 in 260,419 | Jackpot |
| 4 lines | 1 in 53,010 | 1 in 106,020 | CA$2,500 |
| Big X + 1 additional line | 1 in 17,006 | 1 in 34,012 | CA$1,000 |
| Big X only | 1 in 3,312 | 1 in 6,623 | CA$400 |
| 3 lines | 1 in 1,921 | 1 in 3,842 | CA$250 |
| 2 lines | 1 in 84 | 1 in 169 | CA$10 |
| 1 line | 1 in 5 | 1 in 10 | Free ticket |
Drawing Time
One of the best features of this game is that it occurs each day. Draws are held every evening at 11:29 PM (AT). The results of each draw are published almost immediately after the draw has taken place.
Biggest Jackpots
The largest-ever Canada Salsa Bingo prize was awarded on January 9, 2017, when the jackpot rolled over continuously until it hit the respectable amount of CA$171,000. However, the average jackpot is much more exciting than the starting of CA$10,000 and is actually CA$34,116. Still, for a daily draw, that's nothing to scoff at.
Payout Options
Because the jackpot does not often climb to any really massive figure, the only option to receive your money is via a cash lump sum.
Taxes
As any avid lottery fan in Canada will know, lottery winnings in the country are not subject to any form of taxation. This is excellent news because it means that anything that you win is yours to keep. However, it is always important to remember that if you invest your winnings, any interest generated by your winnings will be taxable.
Canada Salsa Bingo – Is It Worth Playing?
There is certainly room for an increase in the minimum jackpot offered by this game. However, the Salsa Bingo is still a fantastic daily game that puts an interesting spin on two of the most loved games in the world—bingo and the lottery. If you're looking for a different type of game that still has good odds and nice prizes, you may find that getting tickets for the next draw could quickly become a regular purchase.
User Reviews and Comments (1)