Canada Lotto Max Winner James Wickman
It's only natural that we all hope for the day that we win millions from the lottery. While the stories of lottery winners all over the world might fuel our dreams, the likelihood of actually winning big is pretty slim. This was the reality that Canada Lotto Max winner James Wickman had accepted before he suddenly stumbled into his luckiest of days.
Hitting the Jackpot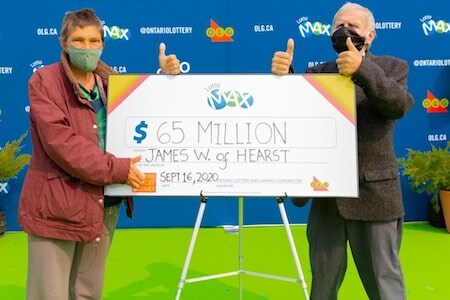 When Hearst, Ontario, resident James Wickman bought his Quick Pick Lotto Max ticket from the local Canadian Tire Gas Bar, he had his fingers crossed just as we all do when playing the lottery. As a 67-year-old retiree with a huge family, there's no denying that he had several responsibilities and just as many dreams. After decades of hard work, all he wanted was to make sure his family was taken care of and that he could live a relaxing life after his retirement. Of course, he did not expect to actually win the lottery, as the odds are slim, but he was always one to keep hope alive.
On September 8, 2020, Wickman was sitting in his vehicle when he heard on the radio that the winning Lotto Max ticket worth $65 million was sold in his area. He immediately headed home to check his ticket, and after scanning it with his phone, he was surprised to see big letters appear on the screen that congratulated him for his win. When he excitedly told his wife Eerikka, she didn't initially believe him—a common reaction among lottery winners. At that time, he wasn't sure if he even believed it, so he headed into town with his ticket in hand to have it verified. He soon realised that the OLG Lottery App wasn't lying—James had just become $65 million richer.
How Does James Wickman Plan to Spend His Winnings?
After loading his large family into a rented bus and embarking on a 10-hour journey to claim his winnings at Toronto's OLG Prize Centre, Wickman began to consider all of the things he could do with his newfound riches. When people think about winning the lottery, they tend to think about travelling the world and living luxuriously. Of course, when the possibility actually becomes a reality, it isn't all that simple. All Wickman knew was that this money could make his family's lives very, very comfortable.
During his press conference, the winner revealed that he'd already hired an advisement team to help him manage his millions—which is always one of the first things all lottery winners should do. Alongside sharing his millions with his four children, Wickman also made plans to set up trust funds for all of his grandchildren. "I want to make sure I set them up well for the rest of their lives," he stated in his interview.
Wickman and his wife have no plans of moving out of their hometown, but they do have plans of buying a new house and even new cars. Likewise, Eerikka is excited by the possibility of building a hobby farm and buying a cow. Beyond that, though, the millionaires don't have many plans yet. Winning such a large sum of money can certainly be disorienting, and in all fairness, he hasn't had much time to process it all. One thing is for certain: he and his wife will be two happy campers regardless of how they spend the winnings. After all, he said it himself—they can now do "anything they want!"
Background
With the news of Wickman's win still being fresh at the time we were researching this article, the world hasn't had much time to learn about him. What we do know is that he's a retired electrical contractor from Hearst with a loving wife, four children, and eleven—soon to be twelve—grandchildren. We also know this isn't his first time winning the lottery, although it is his first time winning this big. In the 1970s, he won $5,000 in a gas station contest. While it certainly wasn't millions, it was definitely a large chunk of money that could bring him plenty of fun and happiness.
Conclusion
James Wickman's big win is definitely enough to make us all a little jealous, but unlike many other lottery winners, he's maintained a sense of modesty that also makes us admire him. His biggest plans revolve around taking care of his family and creating an even happier life for himself and his wife. So, despite our envy, we truly have no choice but to wish this winner all the best.