Can Anyone Sell Lottery Tickets? | How to Become a Lottery Retailer
Millions of people play the lottery every year, and we always think of the biggest winners of the game being the ones who match the winning numbers. However, the lottery benefits more than just the people who win big. Most lotteries split the profits from ticket sales to fund not only the prizes, but also community programs and organisations. Another lesser known group who shares in the profits, though to a much lesser extent, are the lottery retailers. In this article, we'll explain the benefits of selling tickets and how to become a lottery retailer.
Benefits of Becoming a Lottery Retailer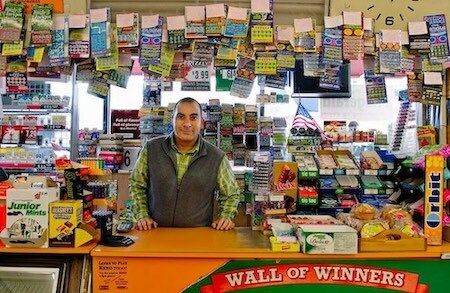 There are many benefits to becoming a lottery retailer. Not only does offering lottery improve foot traffic into stores, it can also help encourage more sales per transaction. For example, a customer might come into a convenience store to buy some tickets, and then decide that they also want a candy bar and a bottle of water while they're there. That's just one example of how lottery can directly improve overall sales.
In addition to increased non-lotto sales, retailers make a commission on each lottery ticket they sell. Depending on where the retailer is located, this commission can range from 4.5% to 8% per sale. When you take into account that 3.4 billion tickets are sold annually for US Powerball and Mega Millions alone, retailers can turn a tidy profit off selling tickets. In fact, retailers can make about $15,000 annually on ticket sale commission. Some states and provinces also offer a small commission on redeemed tickets, usually around 1% or 2%, as well as bonuses for selling a winning ticket—which in some states can amount to up to $1 million.
However, not every business is a good candidate for becoming a lottery retailer. Many states and provinces require retailers to meet a minimum threshold of ticket sales, and there are also some fees involved for equipment, application, registration, and more, though fees vary by region. The best candidates for becoming a lottery retailer are those that see many impulse purchases, such as gas stations, convenience stores, grocery stores, and sometimes bars.
How to Become a Lottery Retailer in the U.S.?
Becoming a lottery retailer in the U.S. is a pretty simple process. However, it does vary by state. Every state will have a different application, though most of them will require that you fill out information such as:
Legal business name and address
Business owner information/personal information
Tax identification
Contact person
Liquor license (if applicable)
Application and registration forms are most likely available on the website of the lottery regulator in your state. You will be able to either submit it online, or print off the form and fax or mail it to the appropriate office. Keep in mind that some states may require an application fee. For example, the state of Louisiana charges $35, while Michigan charges $150.
Once your application is received, a state lottery representative will visit your business. They will likely assess a few features of your stores or restaurant to see if they are suitable for selling lotto tickets. These features include security, accounting system, location, proximity to other retailers, and compliance with accessibility laws. However, every state will have different requirements for approval. Some states may also require a background check.
If you are approved, the final stage of setting up lottery at your business is to have a lotto representative set up a terminal for you. This setup will likely include a physical terminal, marketing materials, and training materials.
How to Become a Lottery Retailer in Canada?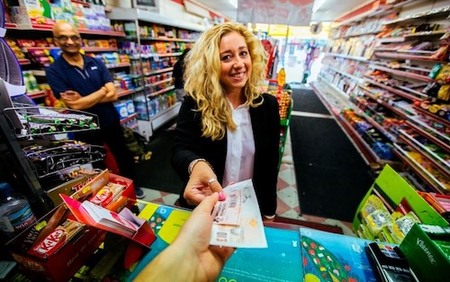 Becoming a lottery retailer in Canada is very similar to the process of becoming a retailer in the U.S. The level of information the prospective lottery retailers must submit varies significantly by province. For example, the province of Manitoba simply requires business owners to fill out a web form as an expression of interest. This form requires basic information like business name, address, owner's name, and phone number. After this is submitted, a representative will contact the interested business.
Other provinces, such as British Colombia, require more detailed information, such as employment history, immigration status, residential history, and criminal history. Ontario requires that potential vendors also register with the Alcohol and Gaming Commission of Ontario (AGCO) before receiving a license from the Ontario Lottery and Gaming Commission (OLG). Much like the states, application and registration fees also vary. For example, Manitoba and Ontario do not have any fee, while British Columbia charges $45. Similarly, some applications can be submitted online, while others must be sent by mail.
Approval in Canada will likely also include a visit from an official lottery representative to ensure the business can comply with measures set forth by the lottery regulator. Once approved, provinces will also provide new retailers with marketing materials, a physical terminal, and training material. Depending on the province, lottery retailers will also have to update their registration every few years, and will have to comply with a code of conduct for continued approval.
Conclusion
There are many benefits to becoming a lottery retailer, and most states and provinces make the application and registration process very simple. If you think your business qualifies for becoming a retailer and you are interested in selling lottery tickets, visit your state or province's lottery regulator website for more information on how to apply.