Biggest South African Lottery Winners
South Africa is a country known for its apartheid era, strange inventions, and natural beauty. However, it is also home to two great lotteries. And, in a country that in 2019 had an unemployment rate of 29% (or 16.9 million people), lottery winnings are something cherished beyond comprehension. In this article, we will look at some of the biggest South African lottery winners and see what kind of windfalls they managed to win.
ABOUT SOUTH AFRICAN LOTTERIES
There are two major lottery draws held by Ithuba (the national lottery operator endorsed by the government) in South Africa. These draws are:

South African Lotto: This lottery game is a standard single-matrix (6/52) lottery game. It has odds of 1 in 20,358,520 and a minimum jackpot that represents 73% of the total prize pool. Due to no limit on the number of rollovers allowed for the jackpot, the South African Lotto jackpot has reached the staggering amount of ZAR 110 million (around US $5.9 million). This massive windfall was shared between four lucky winners who each took home ZAR 27.5 million (about $1.4 million each).

South African Powerball: This game functions like most other Powerball games around the world: it is a double-matrix (5/50 + 1/20) game with 1 in 42,375,200 odds of hitting the jackpot (54.46% of the prize pool). The largest South African Powerball jackpot ever recorded was won by a single person who walked away with ZAR 232.13 million (around US $12.47 million).
THE BIGGEST LOTTERY WINNERS IN SOUTH AFRICA
As you can see from the above figures, the South African lotteries sometimes reach astronomical amounts (the Powerball jackpot above equating to around 902 years' worth of the average South African salary). While these jackpots are just a fraction of those offered by the world's most popular online lotteries, many lottery winners still stress about their security after they win big. To combat this, it is not compulsory for lottery winners to disclose any information about who they are. Unfortunately, this makes researching who has won slightly tricky. However, we still managed to put together the following list of the biggest South African winners and included as much information about them as we could find.
1. ZAR 232.13 million ($12.5 million) | February 19, 2019
Our first lucky winner has already been mentioned above. He won a staggering ZAR 232.13 million off of a ZAR 22.50 Powerball ticket that he purchased at an OK Mini Mart. The man, who is in his 50s and lives in Cape Town, decided to remain anonymous when he came forward a week after the draw to claim his prize. He did, however, state that he would be using the money to ensure that his children would receive the best education possible.
2. ZAR 145.46 million ($7.9 million) | August 3, 2018
The second-largest winner of an insane South African Powerball jackpot is a 34-year-old man based in Secunda. He claims he won by using his dreams to interpret the numbers he should pay. His system clearly worked considering he turned a ZAR 20 ticket into ZAR 145.46 million. As is typical in the country, he chose to stay anonymous and did not mention his plans for his significant win.
3. ZAR 141.34 million ($7.6 million) | August 23, 2019
The third winner on our list is a 50-year-old construction worker from the Western Cape who also chose to stay anonymous. Claiming ZAR 141.34 million, the man said that he hardly played the lottery and decided to purchase a Powerball ticket for ZAR 105 while on holiday with his wife after she had a dream that he would be showered in blessings. The couple says that they will not be changing their lifestyle but will instead be investing their winnings to ensure that their children and grandchildren never have to worry about money.
4. ZAR 114.58 million ($6.19 million) | February 4, 2020
There is almost no information available on the lucky winner of ZAR 114.58 million at the start of 2020. This is because she chose to stay anonymous and refused to make any statement while claiming her Powerball winnings. What we do know, however, is that the winner is only 35-years old and is the first woman in the country ever to win a jackpot amount of over ZAR 100 million.
5. ZAR 114.24 million ($6.17 million) | November 26, 2019
If the fourth-place winner on this list is good at keeping her identity a secret, then our next Powerball winner is a master. No information is available at all regarding the winner of the ZAR 114.24 million jackpot that was handed out at the end of 2019. The only thing that has been publicly announced is that the win went to a 32-year-old man.
6. ZAR 102.01 million ($5.5 million) | June 3, 2011
Our sixth-largest winner hails from Bloemfontein and is a man in his 20s whose luck almost resulted in him not knowing that he had even won. After taking his Powerball ticket to a local store to get checked, the automatic ticket checker malfunctioned and twice told him that his ticket was not a winner. After telling the clerk that it was not a lucky ticket and that they could throw it away, the clerk decided to try one last time. When the ticket checker analysed the ticket for the third time, the lucky man was shocked to discover he was the sole winner of ZAR 102.01 million. He said that he would use the money to expand his business.
7. ZAR 91.06 million ($4.9 million) | February 12, 2010
The seventh-largest winner of the South African Powerball was a 43-year-old woman from the Western Cape. After discovering her win, the woman and her husband booked a few nights at a hotel and did not tell anyone of their win—including their two teenage children. Once they had recovered from the shock of their ZAR 91.06 million win, the couple claimed their winnings and stated that they would use the money to buy a new family home and to purchase their eldest child a new car.
8. ZAR 87.62 million ($4.7 million) | July 22, 2016
A 45-year-old man from Limpopo is the eighth lucky winner on our list. He won a staggering ZAR 87.62 million after playing the lottery for 16 years. After winning, he stated that his winnings were a gift from God and that he would not be giving up his job as a government worker. Instead, he said that he would use his Powerball winnings to help those in need and to donate to charities that were struggling.
9. ZAR 83.85 million ($4.5 million) | April 23, 2019
The winner of the fantastic ZAR 83.85 million Powerball jackpot at the beginning of 2019 is somebody that we admire for their anonymity. There are zero details available about this winner, including whether the lucky person is a male or female, or what age they are. All that is known is that they are now much richer than they were.
10. ZAR 79.87 million ($4.3 million) | May 4, 2019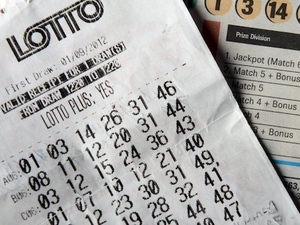 Our final winner is a woman from Cape Town who won the ZAR 79.87 million Lotto jackpot using a ZAR 30 ticket. When claiming her prize, she stated that she would be giving ZAR 2 million to a petrol attendant at her frequented service station because he was always helpful and friendly. She also said that she would be purchasing a family home and helping her daughter study toward her degree in psychology.
As all of the above lottery winners all show, winning big is within everybody's grasp; all that's needed is a bit of faith and a bit of luck. What we can learn from them is to never give up, stay anonymous if we do win, and, like our #6 winner learned, always double check our lottery tickets manually—even if a ticket scanner tells us we didn't win anything. That's the fun of playing the lottery: you just never know what might happen.