Lotto Belgium | Belgium Lottery Review
If you were to throw a dart at a map of the world, you would likely be pretty hard-pressed to hit a country that does not have its own lottery. This is because lotteries are much-loved games by people from all around the globe. One country that does not escape this is Belgium. In this Belgium Lotto review, we will look at the Loto Belge to see what it is all about and how you can win by playing.
History
Belgium has, unbelievably, had a lottery in one form or another since 1934. When it was first started, the lottery was used to raise funds for the colonisation of the Congo by Belgium citizens. Later on, in 1953, the lottery donated all funds collected to the Red Cross in order to aid relief efforts. The lottery changed yet again in the 1960s until it became what is today known as the Belgium Lotto (aka Loto Belge) in 1978.
The lottery is organised and run by the Nationale Loterij—a state-owned lottery company that oversees the running of all lotteries in the country.
How to Play Belgium Lotto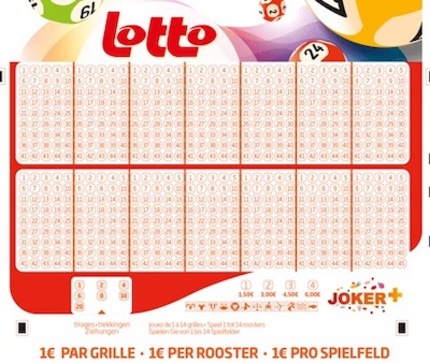 Loto Belge is rather simple to play. It uses a single-matrix system and requires you to select six unique numbers. These numbers must be chosen from a number pool that ranges from 1 to 45. If you do not feel like selecting your own numbers, the game does offer a quick pick function that will allow a random number generator (RNG) to choose your numbers for you. A standard ticket costs just €1 per line.
If you would like to increase your chances of winning, you may opt to play using a Joker+ ticket in place of the standard Belgium Lotto ticket. This ticket allows you to choose between 7 and 15 numbers rather than the standard of six. This, in turn, means that you are able to play more combinations—meaning that you have a higher chance of winning a large prize. As you may imagine, these tickets are slightly pricier and will cost you €8.75.
Once you have chosen which ticket you would like to play with and which numbers you would like to try, you can purchase your ticket. Here again, you will be presented with something unique. When purchasing a ticket, all players are issued a free Lucky Lotto Code. This code is used to stand a chance to win an additional prize of €500—free of charge. Six hundred Lucky Lotto Code winners are selected at the end of each draw who all receive this grand prize.
At the time of the main draw, you will need to match all six numbers in order to win the jackpot. During the draw, a seventh number will also be drawn. This number will be used to determine the winners of other prize tiers.
Odds of Winning
The lottery has a minimum jackpot of €1 million that rolls over each time that it is not won. In addition to this jackpot, the lottery has eight other prize tiers that offer great chances of winnings. This grand jackpot can be won if you manage to beat the 1 in 8,145,060 odds of winning—which are significantly better than many other lotteries around the world.
One strange thing is that the second prize tier all the way down to the sixth prize tier does not have any specified prize and the available prize is determined each draw separately. The overall odds of winning any prize are 1 in 10.67, which is pretty decent.
Belgium Lotto Payout Chart
The eight total prize tiers available are split in the following way:
| | | |
| --- | --- | --- |
| # of Matched Numbers | Odds of Winning | Prize Amount |
| 6 of 6 | 1 in 8,145,060 | Jackpot (€1 Million minimum) |
| 5 of 6 + Bonus Number | 1 in 1,357,510 | Variable Earnings |
| 5 of 6 | 1 in 35,724 | Variable Earnings |
| 4 of 6 + Bonus Number | 1 in 14,290 | Variable Earnings |
| 4 of 6 | 1 in 772 | Variable Earnings |
| 3 of 6 + Bonus Number | 1 in 579 | Variable Earnings |
| 3 of 6 | 1 in 48 | €6.25 |
| 2 of 6 + Bonus Number | 1 in 64 | €3.75 |
| 1 of 6 + Bonus Number | 1 in 18 | €1.25 |
Drawing Time
The lottery holds two draws each week on Wednesdays and Saturdays. The draws take place at 7:00 pm (CET), and the results of the draws are published online shortly after the draws have ended.
Biggest Jackpots
The largest jackpot ever won was won in January of 2014. One lucky winner won the massive jackpot of €11.18 million. Before this, the previous record was a €8.47 million jackpot that was won by six different winners.
Payout Options
The lottery is not entirely clear as to whether or not they offer annuity payment options for winners. However, due to the lack of clarification on this, we will assume that they do not and that all lottery winnings are paid out in the form of a cash lump sum.
Taxes
You may be happy to hear that lottery winnings in Belgium are not taxable. While there seems to be some debate about this online, we managed to find the information on the government website that clearly states this is not the case. Therefore, if you hear that you will need to pay 11% in taxes on your lottery winnings, just know that this is not true.
How to Play Belgium Lotto Online
There are no lottery websites that we could find that support the sale of tickets for the Belgium Lotto. However, the national lottery operator does have its own website that allows the sale of tickets online. It must be stated, however, that only residents of Belgium are allowed to purchase tickets for the lottery. Unlike other lotteries, it is not open to an international player base.
Belgium Lotto – Is It Worth Playing?
The Belgium Lotto is undoubtedly something that you should strongly consider playing if you live in Belgium. The lottery is run by a state organisation (meaning that it is trustworthy) and offers a pretty generous minimum jackpot. While we do wish that the winnings on other prize tiers were more concrete and could, therefore, be announced, we still think this is a great lottery and that it is a shame that it is not open to international players.
Our disappointment aside, we are impressed at the extra features this lottery hosts (Joker+ and Lucky Lotto Code) and can't wait to see how this lottery evolves even further in the future. So, if you are in Belgium, we recommend getting a ticket or two for the next draw.
User Reviews and Comments (1)